All blog content is for information purposes. Any reference to indivisual stocks, indexes, or other securities as well as all graphs and tables are not recommendation but only referenced for illustration purposes.
Market Commentary
for the week ending June 29th, 2019
Summary
U.S. stocks had the best first half of a year in decades
Gold continued to rally adding to recent gains and holding at multi-year highs
Economic data shows some signs of weakening combined with a drop in consumer confidence
Market Performance Summary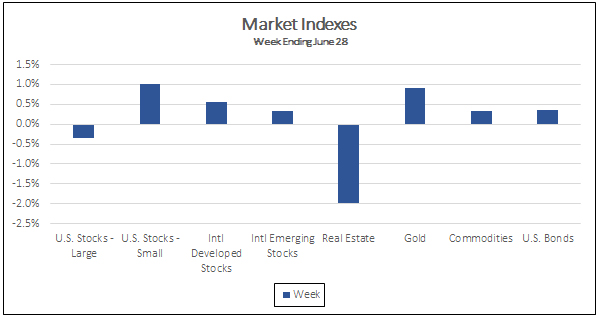 Source: www.YCharts.com
Notable Market Headlines
U.S. stocks closed the week mixed with large stocks falling slightly, down -0.3% as measured by the S&P 500, while small stocks rallied +1.0%. The tech-heavy NASDAQ was down with the S&P 500 while the Dow Jones Industrials lagged behind falling -0.5%. Year-to-date U.S. stocks posted some of the biggest gains in decades with the S&P 500 up +17.4%, the NASDAQ surging +20.7%, and the Dow coming in third place at +14.0%. Small U.S. stocks have participated in this strength gaining +16.0% for the year.
International stocks had a better week than U.S. stocks but continue to lag behind year-to-date. Developed markets were higher by +0.6% for the week but are only higher by +11.8% so far in 2019. This is a strong first half but underperforming U.S. markets. Emerging markets gained +0.3% this week and are the worst performers in 2019 up +9.9%.
Real estate stocks delivered a disappointing performance this week losing -2.0% but are holding onto strong year-to-date gains of +14.9%. Both Gold and Commodities helped the performance of well-diversified portfolios gaining +0.9% and +0.3% respectively.
Bonds continued to rally up +0.4% for the week and are now higher by +4.9% year-to-date. The yield on the all-important 10-Year U.S. Treasury Bond continues to hover just above 2.0% signaling what some people believe could be a slowing economy.
Stock Highlights
Allergan (AGN), one of the largest specialty pharmaceutical companies in the world with more than $15 billion in revenue, agreed to be purchased by its larger competitor AbbVie (ABBV). The combination is expected to accelerate earnings helped by significant cost savings and other benefits. These two stocks went in opposite directions with Allergan's surging +28.0% while AbbVie's dropped -7.7% and is now down -21.1% during 2019. As the accompanying graph shows, Allergan's stock has been lagged meaningfully behind the industry for the past 5 years so this was welcomed news for shareholders.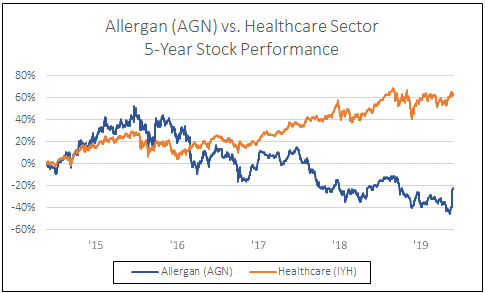 Source: www.YahooFinance.com
Western Digital (WDC), a global manufacturer of computer hard drives, had the second best performing stock among the S&P 500 this week jumping +20.1%. There was no big news from the company but instead just general optimism following positive news from others in the industry and positive comments from Wall Street analysts. The stock is up +28.6% for the year but it has been a roller coaster ride for investors with the stock losing a third of its value from mid-April to mid-June before this most recent rally.
Micron Technology (MU), a leading maker of computer memory, reported quarterly results showing a decline in both sales and earnings but the results were much better than investors had expected. The news was well-received with the Micron's stock jumping +16.1% and higher by +21.6% year-to-date.
Bristol-Myers Squibb (BMY), a giant healthcare company, announced an acquisition of biotech giant Celgene (CELG) valued at $74 billion at the start of the year. This planned combination is not going as well as desired with the company saying this week that it has agreed to divest of one of Celgene's blockbuster drugs to get FTC approval of the acquisitions. This development is seen as a negative long-term development with the stock dropping -8.1% this week and now lower by -12.8% year-to-date.
Economic Indicator - Reported
Durable Goods Orders, orders for items with a longer useful life, fell by -1.3% in the most recent month making this three drops in the last four months. Overall orders continue to be held down by Boeing's 737 Max problems. A sign of some strength though is that when stripping out cars and planes from the report orders actually gained +0.3% indicating businesses have not frozen spending.
Consumer Confidence surprised economists by falling much more than forecast in the most recent month coming in a reading of 121.5 as compared to 131.3 the prior month. Consumer's views of current economic conditions weakened saying it has become more difficult to find a job. This month's report was the lowest reading since September 2017.
New Home Sales came in at an annualized rate of 626,000 well below economists' forecast of 669,000. This May report was a decline from April and -3.7% below year-ago levels.
Economic Indicators – Upcoming
The following economic data is expected in the coming week:
Employment Report for June
Motor Vehicle Sales
ISM Manufacturing Index