All blog content is for information purposes. Any reference to indivisual stocks, indexes, or other securities as well as all graphs and tables are not recommendation but only referenced for illustration purposes.
Market Commentary
for the week ending April 10th, 2020
Summary
U.S. stocks recorded one of their best weeks in history
Unemployment claims surge again
Consumer Sentiment drops to a 9-year low
The Best Week Since 2008!
Large U.S. stocks registered a huge gain for the week with the S&P 500 soaring +12.1% and now off just -13.7% year-to-date. The Dow Jones Industrial Average, another measure of large U.S. stocks, did slightly better gaining +12.7%, or nearly 2700 points, while the tech-heavy NASDAQ lagged slightly behind up +10.6%. In a rapid reversal, the stocks leading the market higher were those that have been expected to feel the biggest impact from the economic shutdown including retailers, cruise lines, casinos, and shopping malls.
A lot can be said about this week's rally, it could be compared to others in the past, but the one thing all rallies like this have in common is that they are rallies you just can't miss! This is a perfect example of why long-term investors should stay the course.
The last weekly rally that was better than we just experienced was Thanksgiving week in 2008 in the midst of the Financial Crisis more than a decade ago. Had an investor been sitting on the sidelines during that rally, their following 10-year compounded return would have been just +11.4% compared to the investors who stayed the course gaining +13.4% over that same 10 years. Missing gains during weeks like we just had will simply have a tremendous impact on an investor's long-term returns.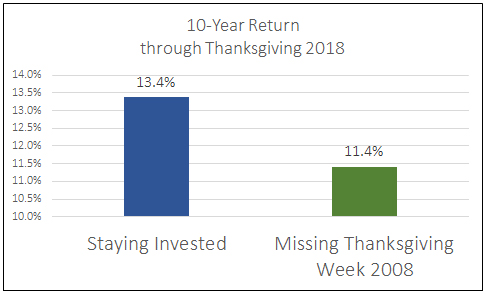 Source: www.YahooFinance.com and Patton analysis; assumes 100% invested in S&P 500.
This Week's Performance Highlights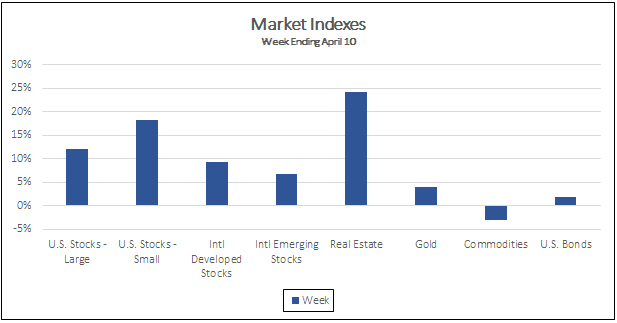 Source: www.YCharts.com
Large U.S. stocks surged +12.1% while small stocks trounced those gains up an incredible +18.3%! In spite of the strong week for small stocks, they continue to lag far behind large stocks year-to-date down -25.0% versus -13.7% respectively.
Only 10 of the S&P 500 stocks were lower for the week. The 10 best performing S&P 500 stocks all gained +50% or more!
International developed markets, on average, were higher by +9.2%, lagging behind U.S. stocks while performance differed meaningfully from region to region with Australian stocks leading for the second consecutive week up +12.1% while stocks in Japan were higher by +8.2%.
Emerging markets held up better than most last week but trailed behind by a wide margin in the most recent week up +6.7%.
After a crushing week the week before losing -10.5%, real estate stocks skyrocketed +24.1% this week led by those in the retail space such as the biggest shopping mall owner Simon Property Group (SPG).
Gold remains one of the two asset classes higher for 2020 up +11.1% but was only up +4.0% for the week.
Commodities were down once again, -3.0%, as the price of oil was wildly volatile and closed down for the week as the Saudis, Russians, and others negotiate a production cut.
Bonds, on average, went higher, along with stocks, up +1.8%. U.S. mid-term government bonds, the safest on the planet, actually dropped -0.8% while corporate bonds bounced +8.8% moving back into positive territory for the year after having been down -17.9% less than a month ago.
Economic Indicators
Weekly Jobless Claims surged for a third week with 6.6 million additional people filing for unemployment support as the coronavirus shutdown ravages the economy. It's widely expected that the number of unemployed is higher than is being reported due to states being overwhelmed by requests. Furthermore, forecasts suggest numbers will not improve soon.
The Consumer Sentiment Index, not long ago bouncing around record levels, fell to a 9-year low of 71 from 89.1 the month before. There are concerns the economy could experience a downturn not seen since the Great Depression nearly 100 years ago.
Upcoming Economic Reports
Retail Sales
Industrial Production
Housing Starts