All blog content is for information purposes. Any reference to indivisual stocks, indexes, or other securities as well as all graphs and tables are not recommendation but only referenced for illustration purposes.
Market Commentary
for the week ending July 17th, 2020
Summary
The leadership in the market flip-flopped with small stocks beating large and value stocks topping growth.
Earnings reports from the biggest banks and others were mixed.
Retails sales are now just -1.0% below their record January month-end high.
This Week's Performance Highlights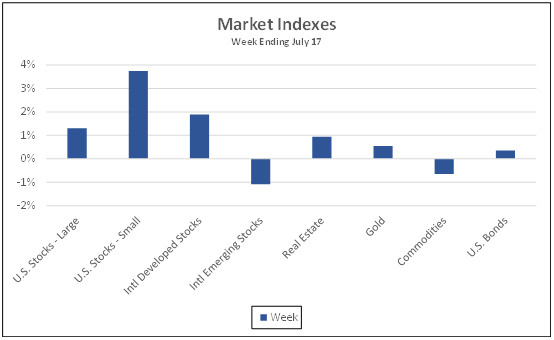 Source: www.YCharts.com
Stocks were mostly higher around the world with the notable exception of Asia's largest market, China. There was though a significant rotation in leadership anticipated by some market watchers given the wide disparity in returns among various asset types. It is of course yet-to-be-seen if this leadership change will continue for any meaningful period of time.
At the close of the week, large U.S. stocks were generally higher up +1.3% as measured by the S&P 500 and closed in positive territory for the first time since the highs in February. The Dow Jones Industrial Average, fueled by the industrials sector being the best performer for the week, gained +2.3% but remains lower year-to-date by -6.5%. The NASDAQ Composite, the leader for the year up +17.1%, lost -1.1% for the week hurt by declines in some of the year's biggest winners.

Source: www.YCharts.com

Small U.S. stocks posted a very strong week gaining +3.7% but remain lower year-to-date by -10.9%. 12 of the top 20 performing stocks for the week among the Russell 2000, the most popular index measuring performance of smaller stocks, were in the healthcare sector.
Growth stocks have performed relatively well in 2020, as illustrated in the below graph, up +14.6% year-to-date while value stocks have lagged meaningfully behind down -12.8%. This week though we saw a significant flip-flop with growth stocks down -0.9% while value stocks jumped +3.5%. By many measures growth stocks are very expensive while value stocks are not but these valuations have had no lasting impact on performance to date.

Source: www.YahooFinance.com

Second quarter earnings reports have begun to pour in from many of the biggest companies with results generally being received well. Financial service sector stocks such as J.P. Morgan (JPM), Goldman Sachs (GS), and Morgan Stanley (MS) moved higher while Bank of America (BAC), Wells Fargo (WFC), and Citicorp (C) were lower.
International stocks were mixed with developed markets gaining +1.9% while emerging markets declined -1.1%. Among the developed markets the Eurozone was the strongest up +2.7% helped by strength in Italy, France, and Germany. China was among the weakest performing emerging markets falling -4.5% and back into negative territory for the year. This is a sharp reversal from the prior week's +7.5% rally.
Real estate stocks gained ground up +0.9% for the week but remain one of the worst performers in 2020 still down -22.5%. Many question remain about the future of retail and office properties.
Gold gained again up +0.6% and now higher by a whopping +19.1% for the year while commodity prices slipped -0.7%.
Bonds added to their gains for the year up +0.4% for the week. The yield on the U.S. 10-year Treasury continues to hover around its low closing the week at 0.634%.
Economic Indicators
Retail Sales in June surged for a second consecutive month gaining +7.5% on top of the prior months record +18.2% increase. Sales are now just -1.0% below their record high at the end of January.
In June apparel store sales were among the biggest winners more than doubling followed by a +20% surge at bars and restaurants. Auto dealers, a large component of total retail sales, grew +8.2% helped by lower interest rates. Many of the sectors that held up the best during the toughest months including grocery stores, home improvement centers, and internet sales all posted small losses for June.
With the recent increase in the number of COVID-19 cases nationwide, there are fears the recovery in retail sales may stall.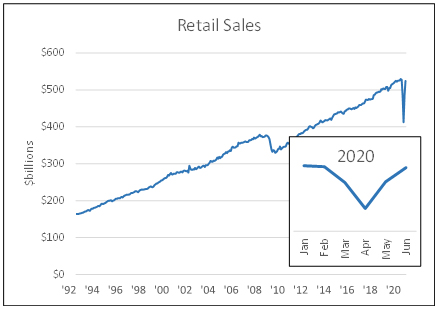 Source: https://fred.stlouisfed.org – Advance Retail Sales: Retail and Food Services, Seasonally Adjusted
The Consumer Price Index (CPI) jumped +0.6% in June impacted meaningfully by increases in the price of food and gas. When stripping out these volatile items, prices were higher by just +0.2%. This increase in CPI is the first in 4 months due to falling prices on falling consumer demand during the pandemic. Year-over-year prices are higher by just +1.0% as compared to roughly a +2.5% annual increase pre-pandemic.
Industrial Production rose +5.4% in June, better than economists had expected and adding to the gain in the prior month. In spite of two months of gains though producing remains down -10.9% from pre-COVID-19 levels.
Although Initial Jobless Claims fell fractionally in the most recent week, the 1.30 million new filings was meaningfully higher than economists' estimates of 1.24 million. In addition to these state filings for unemployment, there were an addition 928,488 claims through the temporary federal program. Continuing claims, the total number of people receiving benefits, fell to 31.0 million from 32.4 million.
Housing Starts came in at an annualized rate of 1.19 million up from the previous month's 1.01 million.
Upcoming Economic Reports
New Home Sales
Existing Home Sales
Initial Jobless Claims
Leading Economic Indicators