All blog content is for information purposes. Any reference to indivisual stocks, indexes, or other securities as well as all graphs and tables are not recommendation but only referenced for illustration purposes.
Market Commentary
for the week ending December 11th, 2020
Summary
The rally in stock prices paused after multiple back-to-back week's higher.
Initial jobless claims surprising jumped higher as employers scale back once gain.
Consumer sentiment jumped on expectations of improving future economic conditions.
This Week's Performance Highlights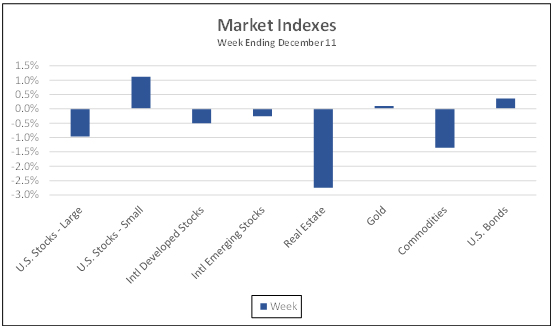 Source: www.YCharts.com
The surge higher by markets briefly paused this week with large U.S. stocks, as measured by the S&P 500, closing lower by -1.0% while both the Dow Industrials and NASDAQ Composited faired a bit better down just -0.6% and -0.7% respectively.
Small U.S. stocks continued their march higher gaining another +1.2% for the week now with a year-to-date gain of +16.1%. As the accompanying graph shows, this is the first time in 2020 that small U.S. stocks' year-to-date gain tops that of large U.S. stocks. Earlier in the year large stocks were ahead of small by nearly 17%!

Source: www.YCharts.com

All but two sectors were lower with the worst performer down just -1.8%. The best performer was energy stocks, a repeat of the past few weeks, up another +1.2%.
International stocks were mostly lower for the week with developed markets down a small -0.5%. The Eurozone region was off the most, down -1.3% with Spain among the worst performers, while the Australian market moved the opposite direction gaining +0.8%.
Emerging markets also fell just fractionally off -0.3% although the range of returns from country-to-country was relatively wide with China off -2.2% while Russia, Turkey, and Brazil, all among the year's worst performers, all posting bigger gains this week.
Real estate stocks continue to struggle in 2020 down -2.8% this week and off -13.3% for the year. Gold gained a scant +0.1% while commodity prices dropped by -1.4%.
Bond prices moved meaningfully higher gaining +0.4%. The yield on the benchmark 10-Year U.S. Treasury came just shy of 1.0% opening the week and closed back down at 0.906%. The trend in yields has been higher since bottoming in early August at 0.504%.
Interesting Numbers
$123.5 Trillion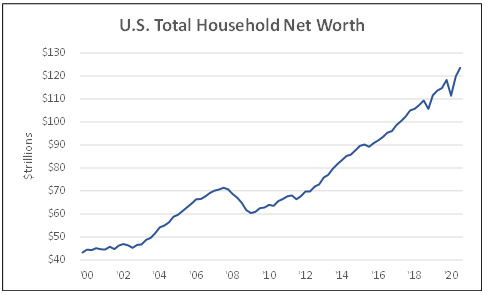 Source: https://fred.stlouisfed.org
Total U.S. household net worth reach a record high of $123.5 trillion after dipping in the first quarter due to the stock market drop at the start of the pandemic. One potential concerning sign is that debt rose at nearly twice the pace of net worth. As the accompanying graph shows, following the Financial Crisis of 2008, net worth has more than doubled.
Economic Indicators
Inflation inched higher as measured by the Consumer Price Index (CPI) up +0.2% in November compared to unchanged overall prices the week before. Small increases in the prices of clothing, home furnishings, and recreation were offset by declines in grocery and gasoline prices. Although prices increased for the month, the rate of change year-over-year was unchanged at a very mild +1.2%. In a separate report the Producer Price Index (PPI), a measure of wholesale inflation, rose just +0.1%. Economist expect price increases in coming months to remain subdued.
Consumer Sentiment, a measure of consumers' view of current and expected economic conditions by the University of Michigan, came in stronger then expected at a reading of 81.4. Economists had forecast a drop to 75.5 from the prior month's 76.9. Much of the gain was driven by an improved outlook of future economic conditions fueled by vaccine reports.
Initial jobless claims took a surprising jump in the most recent week coming in at 853,000 compared to 714,000 the prior week as the second wave of COVID sweeps the country. There have been reported issues with accuracy of this data although it is generally believed the direction of the move is representative of the employment market.
Upcoming Economic Reports
Retail Sales
Industrial Production
Jobless Claims
Housing Starts
Leading Economic Indicators