ALL BLOG CONTENT IS FOR INFORMATIONAL PURPOSES ONLY. ANY REFERENCE TO OR MENTION OF INDIVIDUAL STOCKS, INDEXES, OR OTHER SECURITIES ARE NOT RECOMMENDATIONS AND ARE SPECIFICALLY NOT REFERENCED AS PAST RECOMMENDATIONS OF PATTON WEALTH ADVISORS. ALL GRAPHS, CHARTS, AND TABLES ARE PROVIDED FOR ILLUSTRATION PURPOSES ONLY. EXPRESSIONS OF OPINION ARE ALSO NOT RECOMMENDATIONS AND ARE SUBJECT TO CHANGE WITHOUT NOTICE IN REACTION TO SHIFTING MARKET, ECONOMIC, OR POLITICAL CONDITIONS. IT IS COMMON FOR US TO USE A FUND AS A PROXY FOR AN INDEX OR ASSET CLASS. FOR MORE DETAILS SEE OUR FULL DISCLOSURE HERE.
Is the hot start to the year too hot?
Stock markets around the world have gotten off to a hot start. Some investors are wondering if it's too hot and we're due for a correction? There's no indicator, such as a hot start to the year, that predicts the timing of a coming correction. That said, data from the past 54 years should actually provide some comfort to the bulls that the market's strength potentially continues.
The U.S. stock market, as measured by the S&P 500, is up +4.2% year-to-date. As strong as this start is, it is only the 7th best of the past 54 years as illustrated in the accompanying table. The 10 years, excluding 2018 of course, with the biggest starts to the year ALL ended the year with a positive return that was well above the market's average annual return. The year with the best start, 1987, was the year with the worst full year return of +5.3% in spite of the 1987 crash (a full year gain even after the crash).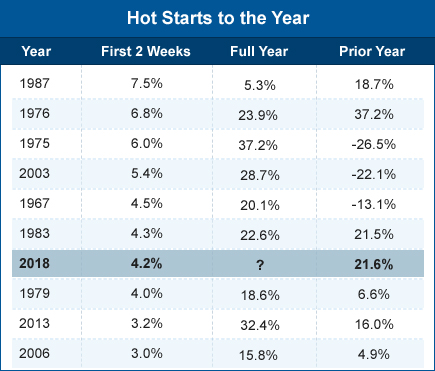 Source: S&P 500 compiled by Patton
On the other end of the spectrum are the 10 years with the worst performance during the first two weeks of the year. Of those 10 years, 4 ended the year with a negative full year return.
This data and analysis suggests that a hot stock market can stay hot. Record highs are no reason for stocks to go down…that fact has been reinforced repetitively the past several years. Markets do trend higher over time and, more often than not, are persistently trading at or near record levels. Remember, though, no indicator has proven to accurately predict future returns and these 10 hots starts are no different.
The information provided here is for general informational purposes only and should not be considered an individualized recommendation or personalized investment advice. Any specific securities or investment strategies mentioned here may not be suitable for everyone. Each investor needs to review an investment strategy for his or her own situation before making any investment decision including whether to retain an investment adviser.
All expressions of opinion are subject to change without notice in reaction to shifting market, economic or political conditions. Data contained herein from third party providers is obtained from what are considered reliable sources. However, its accuracy, completeness or reliability cannot be guaranteed. This content was created as of the specific date indicated and reflects the author's views as of that date. Supporting documentation for any claims or statistical information is available upon request.
Past performance is no guarantee of future results. Any comments about the performance of securities, markets, or indexes and any opinions presented are not to be viewed as indicators of future performance.
Investing involves risk including loss of principal.
Indexes are unmanaged, do not incur management fees, costs and expenses, and cannot be invested in directly. For more information on specific indexes please see full disclosure here.
Any charts, tables, forecasts, etc. contained herein are for illustrative purposes only, may be based upon proprietary research, and are developed through analysis of historical public data.
All corporate names shown above are for illustrative purposes only and are NOT recommendations.
International investments involve additional risks, which include differences in financial accounting standards, currency fluctuations, geopolitical risk, foreign taxes and regulations, and the potential for illiquid markets. Investing in emerging markets may accentuate these risks.
Fixed income securities are subject to increased loss of principal during periods of rising interest rates. Fixed-income investments are subject to various other risks including changes in credit quality, market valuations, liquidity, prepayments, early redemption, corporate events, tax ramifications and other factors. Lower-rated securities are subject to greater credit risk, default risk, and liquidity risk.