All blog content is for information purposes. Any reference to indivisual stocks, indexes, or other securities as well as all graphs and tables are not recommendation but only referenced for illustration purposes.
Is the hot start to the year too hot?
Stock markets around the world have gotten off to a hot start. Some investors are wondering if it's too hot and we're due for a correction? There's no indicator, such as a hot start to the year, that predicts the timing of a coming correction. That said, data from the past 54 years should actually provide some comfort to the bulls that the market's strength potentially continues.
The U.S. stock market, as measured by the S&P 500, is up +4.2% year-to-date. As strong as this start is, it is only the 7th best of the past 54 years as illustrated in the accompanying table. The 10 years, excluding 2018 of course, with the biggest starts to the year ALL ended the year with a positive return that was well above the market's average annual return. The year with the best start, 1987, was the year with the worst full year return of +5.3% in spite of the 1987 crash (a full year gain even after the crash).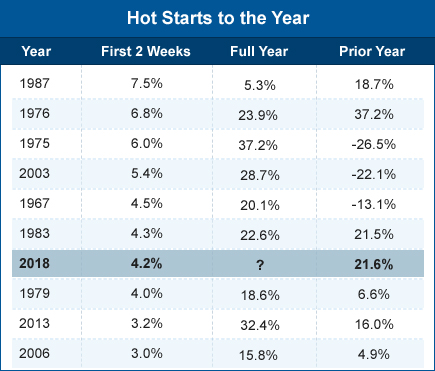 Source: S&P 500 compiled by Patton
On the other end of the spectrum are the 10 years with the worst performance during the first two weeks of the year. Of those 10 years, 4 ended the year with a negative full year return.
This data and analysis suggests that a hot stock market can stay hot. Record highs are no reason for stocks to go down…that fact has been reinforced repetitively the past several years. Markets do trend higher over time and, more often than not, are persistently trading at or near record levels. Remember, though, no indicator has proven to accurately predict future returns and these 10 hots starts are no different.