All blog content is for information purposes. Any reference to indivisual stocks, indexes, or other securities as well as all graphs and tables are not recommendation but only referenced for illustration purposes.
Market Commentary
for the week ending February 13th, 2021
Summary
Everything but bonds posted gains with riskier assets taking the lead.
Small U.S. stocks are off to a very hot start in 2021 and history suggests the strength could continue.
The Consumer Price Index shows few signs of inflation but bonds are hinting at something more.
This Week's Performance Highlights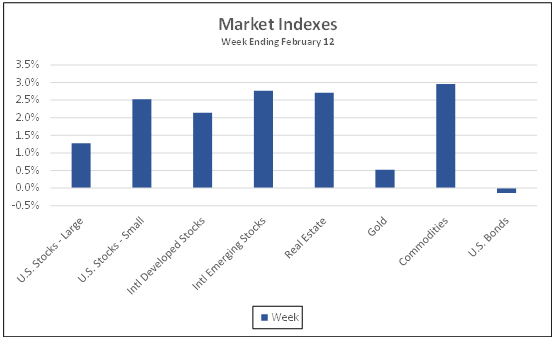 Source: www.YCharts.com
Stock markets continued to forge higher with large U.S. stocks turning in the poorest performance gaining just +1.3% as measured by the S&P 500. The Dow Industrials lagged even more up just +1.0% while the NASDAQ Composite outperformed both rising +1.7%.
Small U.S. stocks have been the shining stars in 2021 gaining another +2.5% for the week and now up an incredible +15.9% year-to-date.
The accompanying table shows 2021's performance is the 4th best start for small U.S. stocks since the late '70s. Years when small stocks started hot most often saw them continue hot throughout the remainder of the year as the accompanying table and graph show. Other than in 1987, the year of a crash, large U.S. stocks posted gains in excess of +20% for the remainder of the year.

Source: www.YCharts.com

Source: www.YCharts.com

International stocks are keeping pace with U.S. stocks in 2021 with developed country stocks adding another +2.1% in the most recent week. Eurozone stocks were among the weaker performers averaging just +1.5% while stocks in Japan jumped +3.3%.
Emerging markets were even stronger gaining +2.8% for the week and now higher by +11.9% in 2021. China's market continues to be among the best performers up another +3.7%.
All of the non-traditional asset classes rallied as well with gold, typically consider a safe-haven, lagging behind up just +0.5% for the week. Real estate stocks had a strong week gaining +2.7% and now higher by +6.1% for the year while commodities jumped 3.0% as the price of oil continues to climb.
Bonds were the only major asset producing a negative performance for the week down just -0.1%.
Interesting Numbers
15.8 billion
According to Bloomberg 20-day trading volume on all U.S. exchanges reached an average of 15.8 billion shares per day. The last high was 16.1 billion in March of last year during the panic market decline and that was the highest in more than a decade. Volume such as this is somewhat unusual during periods of relatively low volatility such as we have today.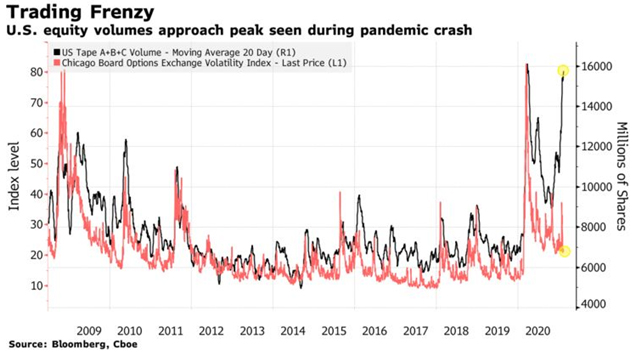 Source:https://www.bloomberg.com/news/articles/2021-02-12/stock-trading-frenzy-sends-u-s-volumes-toward-peak-panic-levels?sref=GGda9y2L
Economic Indicators
The Consumer Price Index (CPI), a measure of retail inflation, increased by +0.3% in January after gaining +0.2% the month before. Although the price increase in January was above the longer-term trend line, the majority of the increase was due to higher oil and gas prices. When stripping out these volatile prices, a measure known as the core CPI, prices in January were unchanged.
Year-over-year the CPI shows prices up a very modest +1.4% but expectations are rising that price increases may accelerate. A gauge watched by the Federal Reserve and many on Wall Street is the difference between the yield on the 10-Year Treasury and the yield on the 10-Year INFLATION PROTECTED Treasury also known as TIPS. The accompanying graph shows this measure currently forecasting inflation over the next decade of 2.2%. This is up about 0.5% in just 90 days as yields on treasuries have risen.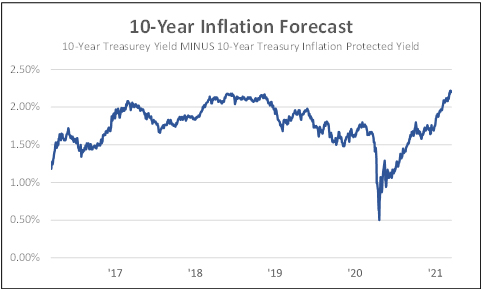 Source: https://fred.stlouisfed.org
Consumer Sentiment, a measure by the University of Michigan of consumers view of the current and future economy, dipped to a 6-month low in its most recent reading to 76.2.In particular, expectations about the economic outlook in 6 months from now worsened primarily for households making $75,000 or less a year while higher income families said their situation improved.
Initial Jobless Claims decreased from the week before coming in at 793,000. Although this was an improvement from the prior week, claims were higher than economists' forecasts and remain persistently high compared to pre-pandemic levels.
Upcoming Economic Reports
Retail Sales
Producer Price Index (PPI)
Industrial Production
Initial Jobless Claims
Existing Home Sales