All blog content is for information purposes. Any reference to indivisual stocks, indexes, or other securities as well as all graphs and tables are not recommendation but only referenced for illustration purposes.
The reversal of losers turning to winners was the most extreme seen in at least 5 decades.
The Catalyst: a COVID-19 Vaccine
Early Monday morning pharmaceutical giant Pfizer (PFE) disclosed results from a trial of its COVID-19 vaccine indicating a 90% effectiveness. This is fantastic news for the world!
Market's Reaction
The reaction in the stock market was extreme with investors now anticipating a quicker economic recovery that could benefit some of the most beaten up companies such as airlines and cruise lines. Simultaneously, the year's best performing "stay at home" stocks, many in the technology sector, dropped in price as investors expect a possible slowdown in their momentum.
Monday's Performance Highlights
Small Stocks Lead the Rally: Small U.S. stocks and the Dow led Monday's rally, two groups that have lagged behind in 2020, while 2020's market leader, the NASDAQ, dropped -1.5%. This is unusual but certainly not historic.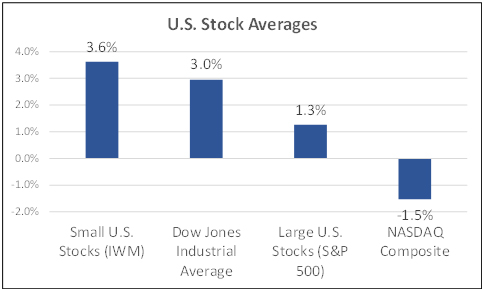 Value Stocks Surge: Growth stocks have outperformed value stocks by a massive 33% in 2020 but not on Monday when value stocks jumped +4.1% and growth stocks declined.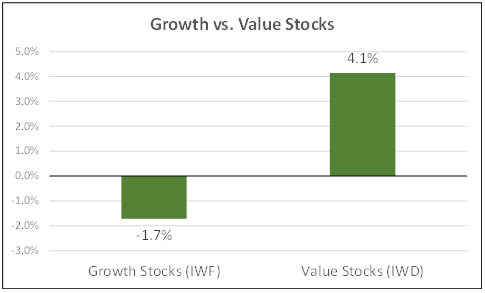 Technology Stocks Declined: Tech stocks have been the best performing sector in 2020 up +33% but fell on Monday while the worst performing energy sector jumped +14.3%. Year-to-date energy stocks remain lower by -41.9%.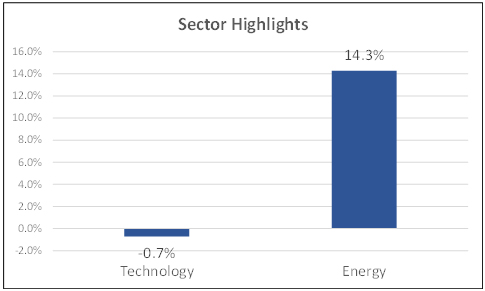 Notable WINNERS: Monday's winners were mostly those stocks that have performed worst in 2020 including cruise lines, airlines, real estate stocks, hotels, casinos, and retailers.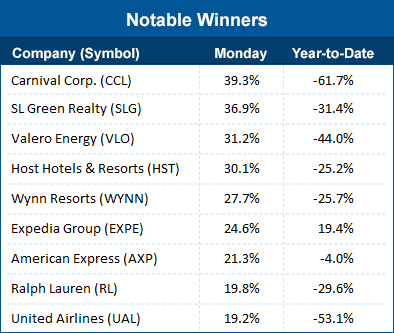 Notable LOSERS: The majority of the stocks that fell on Monday are those that have performed the best in 2020. These have been commonly referred to as the "stay at home stocks" or those that have and are expected to perform well in a locked down economy.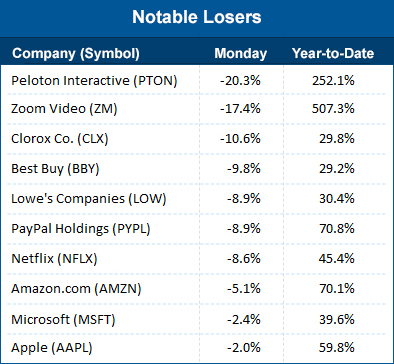 Digging Deeper into History
When digging deeper into market performance history dating back more than 5 decades,we see further data on Monday'sunprecedented performance. To illustrated this, I have separated the 500 stocks in the S&P 500 into two groups as follows:
Top 50 – these are the 50 stocks, of the 500 in the S&P 500, that have performed the BEST over the prior 12 months
Bottom 50 – these are the 50 stocks that have performed the WORST over the prior 12 months
As you can see in the below graph, the Top 50 were down an average of -4.2% on Monday while the Bottom 50 surged an average of +19.5%. This difference of nearly 24% has never been seen in our data dating back to 1963! This analysis makes clear that the rally on Monday was entirely different than what has been normal in 2020 as the leaders in Monday's market were not the stocks that have been leading throughout the year.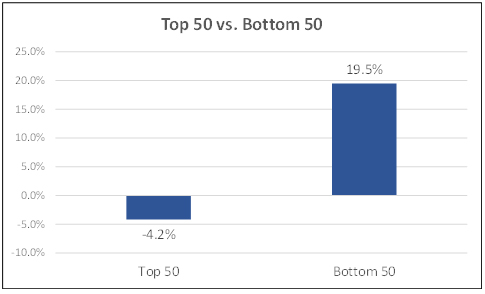 The surge higher in price of the Bottom 50 stocks, again, those stocks that have had the worst performance during the past 12 months, is not entirely unusual. Since 1963 we have seen the Bottom 50 surge 10% or more 31 times or about 1 in every 500 trading days. It's certainly not frequent but what made Monday meaningfully different is that the Top 50 usually rally higher at the same time, up 27 of these 31 days.
The question is always "what's next?" Of course there is no way to know but it is unlikely that we see performance as extreme as we did on Monday. Long-term investment success will continue to come from staying diversified and staying the course.