All blog content is for information purposes. Any reference to indivisual stocks, indexes, or other securities as well as all graphs and tables are not recommendation but only referenced for illustration purposes.
The following is to provide some insight and perspective on the performance of the Audacity Strategy for March and more. For more information on the strategy, visit our website here.
The Audacity Strategy is most often recommended as only one component of a Super-Diversified Portfolio. Therefore the information in this blog only pertains to one component of a Super-Diversified portfolio. For more on Super-Diversification, visit our website here.
Performance Summary

* Estimate based on Patton Flex Fund.
Note: the above are back-tested returns.
Year-to-Date Perspective
Audacity has held up well relative to the S&P 500 year-to-date and other hedge funds through the end of March.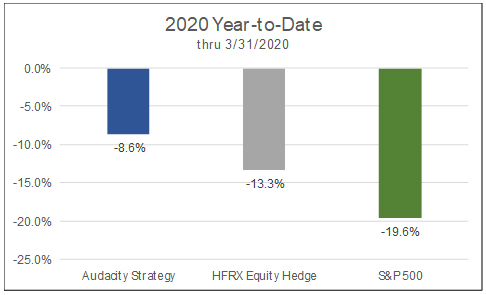 Strategy Highlights
Reduced Leverage
Use of leverage was reduced twice during March, on the 9th and again on the 16th, to the lowest target level of 2 times capital. This is an automatic risk control that triggers during periods of heightened volatility to reduce risk of loss. Read more in a recent blog.
Shorts Worked
As expected in a declining market as we had in March, the short positions generated a large gain for the Strategy and offset the entire loss from the long positions in spite of the Strategy's current long bias (more money invested in long positions than shorts).
Expedia Group (EXPE), the online travel site, is an example of a short position in the Strategy. This stock fell -42.9% during the month but did rally mid-month over a 5-day period by +44.3% creating short-term losses and volatility for the Strategy but still generating significant profits for the entire month. This is an example of the volatility we must endure to generate the best long-term returns.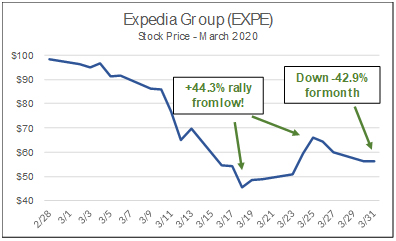 Some Longs Went Up
In a month when the S&P 500 lost -12.5%, we would expect our long positions to fall sharply as many did. Fortunately, of the 74 total long positions in the Strategy throughout March, 57 were down while 17 generated profits including Rite Aid (RAD), Kroger (KR), Walmart (WMT), and Clorox Company (CLX).
Volatility Reduced but Still High
The Strategy generally has volatility, or change in value from day-to-day, that is more than double the S&P 500. Since the full deleveraging of the Strategy on March 16th, as discussed above, the volatility of the Strategy has dropped but remains about 50% higher than the S&P 500.
Market Highlights
For an overview of the market, click here for our blog.