All blog content is for information purposes. Any reference to indivisual stocks, indexes, or other securities as well as all graphs and tables are not recommendation but only referenced for illustration purposes.
Market Commentary
for the week ending August 29th, 2020
Summary
Everything but bonds saw higher prices this week as investors remain bullish.
The economy continues to strengthen with new home sales and durable goods orders surging in the most recent month and outpacing forecasts by a wide margin.
The NASDAQ Composite continued to lead the market higher with a year-to-date performance among its best in history.
The NASDAQ's 2020 Rally in Perspective
The tech-heavy NASDAQ Composite has led the market higher this year posting a year-to-date performance +30.4%! This has been a remarkable run for technology stocks with investors seeing them as the long-term winners in the new COVID-19 economy.
The below graph shows the year-to-date performance for every year since 1971. As the orange highlight for 2020 shows, this has been the fourth best year-to-date performance through August 30th in its history.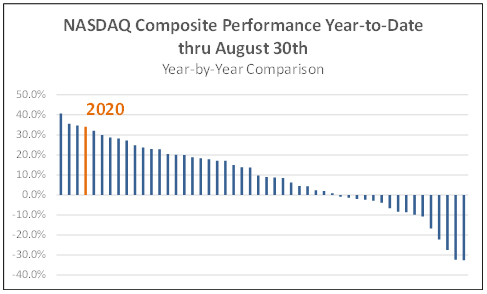 Click here to see a table showing the performance for every year through August 30th as well as the full year performance.
This Week's Performance Highlights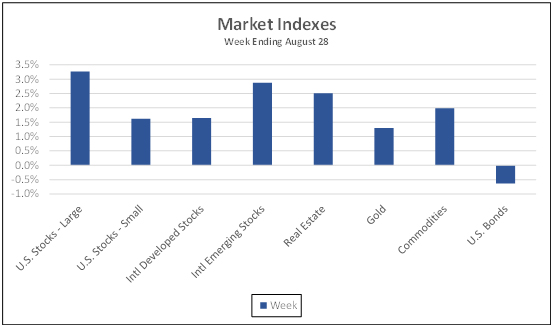 Source: www.YCharts.com
U.S. large-cap stocks rallied once again with the S&P 500 gaining +3.3% and solidly in positive territory for 2020. The Dow Industrials lagged behind but were higher by +2.6% crossing into positive territory year-to-date for the first since pre-COVID higher by +0.4%.
Every sector but Utilities were higher with Technology and Financials leading the way up +4.4% and +4.3% respectively.
International stocks have trailed U.S. markets since the pandemic-induced bear market hit and did so once again this week with developed markets posting an average gain of +1.7%. Eurozone markets outperformed the average higher by +2.6% helped by Germany, France, and Spain.
Emerging markets had a strong week rallying +2.9% with markets in Brazil, Thailand, and South Africa leading the way. This week's gains for emerging markets put them in positive territory for the first time since late January.
All of the less traditional asset classes moved higher with the overall markets with real estate stocks performing the best of the three up +2.5% but still off -17.9% for the year.
Gold notched a +1.5% gain for the week, a bit surprising given the strong performance of the overall markets and this often moving in the opposite direction. Including this week's performance gold is off its early August record high by -4.9% but higher for the year by +29.0%.
Commodities gained +2.0% and are lower year-to-date by -30.4%.
Bonds were the only major asset class moving lower shedding -0.6% for the week as the economy continues to show signs for improvement and bond yields inch higher. Year-to-date bonds remain higher by +6.7%.
Economic Indicators
The housing sector remains hot with new home sales surpassing forecasts coming in at an annualized rate of 901,000. This was a +14% jump from the previous month and +36% above the same period last year. The differences from region-to-region were extreme with the Midwest experiencing a +59% compared to the prior month while sales fell -23% in the Northeast. The average new home price came in +7% above year-ago levels at $330,000.
Low interest rates are helping more than just the housing industry as orders for durable goods soared +11.2%, more than double economists' forecast, fueled by strong demand for cars and trucks. When stripping out the transportation sector, orders increased by a much more moderate +2.4% suggesting the industrial sector has been slower to recover. Overall orders remain -6% below pre-crisis levels.
Consumer Confidence fell to a new pandemic low of 84.6 from a revised 91.7 the month before. Economists failed to anticipate this forecasting what they expected to be an improvement to 93.0. Increased outbreaks of COVID-19 and the end of the additional $600 per week unemployment benefits are being blamed for this lower reading.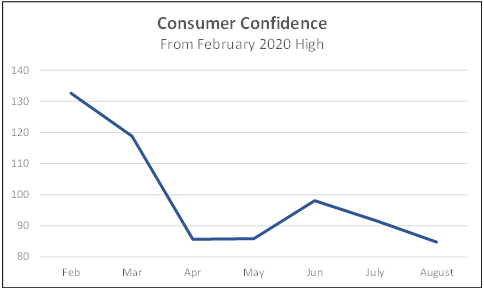 Source: www.Conference-Board.org
Initial jobless claims came in at just of 1 million, down 98,000 from the week before, with hopes rising that this downward trend, although rather slow, will persist. Continuing claims, the total number of people receiving unemployment via state programs, also fell for the week. We will get more data on the employment market with the August employment report due this coming Friday.
Upcoming Economic Reports
Employment Report (August)
Jobless Claims
ISM Manufacturing Index
Vehicle Sales
Factory Orders