ALL BLOG CONTENT IS FOR INFORMATIONAL PURPOSES ONLY. ANY REFERENCE TO OR MENTION OF INDIVIDUAL STOCKS, INDEXES, OR OTHER SECURITIES ARE NOT RECOMMENDATIONS AND ARE SPECIFICALLY NOT REFERENCED AS PAST RECOMMENDATIONS OF PATTON WEALTH ADVISORS. ALL GRAPHS, CHARTS, AND TABLES ARE PROVIDED FOR ILLUSTRATION PURPOSES ONLY. EXPRESSIONS OF OPINION ARE ALSO NOT RECOMMENDATIONS AND ARE SUBJECT TO CHANGE WITHOUT NOTICE IN REACTION TO SHIFTING MARKET, ECONOMIC, OR POLITICAL CONDITIONS. IT IS COMMON FOR US TO USE A FUND AS A PROXY FOR AN INDEX OR ASSET CLASS. FOR MORE DETAILS SEE OUR FULL DISCLOSURE HERE.
Market Commentary
for the week ending July 13th, 2019
Summary
Fed Chairman Powell's congressional testimony fueled optimism of a coming interest rate cut
Large U.S. stocks reach record highs with the Dow Jones Industrials crossing 27,000 for the first time
Inflation reports show no meaningful signs for escalating price increases
Market Performance Summary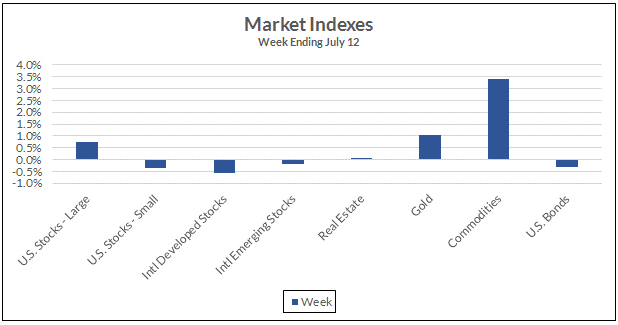 Source: www.YCharts.com
Notable Market Headlines
Fed Chairman Jerome Powell's congressional testimony suggested the Federal Reserve still sees some weakness in the economy. These comments helped fuel a continued market rally pushing large U.S. stocks, including the S&P 500 and Dow Jones Industrials, to record highs on hopes and expectations the Fed will cut interest rates soon.
At the close of the week large U.S. stocks, as measured by the S&P 500, were higher by +0.7% closing above 3,000 for the first time ever. The Dow Jones Industrials posted gains of nearly double the S&P 500 gaining +1.5% for the week helped by strength in some healthcare stocks including Dow component UnitedHealth Group (UNH). Year-to-date the S&P 500 is higher by +20.3%.
The story this week though was not one all of gains as small U.S. stocks declined -0.4%. General consensus would be that smaller companies tend to be more strained during periods of slowing economic activity. Regardless these stocks remain higher year-to-date by +16.6%.
Although U.S. large stocks rallied, international stocks did not follow suit this week. Developed markets were lower by -0.6% with one of the poorer performing countries being Germany down -1.6%. Emerging markets fared somewhat better down just -0.2%. Turkey's market was the worst performing, down -3.4%, as tensions between Turkey and the U.S. intensify. It was a rough week for this market but as the accompanying graph illustrate, Turkey's market has had a miserable decade trading today -69% below its 2010 high.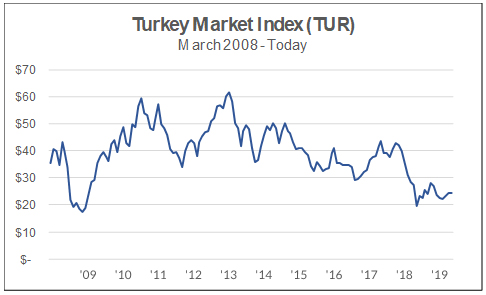 Source: www.YahooFinance.com symbol TUR
The non-traditional assets all performed relatively well with commodities leading the group up +3.4% on a rally in the price of oil closed back above $60 per barrel. Gold posted a gain of +1.0 while real estate stocks inched higher by +0.1%. All three are up double-digits for the year.
Bond prices fell -0.3% this week, a bit contrary to popular belief that lower interest rates anticipated from the Federal Reserve would drive higher bond prices. The yield on the benchmark 10-Year U.S. Treasury Bond moved higher on these lower prices closing at 2.124%.
Stock Highlights
The two best performing stocks in the S&P 500 were technology stocks Western Digital (WDC) gaining +14.0% and Micron Technology (MU) up +12.9%. Both of these stocks are part of a strong rally for computer chip and chip-related stocks on some easing tensions with China as well as expectations that an oversupply of product is nearly past.
Humana (HUM), one of the largest private insurance providers, saw its stocks rally +10.0% this week on news that the Trump administration is withdrawing its proposal to eliminate rebates from government drug plans. Other reports suggested such a move would have had negative unintended consequences of generally raising drug prices. Other stocks in the industry rallied as well including Cigna (CI) up +9.7%, Anthem (ANTM) gaining +9.3%, and UnitedHealth Group (UNH) rallying +7.7%. All of these stocks continue to lag behind the S&P 500 year-to-date.
Illumina Inc. (ILMN), a major player in the genome sequencing or DNA testing business, provided updated guidance for its second quarter that disappointed investors. The company said revenue and earnings would both come in below original expectations due to a host of issues management describes as "transitory" and do not impact the long-term fundamentals for the business. Investors have come to expect a lot from this company given the growth in sales as illustrated in the accompanying graph. Investor were clearly disappointed this week with the stock losing -19.4% but does remain slightly positive year-to-date.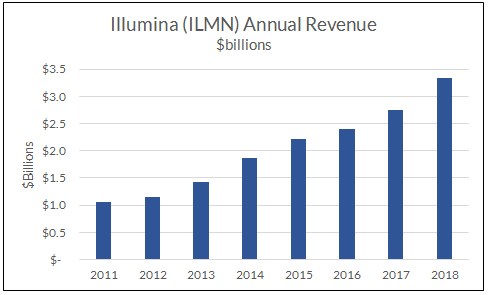 Source: www.YCharts.com
Economic Indicator - Reported
The Consumer Price Index (CPI) showed retail prices higher by just +0.1% in the most recent month and up +1.6% for the past 12 months. When stripping out the volatile food and energy groups inflation does appear to be creeping higher up +0.3% for the month, more than economists had forecast, and +2.1% compared to a year ago. Energy prices were all lower this month while rents, apparel, and household furnishings experience gains.
Produce Prices (PPI) were also higher by just +0.1% in the most recent month as compared to forecasts of -0.1%. Unlike the CPI, when excluding food and energy, the core PPI was flat.
These muted reports on inflation give the Federal Reserve room to lower interest rates as expected.
Economic Indicators – Upcoming
The following economic data is expected in the coming week:
Retails Sales for June expected up +0.2% compared to a +0.5% last month
Industrials Production forecast to have grown +0.1%
Housing Starts are estimated to have slowed in June
Consumer Sentiment
The information provided here is for general informational purposes only and should not be considered an individualized recommendation or personalized investment advice. Any specific securities or investment strategies mentioned here may not be suitable for everyone. Each investor needs to review an investment strategy for his or her own situation before making any investment decision including whether to retain an investment adviser.
All expressions of opinion are subject to change without notice in reaction to shifting market, economic or political conditions. Data contained herein from third party providers is obtained from what are considered reliable sources. However, its accuracy, completeness or reliability cannot be guaranteed. This content was created as of the specific date indicated and reflects the author's views as of that date. Supporting documentation for any claims or statistical information is available upon request.
Past performance is no guarantee of future results. Any comments about the performance of securities, markets, or indexes and any opinions presented are not to be viewed as indicators of future performance.
Investing involves risk including loss of principal.
Indexes are unmanaged, do not incur management fees, costs and expenses, and cannot be invested in directly. For more information on specific indexes please see full disclosure here.
Any charts, tables, forecasts, etc. contained herein are for illustrative purposes only, may be based upon proprietary research, and are developed through analysis of historical public data.
All corporate names shown above are for illustrative purposes only and are NOT recommendations.
International investments involve additional risks, which include differences in financial accounting standards, currency fluctuations, geopolitical risk, foreign taxes and regulations, and the potential for illiquid markets. Investing in emerging markets may accentuate these risks.
Fixed income securities are subject to increased loss of principal during periods of rising interest rates. Fixed-income investments are subject to various other risks including changes in credit quality, market valuations, liquidity, prepayments, early redemption, corporate events, tax ramifications and other factors. Lower-rated securities are subject to greater credit risk, default risk, and liquidity risk.