All blog content is for information purposes. Any reference to indivisual stocks, indexes, or other securities as well as all graphs and tables are not recommendation but only referenced for illustration purposes.
Market Commentary
for the week ending February 1st, 2020
Summary
Fears that the Coronavirus would impact global economic growth caused markets to selloff around the world with emerging markets suffering the biggest losses
The typical safe havens, bonds and gold, moved higher for the week
Both the Federal Reserve and Bank of England left interest rates unchanged singling their concerns about a possible economic slowdown
Market Performance Summary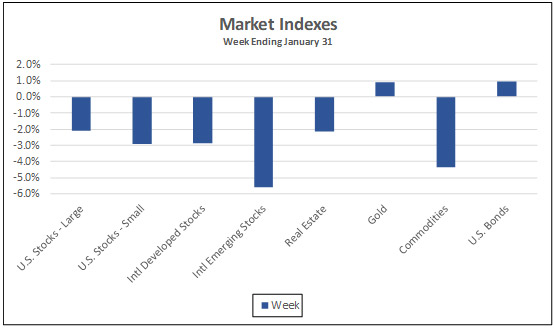 Source: www.YCharts.com
Notable Market Headlines
During the first two to three week of the year markets steadily moved higher with very little volatility to speak of. This tranquility was snapped at the opening bell at the start of the week and persisted through the closing bell on Friday. Investors are fearful about reports of the coronavirus spreading, the World Health Organization declares a global emergency, continued isolation of those infected, and airlines cutting flights to China all expected to have a negative impact on economic growth. Unrelated, the Federal Reserve and the Bank of England both left interest rates unchanged as widely expected. The Fed did make comments that they are watching the impact of the coronavirus and risks to the economy.
At the close of the week the S&P 500, a measure of large U.S. stocks performance, was lower by -2.1%. This leaves the index in negative territory for the year but only off -3.1% from its January 17th high. The Dow Jones Industrials have had a rougher time down -2.5% for the week and now off -1.0% for 2019. The accompanying graph shows the daily change in value of the Dow Jones Industrial Average falling sharply on Monday but then recovering the next three days only to fall by an even larger amount on Friday. Again, though, this index of large U.S. stocks is only down -1.0% for the year.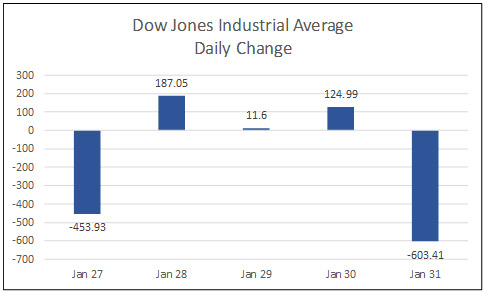 Source: www.YCharts.com
Technology stocks were lower as well on the week with the NASDAQ Composite falling -1.8%. These stocks though continue to be standout performers with the NASDAQ still higher year-to-date by +2.0% helped by some of the industry's giants including Apple (AAPL), Microsoft (MSFT), and Amazon (AMZN) all up +5% or more for the year.
Small U.S. stocks continue to underperform large stocks down -2.9% for the week and -3.1% year-to-date. In spite of these stocks looking like they are less expensive than large stocks, investors seem to view them at greater risk if the economy slows.
International markets experienced bigger losses than we saw in the U.S. Developed country stocks, on average, fell by -2.9% with the biggest drop in Australia down -4.3%. Stocks in the United Kingdom were being watch closes as Brexit took effect January 31st. It is expected that little will change immediately as the country's leaders continue to work on trading deals with other countries.
Emerging international markets were off the most for the week down -5.6%. China's market, the largest of the emerging markets, was off -6.2% while some others were worse including South Korea down -8.4% and Taiwan falling -6.5%. These markets and economies are currently among those expected to feel the greatest impact of the coronavirus.
Gold, a common safe haven for investors, gained +0.9% for the week and is up +4.5% in 2019. It was the only alternative to climb higher for the week as both Real Estate stocks and Commodities declined -2.2% and -4.4% respectively. Commodities are off more than -10% year-to-date due to a sharp drop in the price of oil due to the risk of slowing demand if the global economy slows.
Bond prices gain and yields fell as investors flocked to this safe haven as well. For the week bonds were higher by +0.9% and have now gained +2.2% for the year. The yield on the benchmark 10-Year U.S. Treasury fell to 1.509% from 1.688% just last week and 1.920% at the start of the year.
Stock Highlights
Amazon (AMZN), the giant online retailer, reported a blowout holiday quarter with sales reaching $87.4 billion and more than $3 billion in profits. The numbers were meaningfully better than the company had forecast and well above Wall Street estimates. As you can see in the accompanying graph this quarter marks a return growth in profits after two consecutive quarterly declines. This was all well-received by investors with the stock gain +7.9% for the week but still remains just below its July 2019 all-time high.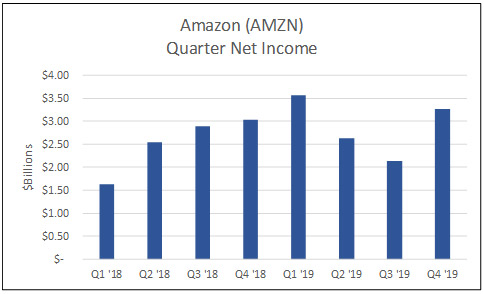 Source: www.YCharts.com
Microsoft (MSFT) has been hitting on all cylinders and reported another stellar quarter. Revenue hit $36.9 billion fueled by a +62% jump in its cloud-computing business Azure and +24% rise for social media site LinkedIn. This stock was just above $100 a year ago and is now trading about $170 after gaining another +3.1% this week.
Apple (AAPL), the most valuable company in the country at $1.354 trillion, reported another strong quarter topping Wall Street estimates including record quarterly revenue of $91.8 billion. Strength in iPhone sales, wearables including watches and earbuds, and services drove the strong results. The company has closed 42 retail stores in China and is unsure how the coronavirus will impact results in 2020. Apple's stock fell -2.8% for the week but is higher by +5.4% year-to-date.
Harley Davidson (HOG), the iconic motorcycle manufacturer, continues to see its business decline due to the continued aging of its primary customer base. Both sales and earnings came in below both last year's results and analysts' expectations. Revenue peaked for this company in 2014 as did its stock price which is now off more than -50% from those highs nearly 6 years ago.
Economic Indicator - Reported
Gross Domestic Product (GDP) grew more than economists had expected in the fourth quarter coming in at +2.1%. The growth was fueled by continued strong consumer spending and a reduced trade deficit while business investment was a drag. Although this was better than expected it is well below the growth in early 2019.
Durable Goods Orders, orders for items lasting multiple years, jumped in the most recent month by +2.4%. This was a strong headline number but when subtracting military spending the report shows all other orders falling by -2.5%. In addition to this generally disappointing month, the prior month's number was revised lower as well. These slowing orders are a potential threat to overall economic growth in 2020.
New Home Sales came in at an annualized rate of 694,000 homes which was a small decline from the prior month's number and below economists expectations. In a separate report the Case-Shiller Home Price Index rose +3.5% which was an improvement over the prior month's gain.
Economic Indicators – Upcoming
The following economic data are expected in the coming week:
Employment Report
ISM Manufacturing Index
Motor Vehicle Sales
Trade Deficit