All blog content is for information purposes. Any reference to indivisual stocks, indexes, or other securities as well as all graphs and tables are not recommendation but only referenced for illustration purposes.
Market Commentary
for the week ending June 12th, 2021
Summary
Year-over-year consumer price increases reach a multi-decade high.
The NASDAQ jumps higher while the S&P 500 hits an all-time record high.
Bond yields continue to ease with investors showing little concern about lasting inflation.
This Week's Performance Highlights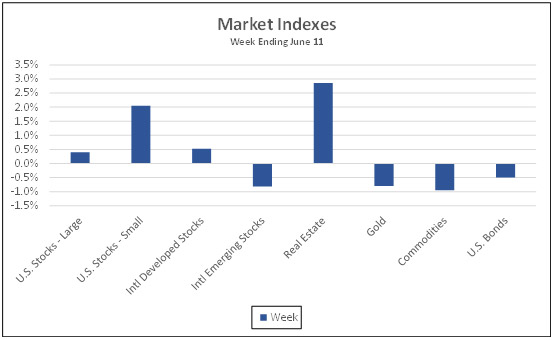 Source: www.YCharts.com
Large U.S. stocks hit an all-time record high as measured by the S&P 500 gaining +0.4% for the week and now higher by +13.1% in 2021.  Although the tech-heavy NASDAQ Composite had a much better week jumping +1.9%, it remains below its late April record high and is lagging for the year with a gain of +9.2%.
The 10 largest NASDAQ 100 stocks all contributed to last week's gains including Amazon (AMZN), PayPal (PYPL), and Alphabet (GOOG) up +4.4%, +3.2%, +2.5% respectively.
Small U.S. stocks posted big gains for the week as well, up +2.1%, but are also still off their March highs.
International stocks were more mixed for the week with developed country markets higher by an average of +0.5%.  Performance varied by region though with Eurozone markets higher, including stocks in Spain and France, while both Japan and Australia posted fractional losses.
Emerging markets moved lower by -0.8% with stocks in Brazil, China, and Hong Kong all lower.  As the accompanying graph shows, not only did emerging markets post some of the poorer performance for the week, they are the markets that remain furthest below their highs set earlier this year.

Source: www.YCharts.com

As inflation fears ease, in spite of a report showing much the contrary, the price of gold and commodities have eased.  For the week gold was off -0.8% and commodities declined -1.0%.  Year-to-date though these have performed very differently with gold down -1.5% in 2021 while commodities have surged +29.6%.
Real estate stocks have also surged in 2021 gaining +26.8% including last week's spike higher by +2.9%.  Simon Property Group (SPG), one of the biggest owners of shopping malls, has had the best performing stock in 2021 surging +57.6%!

Source: www.YCharts.com

Bond yields continue to come off their 2021 highs helping stocks move higher.  The yield on the benchmark 10-Year U.S. Treasury hit a low last week of 1.441% off the March high of 1.745%.
Interesting Numbers
-47.1%
The price of Bitcoin fell to a closing low of $33,504 off -47.1% from its mid-April high.  Although it has been a rough couple of months for investors in this digital currency, the price remains more than 3 times what it was less than a year ago!  Corrections of this size have not been unusual for Bitcoin as it fell -81% in 2014 – 2015 and then again by -83% in 2018.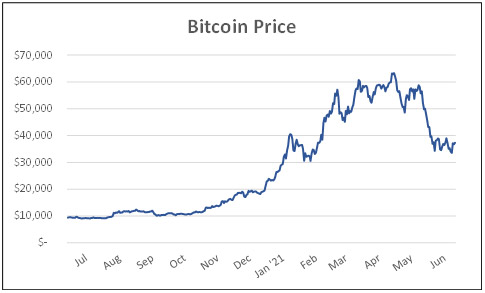 Economic Indicators
+5.0%
The Consumer Price Index ("CPI"), a measure of retail inflation, surged to a 13-year year-over-year high of +5.0% as the economy reopens.  The Core CPI, a measure that removes volatile food and energy prices, hit an annual rate of +3.8% which is the highest in 29 years as illustrated in the accompanying graph.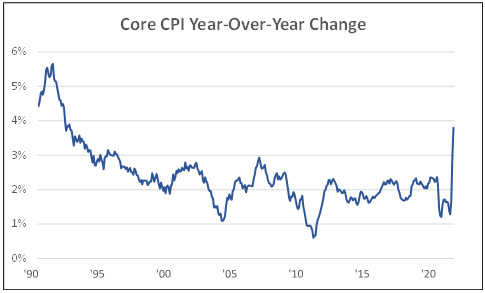 Source: https://fred.stlouisfed.org/series/CPILFESL
Used cars were among the goods significantly contributing to the month's higher prices up +7.3% after surging +10.0% the month before. Food, airline tickets, furniture, clothing, and insurance all saw higher prices.
The Federal Reserve believes this is only a temporary blip resulting from comparisons to depressed prices a year ago occurring at the onset of the pandemic.  Some people worry though that people will start to demand high wages which could set off a cycle that is more difficult to stop.  For now, Wall street does not seem to be worried with bond yields easing and stocks generally moving higher.
86.4
The University of Michigan's Consumer Sentiment Index rose in June to a preliminary 86.4, better than economists had expected, compared to 82.9 the month before.  Consumers views of both the current economic conditions as well as expectations over the next 6 months improved.  Furthermore, inflation expectations over the next year fell from 4.6% to 4.0%.
376,000
Weekly Initial Jobless Claims eased a bit further down to 376,000 in the most recent week compared to 385,000 the week before.
Upcoming Economic Reports
Retail Sales
Produce Price Index
Industrial Production
Housing Starts
Initial Jobless Claims