All blog content is for information purposes. Any reference to indivisual stocks, indexes, or other securities as well as all graphs and tables are not recommendation but only referenced for illustration purposes.
Market Commentary
for the week ending February 22nd, 2020
Summary
Stocks decline around the world as investors fear the coronavirus economic impact
The yield on 30-Year U.S. Treasuries hit an all-time record low
Alternative investments, including gold, performed well for the week
Market Performance Summary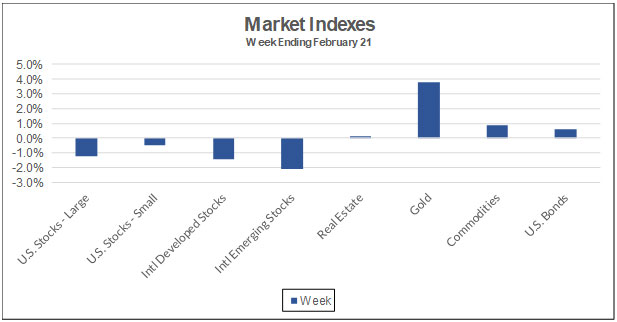 Source: www.YCharts.com
Notable Market Headlines
One day investors seem to be totally unconcerned about the coronavirus sending stocks sharply higher and then the next day concerns rise and stocks sink. One thing that is certain is that dozens of companies have said sales and earnings will be negatively impacted for at least one quarter due to the virus. The unanswered question is whether or not the outbreak has peaked and how long the negative impact on the economy may persist.
At the end of the week large U.S. stocks were lower by -1.2%, as measured by the S&P 500, after having hit a record high midweek. Both the Dow Jones Industrial Average and the tech-heavy NASDAQ Composite were off more down -1.4% and -1.6% respectively. Small U.S. stocks had a much better week still down but only by -0.5% as much of the selling was most aggressive in large companies with a worldwide presence and the concerns of the coronavirus on the global economy.
International stocks were all lower as well with developed country stocks down -1.4%. Of the developed regions, the losses varied greatly with the Eurozone down just -1.0% while Japan lost -3.1%. Emerging markets suffered a larger overall loss of -2.1% for the week although China was down just -0.6%.
The alternative asset classes all performed relatively well this week with the best being gold's rise by +3.8% leaving it higher by +8.3% year-to-date. Investors were clearly fleeing from stocks and seeking gold as a safe haven. Commodities were higher as well by +0.9% but remain lower for the year by -8.7%. Real estate stocks eked out a small gain of +0.1% and are higher by +5.5% in 2019.
Bonds were among the big stories of the week overall gaining +0.6%. The big news was the U.S. 30-Year Treasury Bond Yield hitting a record low intraday on Friday of 1.889% but then closing at 1.917%. The accompany graph shows the yield back to the late '70s. It peaked above 15% in the early '80s and has been falling for nearly 40 years! The explanation for this week's lower yield and higher price is the coronavirus and investors' desire for a safe investment. Slowing economic growth and low inflation can also be pointed to for lower yields.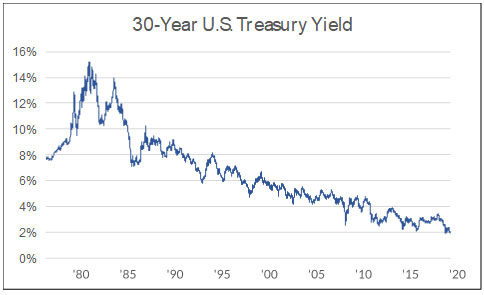 Source: www.YahooFinance.com
Stock Highlights
E*TRADE Financial (ETFC), a large online discount brokerage, agreed to be purchased by investment banking giant Morgan Stanley (MS) in a deal value at $13 billion. This acquisition bring Morgan Stanley five million retail customers and $360 billion in assets as well as an online bank. E*TRADE's future has been uncertain since its two larger rivals, Charles Schwab and TD Ameritrade, announced their merger late last year. This week's news sent E*TRADE's stock up +20.7% while Morgan Stanley's fell -6.1%.
Newmont Mining (NEM), the world's largest gold producer, reported strong quarterly earnings of $0.50 per share up 25% from last year helped by production up +27% to 1.83 million ounces for the year. The company's stock price rallied on the news, also helped by a strong rise in the price of gold this week, up +12.2%.
ViacomCBS (VIAC), a media conglomerate with worldwide operations, reported quarterly results of a loss of -$0.42 per share as the company completed its merger of Viacom and CBS. Revenue fell by -3% to $6.87 billion compared to Wall Street expectations of $7.34 billion. This all added up to a huge disappointment for investors with the stocks falling -19.2% for the week making it the worst performing stock in the S&P 500.
Norwegian Cruise Line Holdings (NCLH), the third largest cruise company in the world with revenue of approximately $6.4 billion, reported fourth quarter results that wrapped up the company's sixth consecutive year of record revenue and earnings per share. The impact though of the coronavirus, the cancellation of Asian cruises until the third quarter, and the State Department's urging not to take cruises in Asia weighed on the stocks with it falling -10.5% for the week and now down -19.6% for the year.
Economic Indicator - Reported
Housing Starts fell in February to 1.567 million annually but were much stronger than economists had forecast. Permits for new construction though hit a 13-year high suggesting we should see higher starts in the future.
The Producer Price Index (PPI) came in much hotter than expected up +0.5% in the most recent month as compared to last month's rise of just +0.2% and economists' forecast of +0.2%. This unexpected spike higher in prices was almost entirely the result of a spike in trade margins that have little bearing on what companies pay over the longer run.
The Leading Economic Indicators index came in very strong up +0.8% suggesting the economy is off to a strong start in 2020. The big rise in housing permits, as noted above, contributed to this strong report.
Economic Indicators – Upcoming
The following economic data are expected in the coming week:
Case-Shiller Home Price Index
Consumer Confidence Index
New Home Sales
Durable Goods Orders
Consumer Spending