All blog content is for information purposes. Any reference to indivisual stocks, indexes, or other securities as well as all graphs and tables are not recommendation but only referenced for illustration purposes.
Week 1 Market Recap
Markets were higher across the board. Small U.S. stocks lagged behind larger stocks after having significantly outpaced larger stocks since the election. International stocks performed even better than U.S. stocks in spite of concerns about economic growth and banking problems.

Notable Market Headlines
Dow Fails to Reach 20,000 – it reached 19,999.63 but then retreated. Maybe next week!
Volatility Remains Near All-Time Lows – in spite of wide spread predictions, the market's volatility remains very low. Some people are predicting this is the calm before the storm. It could be but someone is always making such a prediction.
Increased Inflation Fears Persist – the sustained recent rise in interest rates is an indication investors are expected more inflation in the future.
Market Leaders
Top 10 Performers – Summary
Gained 8% of more
The week's winners were last year's losers down an average of -26% in 2016 (average stock gained 12% in 2016)
4 of the Top 10 have no earnings the past year (average is 1 in 10 companies have reported no earnings the past year)
Notable Winners
TripAdvisor

Popular travel site
No news
Up +9.5% for the week after being down -46% in 2016
Investors are betting on an earnings rebound
Alexion

Specialty pharmaceutical company
No news
Up +17% for the week after being down -35% in 2016
Company has multiple shareholder class action lawsuits related to an alleged accounting scandal
Market Laggards
Bottom 10 Performers – Summary
6 of the 10 worst performers were retailers

Kohl's – reported lower same-store sales
Macy's – closing 63 stores and eliminating 10,000 employees

9 out of 10 have positive earnings the last 12 months
Economic Indicator - Reported
December Employment Report: +156k new jobs (consensus +175k) and 4.7% unemployment rate. The report appeared to be of no surprise and had little impact on the market.
Interesting long-term trend: 18.1% of employees work for the government. This has generally been trending lower since the mid-'70s.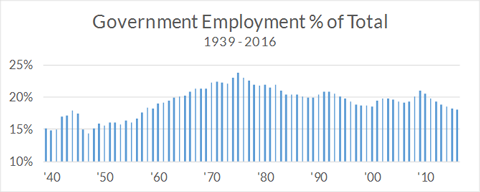 Economic Indicators – Upcoming
Retail Sales – the consensus estimate is that retails had a strong holiday season.
Investor Trivia
How many publicly traded companies (public stocks) are there in the U.S. as of June 2016?
4,333. This is down from a peak of 8,025 in 1996. A couple of reasons for this is 1.) higher regulatory costs of being a public company today and 2.) low interest rates have made large amounts of money available to private companies. Source: JP Morgan.