All blog content is for information purposes. Any reference to indivisual stocks, indexes, or other securities as well as all graphs and tables are not recommendation but only referenced for illustration purposes.
Week Ending 3/31/2017
Summary
U.S. stocks closed higher, wrapping up a strong first quarter
International stocks were mixed for the week but have been leaders year-to-date
Energy stocks staged a strong rebound as the price of oil moved higher
Consumer Confidence surged in February
First quarter earnings expected to increase +10.2%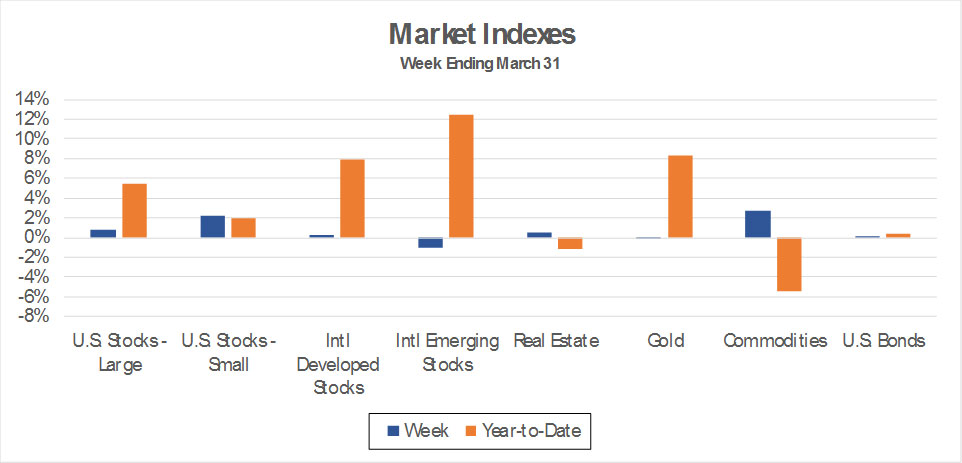 Notable Market Headlines
In spite of a triple digit loss on the Dow Jones Industrials to start the week, U.S. stocks closed higher and wrapped up a strong first quarter. For the week large U.S. stocks gained +0.80% while small U.S. stocks jumped +2.2%. Both are off their early March record highs but still higher for the quarter with large U.S. stocks up +5.5% and small stocks are +2.0%.
Although international stocks were mixed for this last week of March with developed country stocks up a fraction of a percent and emerging market stocks down more than one percent, they have been leaders year-to-date. In particular, international emerging markets gained +12.5% for the quarter with leaders including Russia's market up +26%, Brazil's surging by +39%, and India's gaining +20%.
Commodities, with the help of the price of oil, recovered some of their year-to-date losses this week with a gain of +2.7%. Gold closed nearly unchanged for the week but is up a strong +8.3% for the quarter. Real estate gained +0.6% this week but has been a disappointment this year, due to the expectation of higher interest rates, with a loss of -1.1%.
There was very little movement in the price of U.S. bonds this week.
Investor Trivia Question
We're about two weeks away from the April 15th tax deadline. As I was watching CNBC this morning one commentator suggested that there tends to be downward pressure on stock prices during these first two weeks of April as investors liquidate some holdings to pay their tax bills. I decided to test this theory.
The average gain for stocks during a two week period is about 0.5%. How do you think stock tend to perform from April 1st to the 15th?
Market Leaders
Vertex Pharmaceuticals (VRTX), a biotech company, was the standout winner this week with its stock surging +21.5%. This performance came on positive news regarding phase 3 results of 2 studies related to cystic fibrosis. This late-quarter surge made it the second best performing stock for the first quarter with a gain of +48.4%. As well as Vertex has performed this year, the stock still remains off its early 2016 high as the following graph shows.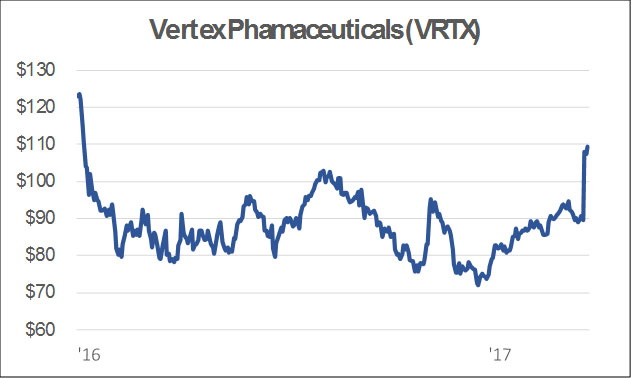 FMC Corp (FMC), a diversified chemical company, has been a stock to own the past year or more. This week it jumped +13.8% on news that it will acquire DuPont's Crop Protection business in exchange for a different business. This transaction was required by the European Commission so that DuPont can complete its merger with Dow Chemical. Investors were clearly pleased with this transaction for FMC. This week's gain added to gains already for the year with the stock now up +23% year-to-date. This strong start to 2017 also followed a very strong 2016 gain of +44.6%.
Energy stocks were the leaders comprising 4 of the top 10 performs this week:
Chesapeake Energy (CHK): +13.8%
ConocoPhillips (COP): +13.1%
Murphy Oil (MUR): +11.0%
Newfield Exploration (NFX): +10.2%
In spite of this strong week, all four of these stocks remain negative year-to-.
Market Laggards
Nearly 70% of stocks moved higher for the week leaving relatively few losers and none of any significant consequence.
It has been a rough start for the year for many retail stocks. The most notable losses for the quarter include:
Under Armour (UAA), athletic apparel: -31.9%
L Brands (LB): -28.5%
Target (TGT), general merchandise: -23.6%
Kohl's (KSS), general merchandise: -19.4%
This weakness in the retail sector poses some concern for the overall economy given the
Economic Indicator - Reported
Consumer Confidence, a survey of consumer attitudes on the economy, surged in March to a reading of 125.6. This was a big surprise and well above estimates and puts the indicator at its highest level in more than 16 year! This monthly reading continues the gains since the election but there is fear that it will slow given the failure to pass a new health care bill.
Home prices continue to rise with January's year-over-year gain coming in a +5.9%. Concerns about higher mortgage rates have yet to materialize and have been outweighed by a low inventory of homes for sales.
Economic Indicators – Upcoming
The March employment report will be the economic highlight. Economists are predicting 178,000 new jobs were added for the month which would be down from a strong February report. The unemployment rate is expected to remain unchanged at 4.7%
The ADP employment report as well as weekly jobless claims will also be reported but both will be far overshadowed by Friday's report.
Investor Trivia ANSWER
+0.77%! This is the average gain for the S&P 500 from April 1st – April 15th going back 53 years (as far back as I easily have data). It compares to an average two week gain of about +0.5%. So much for the CNBC commentator suggesting there tends to be downward pressure on stocks during the period leading up to tax day. Of the 53 years, 35 were positive with 18 of those higher by more than 2%.