All blog content is for information purposes. Any reference to indivisual stocks, indexes, or other securities as well as all graphs and tables are not recommendation but only referenced for illustration purposes.
Week Ending 4/15/2017
Summary
Stock prices around the world fell in the shortened holiday weak for investors
Diversified portfolios weathered the week well with everything other than stocks moving higher
Retail sales fell in March as did Consumer Prices showing signs of a possibly weakening economy
Bond yields continue decline…concerns about economic growth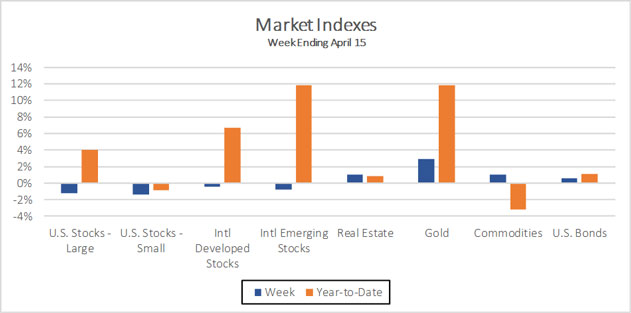 Notable Market Headlines
Stocks around the world declined with those in the U.S. posting larger gains than others around the world. Large U.S. stocks fell by -1.24% for the week and small U.S. stocks fell -1.37%. Year-to-date large U.S. stocks remain in positive territory but are off their March 1st high by -2.8%. After this week's loss, small U.S. stocks are in negative territory year-to-date and off their record high -4.7%.
International stocks weathered the week's selling a little better than U.S. stocks with developed markets lower by only -0.4% and emerging markets lower by -0.8%.
The week was not all bad though for investors with a well-diversified portfolio. Real estate, gold, commodities, and bonds all moved contrary to the general stock markets around the world and posted gains. Real estate gained 1.0% and is now back into positive territory for the year. Commodities also gained 1.0% as the price of oil continued its recent uptrend but is still down -3.2% year-to-date.
The big winner for the week was gold moving higher by +2.9% and now up +11.9% for the year. As the below graph illustrates, since the record high for U.S. stocks on March 1st, the price of gold has risen about 3% while U.S. stocks have fallen nearly an equal amount.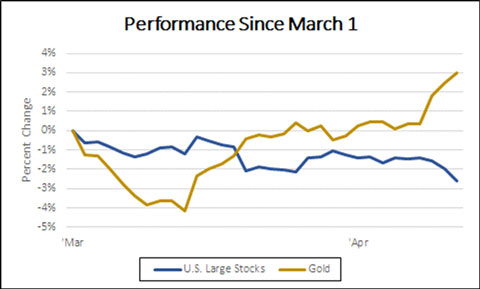 Bond yields continued their recent trend lower as investors grow more concerned about an economic slowdown. Also impacting yields was some Trump Talk saying the U.S. dollar is getting too strong and he would prefer seeing the Federal Reserve keep interest rates low. Regardless of the talk, bonds continue to serve as a buffer to declining stock prices as investors tend to expect.
Investor Trivia Question
Gold is generally believed to be a good investment during bear markets for stocks. As we have seen above since the March 1st high for U.S. stocks, gold has risen 3% while the large U.S. stocks have fallen by about the same amount.
During the past 8 major bear markets for stocks during the past 50 years, U.S. stocks have fallen an average of -32.7%. What was the average performance for gold during these bear markets?
See below for answer.
Market Leaders
Whole Foods Markets (WFM), a specialty grocer, stock gained +10.2% on news that an activist investor has taken a large position and wants to make some changes. The company has had a difficult time executing its plans well as illustrated by its relative flat earnings trend the past 4 years. In spite of the week's gain the stock remained about half its 2013 high.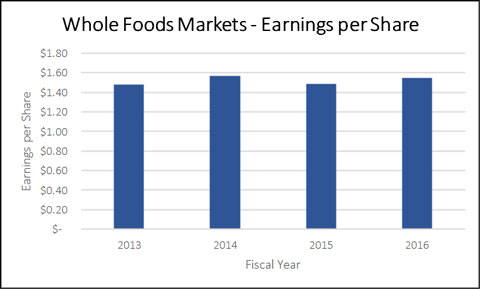 There were a limited number of winning stocks this week. One group that stood out was real estate stocks as they continue to rebound from selling earlier in the year as lower bond yields are viewed as a positive for this group. Some winners included:
Kimco Realty (KIM): +3.0%
Prologis Inc. (PLD): + 2.8%
Simon Property Group (SPG): +2.4%
Reality Income Corp (O): +2.1%
Year-to-date performance remains mixed for this group.
Market Laggards
73% of the stocks in the S&P 500 were lower for the week but few suffered sharp losses. Investors generally sold riskier stocks this week with the biggest declines in those that have seen more price volatility as well as those with lower dividend yields.
Fastenal (FAST), a nearly $4 billion distributor of industrial and construction equipment and classic "Trump Trade" after the election, stock dropped -10.6%. This stock had been a big winner following Trump's election on optimism about increased industrials production and economic growth. The stock remained
Tractor Supply Co. (TSCO), a rural retailer to the farming community, said that first quarter results will come in below expectations resulting in its stock dropping -8.6% for the week. Like many retails, the stock is down double-digits year-to-date after being lower in 2016 as well.
Economic Indicator - Reported
The economy is not producing the positive results investors have been hoping for. In spite of consumer confidence being a multi-year highs, last week's disappointing employment report was following by multiple disappointments this week.
Retails sales in March were reported down -0.2%, worse than economists had expected (not unusual). Poor weather was expected to dampen numbers but, unfortunately, consumers are showing broader signs of weakness.
Equally important was the revision to February retail sales originally reported as a gain of +0.1% and revised to a decline of -0.3%. This revision reminds us that investors reacting to these economic reports are often basing investment decisions on data that are simply not accurate.
Additional negative news was a drop in consumer price, the CPI, for March of -0.3%. Even when excluding the expected drop in food and energy (the core CPI), prices were still lower by -0.1%. This was the first decline in the core CPI since 2010 and could be an indication of a weakening economy.
These disappointing reports have resulting in economists lowering their expectations of overall economic growth for the first quarter. Just 2 months ago many economists were expecting first quarter growth of more than 3% and now most are estimating the number comes in below 1%. Expectations still remain high for the remainder of the year but clearly economists' estimates are not reliable.
Economic Indicators – Upcoming
We will get two reads on the housing market with both Housing Starts and Existing Homes Sales being reported. Both reports are expected to show steady but relatively strong numbers.
The Leading Indicators report, an average of 10 forward-looking numbers, will be reported for March. It has been very strong the past few months with the actual strength in the economy yet to materialize. This month's reported is expected to show some signs of slowing.
Investor Trivia ANSWER
Gold has gained an average of +18.6% during the past 8 major bear markets for stocks! The range of returns is wide but gold only declined during 2 of the 8 bear markets and was higher the other 6. There is no investment that servers as a perfect hedge for the drop in stock prices but gold does tend to be one of the best.