All blog content is for information purposes. Any reference to indivisual stocks, indexes, or other securities as well as all graphs and tables are not recommendation but only referenced for illustration purposes.
Market Commentary - Week Ending 5/12/2018
Summary
The U.S. stock market moved higher for five consecutive days
Multiple indications suggest that inflation remains tamed
Strong first quarter earnings have helped push valuations to near long-term averages
Market Performance Summary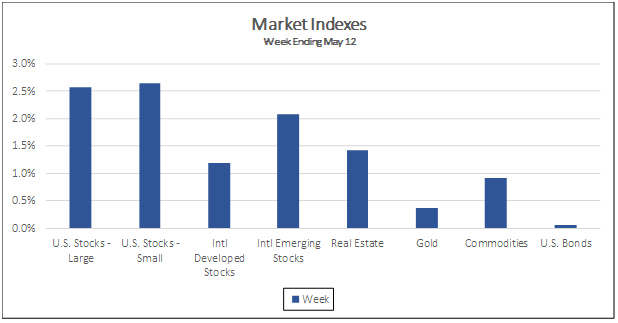 Source: S&P Compustat, www.yahoo.com/finance for Commodities
Notable Market Headlines
Stock markets rallied around the world and nearly all other investments followed them higher. The Dow Jones Industrials posted gains every day of the week leaving prices just 5% off the January record highs. Continued signs of economic growth and moderate inflation combined with political news being generally well-received by investors helped fuel the rally.
U.S. markets outpaced most other markets with both large U.S. stocks and small U.S. stocks gaining +2.6% for the week. Year-to-date small stocks hold a meaningful lead over large stocks with gains of +4.8% and +2.2% respectively. There was strength in most sectors with energy stocks topping the winners list with gains of +3.9% for the week followed by technology stocks up +3.6%.
Given the very strong first quarter earnings from many companies and a positive outlook by many, market valuations are very near long-term averages in spite of the very long bull market. According to the Wall Street Journal, the current forward price-to-earnings (P/E) ratio is 17.05 which compares to an average from 1990 – 2015 of 16.5 according to the Federal Reserve Bank of Cleveland. This contradicts arguments that the long bull market has resulting in stocks being overvalued.
International stocks gained for the week as well but did lag behind the U.S. markets. Developed markets were higher by +1.2% helped by the United Kingdom market up +1.9%. Year-to-date developed markets have gained +2.1%, a gain that is nearly identical to large U.S. stocks. Emerging markets posted gains of +2.1% which brought them into positive territory for 2018 now at +0.6%. China and Hong Kong markets were the clear leaders in this regain rallying +3.5% and +3.1% respectively.
Commodities continued moving higher, adding to their year's gains, up +0.9% for the week and +9.2% year-to-date. Fueling these gains are multi-year highs in oil prices which rallied further this week on the announcement that President Trump decided to pull out of the Iran deal.Gold prices gained +0.4% for the week and is higher by +1.1% in 2018.
Real estate continued its recent rally gaining another +1.4% for the week. It remains lower year-to-date by -3.8% but this is a significant improvement from its early February lows when it was down -12.6% for the year.
Bond prices were little change for the week up +0.1% and down -3.2% for the year.
Stock Highlights
TripAdvisor (TRIP), a leading internet travel site, reported earnings of nearly double Wall Street expectations on higher than expected revenue. The stock surged +27.1% for the week on this news and is higher year-to-date by +42.2% making it one of the year's best performers. That's, of course, good news for shareholders but this stock remains more than 50% below its 2014 highs.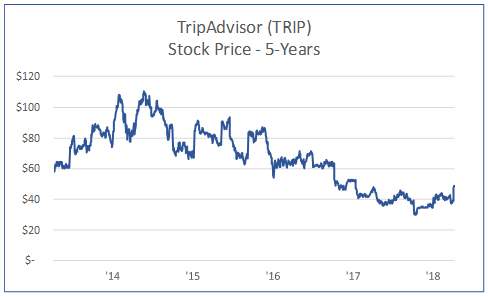 Source: www.YahooFinance.com
Expeditors Intl of Washington (EXPD), a worldwide freight company, reported earnings that far exceeded expectations on a 20% increase in revenue to $1.8 billion. Prices for airfreight and oceanic shipping containers are rising in what is a good sign for world economic growth. The company's stocks jumped +13.9% pulling it out of negative territory for the year. During the past 5 years, the stock has nearly doubled outpacing the S&P 500 by +30%.
Some of the largest financial sector stocks posted strong performance this week rising 2-3 times more than the overall market. Helping these stocks was a strong first quarter for the entire industry as in what one analyst called a "Goldilocks" environment.
Source: : S&P Compustat
Symantec Corporation (SYMC), a worldwide leader in cybersecurity solutions, reported an array of bad news that sent its stock tumbling. They disclosed that its audit committee was investigating concerns raised by a former employee and refused to answer any questions on a conference call regarding the matter. Furthermore, they lowered financial expectations for the year and said prior periods as well as forecasts could be revised lower following the investigation. The stocks plunged -29.9% for the week.
Economic Indicator - Reported
The Consumer Price Index (CPI), a measure of retail inflation, came in below economists' forecasts for April. The headline number was an increase of +0.2% while when excluding volatile food and energy the increase was +0.1%. Both were 0.1% below forecasts. Holding prices down are lower vehicle prices, slowing growth in medical costs, and declining communications costs. Putting upward pressure on inflation are higher housing prices and rising fuel costs.
The Producer Price Index (PPI), a measure of wholesale inflation, came in at +0.1% as compared to a consensus forecast of +0.3%. This very moderate read on inflation is in spite of meaningfully higher prices for both steel and aluminum which have been impacted by tariffs.
Consumer Sentiment, a report published by the University of Michigan, held steady at 98.8 very close to its March multi-year high. The report shows no indications of a burst in consumer spending, something some expected following the new tax bill.
Economic Indicators – Upcoming
April Retail Sales are expected to grow by +0.3% following a +0.6% surge in March. The gains in April are expected to be held back by slowing auto sales.
The housing market has been hot and is expected to remain that way with Housing Starts expected to increase to an annual rate of 1.324 million units. An increase in multi-family starts has been helping. Assuming numbers come in close to expectations, the industry is operating near record levels.
Industrial Production, reported by the Federal Reserve, is a measure of the economy's manufacturing, mining, and utilities sectors, is forecast to have grown a robust +0.6%. Of the three sectors, mining is expected to contribute the most to this growth.