All blog content is for information purposes. Any reference to indivisual stocks, indexes, or other securities as well as all graphs and tables are not recommendation but only referenced for illustration purposes.
Week 2 Market Recap
Markets were mixed in the second week of the year with large U.S. stocks (the S&P 500) down fractionally while small U.S. stocks continued to inch higher by 0.4%. International stocks continued to meaningfully outpace U.S. stocks in the second week with gains of nearly 1% for developed countries and more than 2% for emerging countries. Real estate, or publicly traded REITs were the loser this week down more than 2%.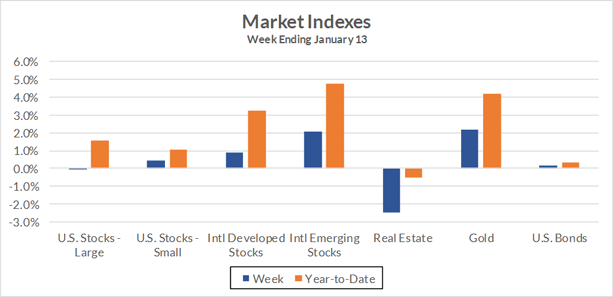 Notable Market Headlines
Earnings Season Begins – the quarterly earnings season kicked off with three of the largest financial institutions reporting earnings: J.P. Morgan, Bank of America, and Wells Fargo. These have been some of the Trump Rally leaders


Dow Remains Below 20,000 – on Friday it got within 50 points but retreated from there to close at 19,885.
10-Year Government Bond Yield at 2.397% – continuing to ease off their 2.6% December high but still well above Summer 2016 lows below 1.4%.
Market Leaders
Top 10 Performers – Summary
4 of the Top 10 are healthcare stocks
Gained an average of 8.5%
2 have no earnings and the other 8 have an average price/earnings (P/E) ratio of 77...more than double the market's average suggesting that earnings aren't everything when it comes to predicting stock performance.
Notable Winners
Illumina, Inc.

High-tech healthcare company in the business of sequencing and genetic analysis
Announced partnership with Royal Philips that should expand both companies market opportunities
The stock was up 15% for the week and 27% year-to-date after being DOWN -33% in 2016
Zimmer Biomet Holdings

Healthcare company making a wide range of related products
Announced stronger than expected 4th quarter sales
Stock rallied 9.8%
Earnings declined more than 80% in 2015 and have rebounded in 2016
Market Laggards
Bottom 10 Performers – Summary
3 of the 10 worst performers were healthcare stocks. Note that 4 of the top 10 winners were also healthcare stocks…this is somewhat unusual behavior.

o Endo International was the biggest loser as investors continue to be concerned about the company's revenue and earnings outlook.

The worst performs have an average dividend yield of 2.98% or more than 50% higher than the average S&P 500 stock. Higher dividend yielding stocks have been performing better than lower dividend yield stocks for the past few years. Last week is, at least, a short-term reversal of that trend.
Economic Indicator - Reported
December Retail Sales: +0.6%. Excluding cars and gasoline, sales were flat which certainly did not make for a good holiday season for the country's retails.
As one would expect, e-commerce sales are growing at a much faster pace than total retail sales: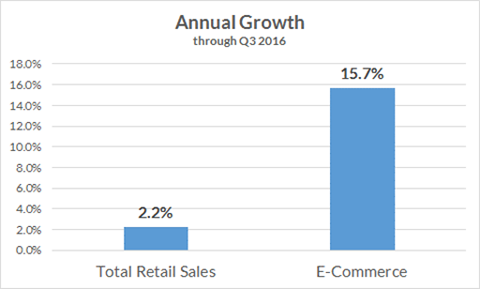 Economic Indicators – Upcoming
Consumer Price Index (inflation) – estimates range from +0.2% - +0.5%.
Housing Starts – estimates range from 1.100 - 1.275 million starts
Investor Trivia
The Dow Jones Industrial Index consisting of 30 stocks is up 1,553 points since the election. Goldman Sachs, 1 of the 30 stocks, has accounted for how many of those 1,553 points?
427. In other words, 1 of the 30 stocks in the Dow Jones index is responsible for 27% of its total gain since the election. This is due to, of course, Goldman Sachs stock gaining over that time but it is more about the way in which the Dow Jones index is calculated…higher priced stocks have more impact on the Dow's performance.