ALL BLOG CONTENT IS FOR INFORMATIONAL PURPOSES ONLY. ANY REFERENCE TO OR MENTION OF INDIVIDUAL STOCKS, INDEXES, OR OTHER SECURITIES ARE NOT RECOMMENDATIONS AND ARE SPECIFICALLY NOT REFERENCED AS PAST RECOMMENDATIONS OF PATTON WEALTH ADVISORS. ALL GRAPHS, CHARTS, AND TABLES ARE PROVIDED FOR ILLUSTRATION PURPOSES ONLY. EXPRESSIONS OF OPINION ARE ALSO NOT RECOMMENDATIONS AND ARE SUBJECT TO CHANGE WITHOUT NOTICE IN REACTION TO SHIFTING MARKET, ECONOMIC, OR POLITICAL CONDITIONS. IT IS COMMON FOR US TO USE A FUND AS A PROXY FOR AN INDEX OR ASSET CLASS. FOR MORE DETAILS SEE OUR FULL DISCLOSURE HERE.
Week Ending 5/20/2017
Summary
Brazil's market fell -12% for the week dragging down International Emerging Markets
U.S. stocks closed lower, with smaller companies suffering more than larger, on political concerns
Walmart posts strong earnings bucking the generally bad news for retailers
Home sales reach near boom-era peak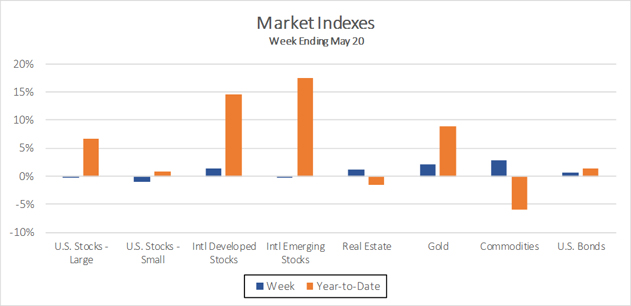 Notable Market Headlines
U.S. stocks closed the week with coincidently nearly identical performance to the week before with U.S. large stocks down -0.3% while U.S. small stocks fell -1.1%. These relatively small weekly changes mask the volatility that actually occurred with a sizable decline on Wednesday when it was announced a special investigator had been named to investigate President Trump.
The graph below shows the day-by-day change for large U.S. stocks. This is all a good reminder that we are most often better off ignoring day-to-day market performance.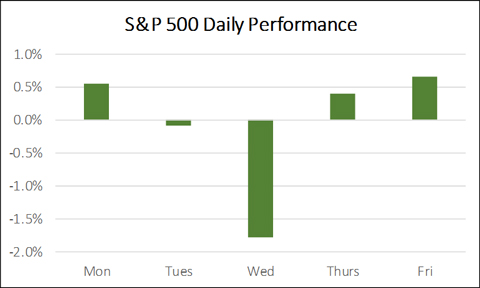 International developed country stocks were the only ones posting gains for the week up +1.3%. It was a fairly broad-based rally as investors continue to gain optimism about the health of Europe's economy and the valuation of stocks there relative to the U.S. It certainly was not good news for all international stocks though with the market in Brazil falling -12.0% for the week on stories of political corruption. In spite of this big loss, Brazil's market still remains HIGHER year-to-date by +4.9%. For the week, the index of International Emerging Markets was off only -0.2%...a surprising small drop given Brazil's performance.
The value of a truly diversified portfolio, beyond just stocks and bonds, proved itself again this week as most other assets posted weekly gains. Real estate was higher by +1.2% but does remain lower year-to-date by -1.6%. Commodities, help by the price of oil for the fourth consecutive week, gained +2.9% but are also down year-to-date by -6.0%.
Gold, considered a safe haven by many investors and a good investment during periods of inflation, gained +2.2% for the week and is higher by +8.9% for the year. With the widely held expectation that the Federal Reserve will continue raising interest rates, it is believed there will be upward pressure on inflation which could be good for gold prices. Furthermore, political concerns in the U.S. could also continue to drive up the performance of gold.
Bond prices rallied on the political concerns in the U.S. and closed the week up +0.6%.
Investor Trivia Question
Walmart is the largest retailer in the country by a wide margin with annual sales of $485.3 billion! Amazon has grown into an incredible competitor for all retailers now with annual sales topping $142 billion…clearly a long way from reaching Walmart's volume.
Although Walmart has much higher sales today, how much faster is Amazon growing as compared to Walmart?
See below for answer.
Winners and Losers by Sector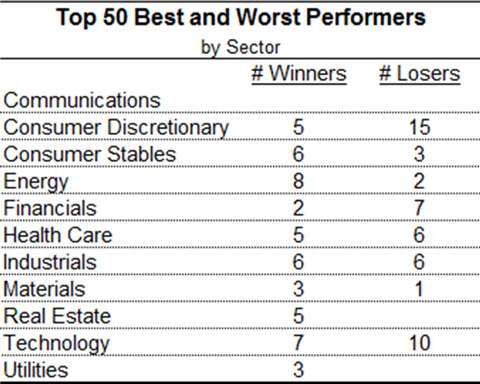 Stock Highlights
Walmart Stores (WMT) stock posted a strong gain of +4.0% for the week. The company reported earnings of $1.00 per share, 4 cents better than analyst estimates on $117.5 billion in revenue. Of particular note is the growth in same-store sales by +1.4% which marks the 11th consecutive quarter. This stock is higher by +14.0% year-to-date or more than double the average U.S. large stocks and clearly bucking the negative trends for many other retailers.
Two other retailers, Foot Locker (FL) and Gap Inc. (GPS), did not experience the same good fortune as Walmart this week. Footlocker's stock fell -21.6% while Gap's dropped -11.1%. Both companies reported earnings that clearly disappointed investors.
Autodesk (ADSK), a $24 billion software and services business, reported strong earnings and the stock jumped +15.2%. This stock has been among the top performers year-to-date with a gain of +48.5% on top of a +21.5% gain in 2016.
Economic Indicator - Reported
Industrial production surged in April increasing by 1.0% or 2.5 TIMES more than economists had forecasted. This was helped by a recovery in the manufacturing sector that saw a -0.4% decline in March and showed strong gains in April. Furthermore, there was strength in production of business equipment, consumer goods, and motor vehicles. This is the strongest gain in Industrial Production in more than 3 years.
April was a disappointment for housing starts with the annualized rate coming in at 1.172 million starts, a decline of -2.6%, which was well below forecasts. Multi-family housing most impacted this report with a decline of -9.2%. Although lower for the month, this is still considered to be a healthy housing market with numbers near record highs.
Economic Indicators – Upcoming
An update to second quarter gross domestic product (GDP) will be reported with an expected revision from slightly higher from +0.7% to +0.8%.
Durable goods orders, orders placed with U.S. manufacturers for hard good or items with a useful life of 3 years or more, will be reported for April. Economists are expecting a decline of -1.0% but, when excluding volatile aircraft orders which helped in the first quarter, durable orders are expected higher by +0.4%.
Both new home sales and, separately, existing home sales, will be reported.
Investor Trivia ANSWER
Amazon is growing at about 25 TIMES the pace as Walmart during the past four quarters! Walmart has seen sales growing by +0.7 to +1.0% while Amazon's growth has ranged between +22.4% to +31.1% during the same periods.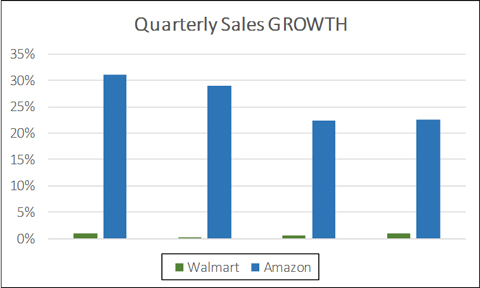 Sources: Standard & Poor's Research Insight
The information provided here is for general informational purposes only and should not be considered an individualized recommendation or personalized investment advice. Any specific securities or investment strategies mentioned here may not be suitable for everyone. Each investor needs to review an investment strategy for his or her own situation before making any investment decision including whether to retain an investment adviser.
All expressions of opinion are subject to change without notice in reaction to shifting market, economic or political conditions. Data contained herein from third party providers is obtained from what are considered reliable sources. However, its accuracy, completeness or reliability cannot be guaranteed. This content was created as of the specific date indicated and reflects the author's views as of that date. Supporting documentation for any claims or statistical information is available upon request.
Past performance is no guarantee of future results. Any comments about the performance of securities, markets, or indexes and any opinions presented are not to be viewed as indicators of future performance.
Investing involves risk including loss of principal.
Indexes are unmanaged, do not incur management fees, costs and expenses, and cannot be invested in directly. For more information on specific indexes please see full disclosure here.
Any charts, tables, forecasts, etc. contained herein are for illustrative purposes only, may be based upon proprietary research, and are developed through analysis of historical public data.
All corporate names shown above are for illustrative purposes only and are NOT recommendations.
International investments involve additional risks, which include differences in financial accounting standards, currency fluctuations, geopolitical risk, foreign taxes and regulations, and the potential for illiquid markets. Investing in emerging markets may accentuate these risks.
Fixed income securities are subject to increased loss of principal during periods of rising interest rates. Fixed-income investments are subject to various other risks including changes in credit quality, market valuations, liquidity, prepayments, early redemption, corporate events, tax ramifications and other factors. Lower-rated securities are subject to greater credit risk, default risk, and liquidity risk.