ALL BLOG CONTENT IS FOR INFORMATIONAL PURPOSES ONLY. ANY REFERENCE TO OR MENTION OF INDIVIDUAL STOCKS, INDEXES, OR OTHER SECURITIES ARE NOT RECOMMENDATIONS AND ARE SPECIFICALLY NOT REFERENCED AS PAST RECOMMENDATIONS OF PATTON WEALTH ADVISORS. ALL GRAPHS, CHARTS, AND TABLES ARE PROVIDED FOR ILLUSTRATION PURPOSES ONLY. EXPRESSIONS OF OPINION ARE ALSO NOT RECOMMENDATIONS AND ARE SUBJECT TO CHANGE WITHOUT NOTICE IN REACTION TO SHIFTING MARKET, ECONOMIC, OR POLITICAL CONDITIONS. IT IS COMMON FOR US TO USE A FUND AS A PROXY FOR AN INDEX OR ASSET CLASS. FOR MORE DETAILS SEE OUR FULL DISCLOSURE HERE.
Market Commentary - Week Ending 5/26/2018
Summary
Bond yields retreat on weaker than expected economic data
International stock markets fall into negative territory year-to-date
The employment report next week will be watched closely for an signs of wage inflation
Market Performance Summary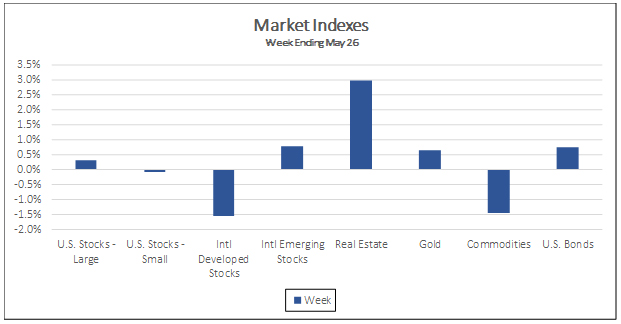 Source: S&P Compustat, www.yahoo.com/finance for Commodities
Notable Market Headlines
There were a variety of fairly significant headlines to grab the attention of investors this week with the net result being very little movement in the prices of U.S. stocks. Congress approved, a vote supported by both sides of the aisle, a bill to dismantle parts of the Dodd-Frank banking rule. This is expected to be helpful to small to mid-sized regional banks. Although the prices of regional banking stocks barely moved this week they have performed very well year-to-date as illustrated in the accompanying graph.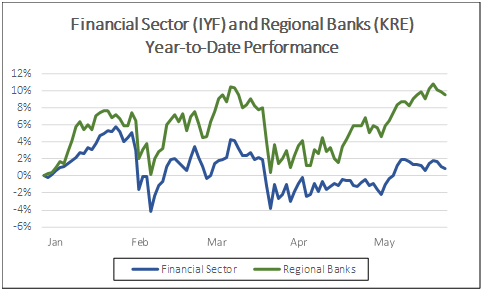 Source: www.YahooFinance.com
Other headlines included news that a potential trade war with China was unlikely helping stocks get off to a strong start for the week. Later in the week Trump called off his meeting with North Korea resulting in some selling. When the week was over U.S. large stocks gained +0.3% and are now higher by +2.0% for the year. Small U.S. stocks slipped -0.1% but are holding onto a strong year-to-date gain of +6.1%.
There was a lot of selling in markets around the world with international developed markets feeling the greatest impact. For the week developed markets were down -1.6% resulting in now a fractional loss year-to-date. The losses were wide spread with Italy's market down -4.3%, Spain's losing -3.9%, and Germany's off -2.1%. Emerging markets, on average, gained for the week moving higher by +0.8% but are still lower for the year by -1.5%. South Korea and Taiwan's markets, two of the three largest emerging markets, both gained while China's market declined.
Oil prices declined for the week, pushing energy stocks lower by -4.7%, following a strong rally resulting in commodity prices declining for the week by -1.4%. This group remains the best performing in 2018 with a gain of +8.8%. Two other non-traditional asset classes, gold and real estate, gained. Gold was up by +0.7% while real estate stocks surged +3.0% on declining bond yields. Real estate remains lower for the year but has come meaningfully off its lows.
Bond prices had a sharp rally gaining +0.8% for the week. The yield on the benchmark 10-year U.S. Treasuries fell back below 3.0%. Some weaker than expected economic data and possibly some changing views as to Federal Reserve policy may explain this rally in bonds. In spite of this week's gains bond prices are still lower year-to-date by -3.0% while yields meaningfully higher.
Stock Highlights
Foot Locker (FL), a leading retailer of sports apparel, reported quarterly results that were very well received by investors. Total sales for the quarter came in at $2.02 billion, an increase of +1.2%, while same-store sales, those open for more than a year, fell -2.8%. These numbers don't seem great but they were meaningfully better than expectations resulting in the stock surging +28.3% for the week putting it in positive territory year-to-date by +18.9%.
Tiffany & Co. (TIF), an iconic jewelry retailer, also reported quarterly results that were better than expected. Same-store sales jumped +10%, better than the +7% forecast, driving total sales for the quarter to $1.03 billion. Earnings per share came in at $1.14 also topping Wall Street estimates. These strong results were driven by what one analyst calls "innovative and contemporary" merchandise. This is all welcomed news for shareholders given that annual sales had fallen for two years, as illustrated in the accompanying graph. Tiffany's stock jumped +25.0% and has now doubled from its lows in early 2016.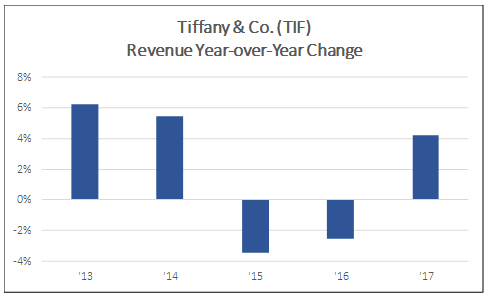 Source: S&P Compustat
Lowe's Companies (LOW), one of the two giant home improvement retailers, reported quarter results and is getting a new CEO. The company is benefiting from a strong housing market with the top line coming in stronger than expected with revenue of $15.49 billion and same-store sales up +4.1% compared to the estimate of +3.1%. Earnings though missed the mark at $0.67 per share on lower profit margins. It is widely believed that this company is not as well run as its biggest competitor Home Depot (HD) which is reflected in investors willingness to pay nearly twice as much for every dollar of revenue at Home Depot as compared to Lowe's (see accompanying graph). Lowe's stock rallied +12.0% for the week but is only higher year-to-date by +4.0%.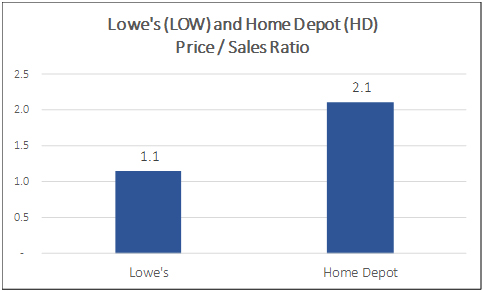 Source: S&P Compustat
It was not good for all retailers with the stock of Best Buy (BBY) falling sharply. The company reported a very strong quarter with total sales of $9.1 billion and same-store sales up +7.1%. Both were above estimates but earnings were a disappointment as the company had to spend money to grow revenue. Furthermore, the guidance for the remainder of the year was moderate. The result of this news for shareholders was the stock down -12.5% for the week making it the worst performer in the S&P 500.
Economic Indicator - Reported
Orders for durable goods in April fell more than forecast down -1.7% as compared to economists' estimate of -1.2% and a gain in the prior month of +2.6%. Excluding the volatile transportation sector though the report showed strong with a gain of +0.9% which was better than expected. Orders for metals increased by +1.3% due partially to higher prices related to tariffs that are in effect. Fabricated metal products also saw an increase of +2.0%. The weakness in the headline number was a -36.2% drop in orders for civilian aircrafts.
New home sales continue strong but came in below expectations for the most recent month at 662,000. In addition to this being below expectations the numbers for prior months were revised lower by 30,000. In spite of this month's report, which can be volatile, the trend is higher for the year. There was some meaningful price discounting that pushed the median price for the month down by a sharp -6.9%.
Existing home sales disappointed as well coming in at an annual rate of 5.46 million versus an estimate of 5.60 million. This report is down relative to both last month's reading as well as down year-over-year by -1.4%. Higher interest rates throughout the economy, including higher rates on mortgages, may be taking some toll on the housing market.
Economic Indicators – Upcoming
The all-important employment report is expected to show the economy continuing to be strong and adding 185,000 jobs. The unemployment rate, reported separately, is expected to hold steady at 3.9% after falling an unexpected -0.2% last month. Close attention will be paid to wage gains to get a gauge on inflationary pressures.
A second reading on first quarter Gross Domestic Product (GDP) is estimated to come in at +2.2% as compared to the first estimate at +2.3%. Forecasts call for less inventory buildup offset by slightly better than originally thought consumer spending.
The S&P Corelogic Case-Shiller Housing Price Index is expected to show home prices in its 20-city index gaining +0.7% which would leave it higher by +6.4% as compared to a year ago the same time.
The information provided here is for general informational purposes only and should not be considered an individualized recommendation or personalized investment advice. Any specific securities or investment strategies mentioned here may not be suitable for everyone. Each investor needs to review an investment strategy for his or her own situation before making any investment decision including whether to retain an investment adviser.
All expressions of opinion are subject to change without notice in reaction to shifting market, economic or political conditions. Data contained herein from third party providers is obtained from what are considered reliable sources. However, its accuracy, completeness or reliability cannot be guaranteed. This content was created as of the specific date indicated and reflects the author's views as of that date. Supporting documentation for any claims or statistical information is available upon request.
Past performance is no guarantee of future results. Any comments about the performance of securities, markets, or indexes and any opinions presented are not to be viewed as indicators of future performance.
Investing involves risk including loss of principal.
Indexes are unmanaged, do not incur management fees, costs and expenses, and cannot be invested in directly. For more information on specific indexes please see full disclosure here.
Any charts, tables, forecasts, etc. contained herein are for illustrative purposes only, may be based upon proprietary research, and are developed through analysis of historical public data.
All corporate names shown above are for illustrative purposes only and are NOT recommendations.
International investments involve additional risks, which include differences in financial accounting standards, currency fluctuations, geopolitical risk, foreign taxes and regulations, and the potential for illiquid markets. Investing in emerging markets may accentuate these risks.
Fixed income securities are subject to increased loss of principal during periods of rising interest rates. Fixed-income investments are subject to various other risks including changes in credit quality, market valuations, liquidity, prepayments, early redemption, corporate events, tax ramifications and other factors. Lower-rated securities are subject to greater credit risk, default risk, and liquidity risk.