All blog content is for information purposes. Any reference to indivisual stocks, indexes, or other securities as well as all graphs and tables are not recommendation but only referenced for illustration purposes.
Week Ending 6/3/2017
Summary
Market rallied around the world with strong gains in all but international emerging markets
Volatility dropped to near all-time low…again
The U.S. employment report showed a significant decline in the number of new jobs created
Amazon.com stock closed above $1,000 per share but it has not always been an easy ride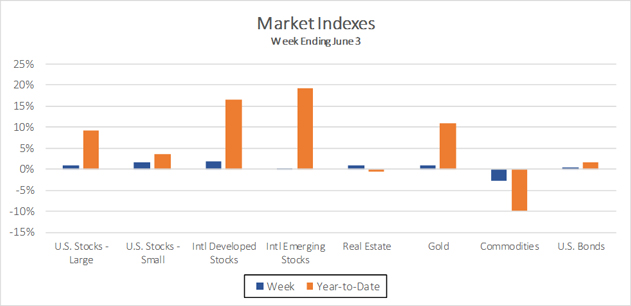 Notable Market Headlines
Stocks around the world rallied this week with strength across the board in U.S. markets. Large U.S. stocks gained +1.0% while small U.S. stocks showed some much needed life moving higher by +1.8%. Volatility has once again dropped to historic lows after a brief spike in May on U.S. political concerns. Large U.S. stocks are now higher by more than 9% year-to-date which is well more than double the year-to-date performance for small stocks.
One notable sector not participating in this week's rally were financial stocks. A few stocks contributing to the week's poor performance were Goldman Sachs, Bank of America, and J.P. Morgan. This has been the case year-to-date as well in spite of continued optimism that the political and regulatory winds have shifted in their favor.
U.S. stocks continue to push higher in spite of concerns by some about what they believe to be considerable political risks. Large U.S. stocks gained +1.4%, led by technology and consumer goods stocks, while small U.S. stocks trailed behind slightly with a gain of +1.1%. Year-to-date the gains for large U.S. stocks are impressive at +8.1% while small stocks are only higher by +2.0%.
Stocks in Japan jumped +3.2% and in Germany they gained +2.9%. These gains contributed to international developed market stocks leading the world's gains this week being higher by +1.8%. Lagging behind this week, which has been uncharacteristic so far in 2017, were international emerging markets flat for the week. Sharp declines in both Mexico and Russia weighed down the overall group.
Some of the less traditional asset classes were mixed this week. Commodities, impacted in large part by the price of oil, fell again this week by -2.7%. Year-to-date they are off nearly -10%. Rising though were both real estate and gold, up +0.8% and +0.9% respectively.
Bond prices gained +0.3% helped by the disappointing employment report which is believed to reduce the odds that the Federal Reserve raises interest rates this month.
Investor Trivia Question
Amazon.com stock closed above $1,000 for the first time on Friday. This company is joining a much growing trend to not split its stock (issuing more shares to reduce its price). Warren Buffett is the best example of this having never split his Berkshire Hathaway stock which now trades at $249,660 per share.
Amazon is up approximately 500 TIMES since its initial public offering in May 1997. As with all great performing stocks it has not been a straight climb higher. What was the biggest percentage decline for Amazon's stock during the last 20 years?
See below for answer.
Winners and Losers by Sector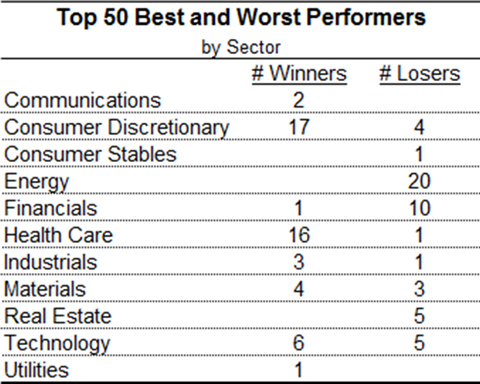 Stock Highlights
Dollar General (DG) reported earnings above analyst expectations and its stock rallied +9.1%. This company is bucking the downward trend that many other brick-and-mortar stores are experiencing with same-store sales up +0.7%. The company added approximately 1,000 stores in the past year which is helping drive overall sales.
Michael Kors (KORS) represents the challenges facing many retailers and its stock is performing accordingly. The company reported quarterly results with revenue falling -11.2% compared to the same period last year on a drop in same-store sales of -14.1%. The company has opened new stores in the past year but said it will now close 100-125 stores in the coming year. This stock dropped -10% for the week and is down -66% from is 2014 all-time high above $98.
Wynn Resorts (WYNN) is benefitting from overall strength in the casino industry after experiencing some very challenging times the past couple of years. Its stock gained +7.1% for the week and is higher by +55.7% year-to-date. Even more impressive is the stock's rally from its 2016 low of $49.95 to $134.68 today or a +170% gain! In early 2014 the stock hit an all-time high of $249. It has clearly been a roller coaster ride for investors the past few years.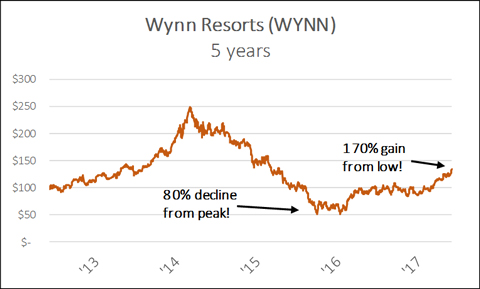 Hewlett Packard Enterprise (HPE) stock fell -7.6% for the week following a disappointing earnings report. Of particular note was a sharp drop in revenue from the company's server business as large customers are increasingly willing to buy non-branded equipment which is resulting in pricing pressures. Total revenue has now fallen for three consecutive quarters.
Economic Indicator - Reported
The May employment report showed only 138,000 jobs created for the month which was well below the consensus estimate of 185,000. In addition to this disappointing month, the two prior months combined were revised down by 66,000. In a separate report, the unemployment rate dropped to 4.3% from 4.4%. This drop was the due to more people who simply stopped looking for work and are no longer being counted as unemployed in spite of not having a job.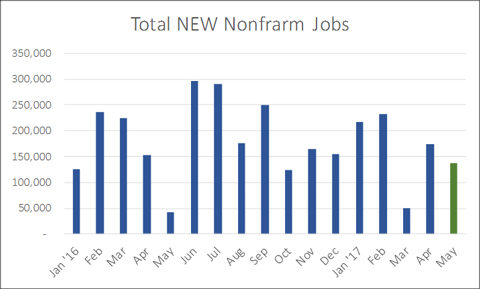 This weak showing for the economy puts in question the likelihood that the Federal Reserve will raise interest rates this month as has been widely expected. As a result the market gained on this news.
The Case-Shiller housing price index for March showed an increase in prices by a strong +0.9%. The annual growth rate is at +5.9% being led by cities in the northwest.
Consumer Confidence for May remained both consistent and strong.
Economic Indicators – Upcoming
It will be relatively quiet on the economic front this week.
We will get a second read on first quarter productivity. The first estimate indicated a decline of -0.6% meaning that it took more time to make less stuff. Economists expect an improvement from this first estimate.
Factory Orders, or orders for both durable and non-durable goods, will be reported for April. The expectation is for a small decline of -0.2% given the similar data from other reports already released.
Investor Trivia ANSWER
A loss of -94.4%! That is the biggest percent decline Amazon's stock has experienced during the past 20 years. The stock hit a high on December 10, 1999 at $106.69 and just after 9/11 on September 29, 2001, less than 2 years from its peak, had fallen to $5.97 or a loss of -94.4%. It wasn't until October 23, 2009, nearly 10 years later, that the stock had full recovered.
Sources: Standard & Poor's Research Insight