All blog content is for information purposes. Any reference to indivisual stocks, indexes, or other securities as well as all graphs and tables are not recommendation but only referenced for illustration purposes.
Market Commentary - Week Ending 1/12/2019
Summary
Stocks rallied around the world with U.S. markets leading the way
Many investments, such as U.S. small stocks, that had performed the worst in 2018 are gaining the most so far in 2019
Economic data continues to show the economy remains health
Market Performance Summary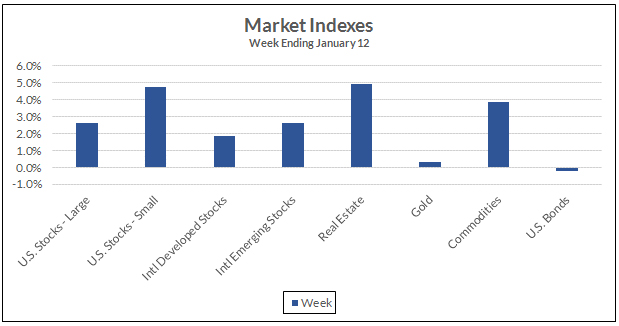 Source: S&P Compustat, www.yahoo.com/finance for Commodities
Notable Market Headlines
Stocks gained around the world with U.S. stocks leading the way. It has been a good start to 2019 as investors appear to be optimistic that the Federal Reserve is going to slow the pace of interest rate hikes combined with the economy continuing to grow at a modest rate.
At the close of the week U.S. large stocks, measured by the S&P 500, were higher by +2.6% and year-to-date by +3.6%. The Dow Jones Industrials gained a similar +2.5% for the week but are lagging the S&P 500 year-to-date up just +2.9%. The tech-heavy NASDAQ Composite turned in the best performance of the three major indexes gaining +3.5% for the week and now up +5.1% in 2019 helped by such stocks as Netflix (NFLX) up +26.1%, Wynn Resorts (WYNN) gaining +14.8%, and Micron Technology (MU) rallying +13.5%.
Small U.S. stocks had a very strong week rallying +4.7% and have surged year-to-date by +7.3% which is slightly more than double the performance of large U.S. stocks. One argument for the strength of small stocks is that fewer interest rate hikes would benefit smaller companies more so than large companies. As illustrated in the accompanying graph, the other explanation is simply that small stocks were hit harder during the late 2018 selloff, down -26.5% compared to large stocks off just -20.2%, and have therefore rallied more from the current market lows hit on Christmas Eve.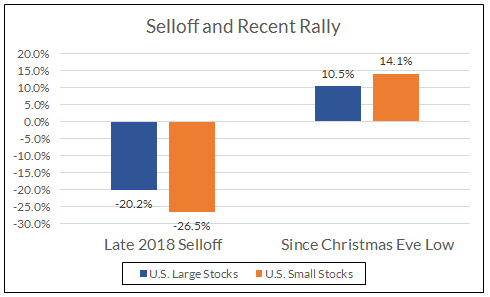 Source: YCharts
International stocks gained this week as well but did lag behind the performance of U.S. stocks. Developed markets were higher by +1.9% led by Australia's market higher by +3.0%. Emerging markets turned in a stronger performance higher by +2.6% helped by the market in Mexico jumping +3.8%. Year-to-date both developed and emerging markets have been strong up +3.8% and +4.3% respectively.
Commodities have been a standout performer up +3.9% for the week and now +7.1% year-to-date as the price of oil has rallied. This strong performance has propelled energy stocks to be the best performers in 2019 with the sector gaining +8.1%. Real estate stocks surged during the week by +4.9% following a slower start to the year for these stocks relative to the rest of the market. Gold inched higher by +0.3% and is lagging behind nearly everything else for the year up just +0.5%.
Bonds were fractionally lower for the week losing -0.2% and are flat year-to-date. With the expectation of fewer interest rate hikes in 2019 investors in bonds could see some recovery of their losses in 2018.
Stock Highlights
Nektar Therapeutics (NKTR), a biotech firm with a market value in excess of $7 billion, disclosed a deal with Gilead Sciences (GILD) during a presentation at a health care conference. The two companies will explore the combination of a Nektar and a Gilead product that could be rewarding for both companies. Nektar's stock surged +20.8% for the week making it the best performer among the S&P 500 stocks. In spite of this surge, this stock is still down more than -62% from its high less than a year ago as illustrated in the accompany chart.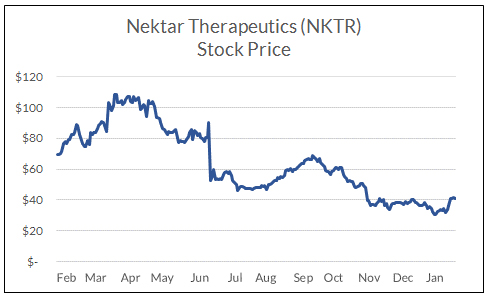 Source: www.yahoo.com/finance
Netflix (NFLX), the dominant video streaming company, had a very strong week adding to its gains from the prior week. More than a week ago a leading Wall Street analyst came out with very positive comments about expectations for this stock in 2019. These positive comments were then followed by a strong showing for Netflix content at the Golden Globes awards. At the close of the week the stock was higher by +13.4% and is now higher for the year by +26.1%.
Mattel (MAT), one of the largest toy makers, announced a deal with Warner Bros. Picture Groups to work on a live action feature film featuring the popular Barbie franchise. This is the first partnership between Mattel's new film company and Warner Bros. This is an effort to revive growth for Mattel which has struggled since the late '90s to meaningfully grow sales as illustrated in the accompanying graph. The stock rallied +17.7% for the week closing at $12.25. Just 5 years ago the stock was trading above $47.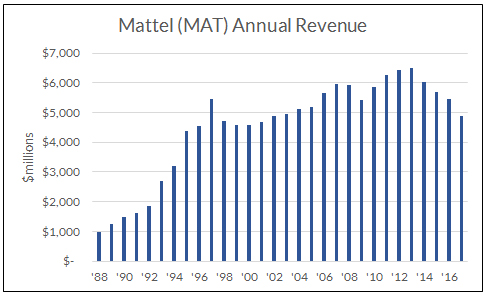 Source: YCharts
Macy's (M), the operator of 854 department stores with nearly $25 billion in sales, was among the worst performance stocks in the S&P 500 for the week. The company said holiday sales came in slower than expected resulting in management cutting its full-year sales growth forecast by about -0.5%. This prompted the worst single day decline in the stock's history resulting in it being lower for the week by -13.5%.
Economic Indicator - Reported
The Consumer Price Index (CPI), a measure of retail inflation, surprised economists with a declined -0.1% in December. This was the first decline in 9 months and was impacted by falling gasoline prices. The Core CPI, excluding volatile food and energy prices, rose by +0.2% and is higher by +2.2% for the past 12 months.
Economic Indicators – Upcoming
Expected reports this week:
Producer Price Index (PPI), a measure of wholesale inflation, is expected to be lower by -0.1%
Retail sales for December are forecast to be relatively weak up just +0.1%
Housing starts are expected to remain unchanged at an annualized rate of 1.256 million units