ALL BLOG CONTENT IS FOR INFORMATIONAL PURPOSES ONLY. ANY REFERENCE TO OR MENTION OF INDIVIDUAL STOCKS, INDEXES, OR OTHER SECURITIES ARE NOT RECOMMENDATIONS AND ARE SPECIFICALLY NOT REFERENCED AS PAST RECOMMENDATIONS OF PATTON WEALTH ADVISORS. ALL GRAPHS, CHARTS, AND TABLES ARE PROVIDED FOR ILLUSTRATION PURPOSES ONLY. EXPRESSIONS OF OPINION ARE ALSO NOT RECOMMENDATIONS AND ARE SUBJECT TO CHANGE WITHOUT NOTICE IN REACTION TO SHIFTING MARKET, ECONOMIC, OR POLITICAL CONDITIONS. IT IS COMMON FOR US TO USE A FUND AS A PROXY FOR AN INDEX OR ASSET CLASS. FOR MORE DETAILS SEE OUR FULL DISCLOSURE HERE.
Market Commentary - Week Ending 8/18/2018
Summary
The crisis in Turkey continues to impact stock prices internationally
Strong economic data in the U.S. helped U.S. markets post positive results
Technology stocks, the leaders for the year, lagged behind this week
Market Performance Summary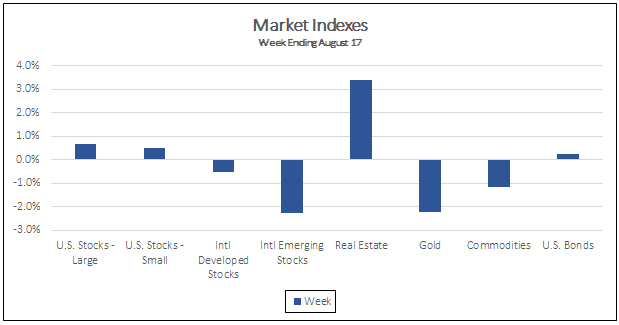 Source: S&P Compustat, www.yahoo.com/finance for Commodities
Notable Market Headlines
The impact of the crisis in Turkey continued to ripple through the markets helping push international stocks prices lower again this week but it was not Turkey's market suffering the most. In the U.S. the concerns international were overshadowed by strong economic data combined with more corporate earnings reports delivering positive surprises to investors.
U.S. large stocks added to their 2018 gains once again this week moving higher by +0.7% as measured by the S&P 500. The other market indexes delivered meaningfully different results with the Dow Industrials rallying +1.4% while the tech-heavy NASDAQ Composite slipped by -0.3%. Technology stocks remain the leaders year-to-date with a gain of +15.6% in spite of the week's small loss. It was the consumer stables sector, those companies selling food and other essential products and generally considered to be safer stocks, that surged with a +3.2% gain for the week.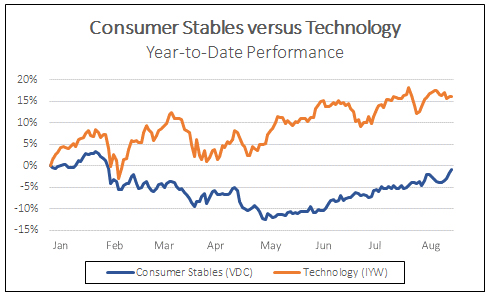 Source: www.yahoo.com/finance symbols VDC, IYW
Small U.S. stocks moved higher with large stocks gaining +0.4%. Year-to-date small stocks are holding their lead over large up +10.4% while large stocks are higher by +6.8%.
International stocks experienced further loses this week with investor fearing the crisis in Turkey could spread into other countries. International developed markets were down -0.5% and are now lower by -5.6% in 2018. The performed across the developed markets was not consistent with Australian markets gaining while Japanese and European stocks were lower lead by Italy's market down -3.2% for the week.
The international emerging markets saw the biggest moves in spite of Turkey's market stabilizing somewhat, down just -0.8% for the week after losing -20.0% last week. The largest of emerging markets, China, had one of the biggest loses for the week down -2.9% and is now down -10.1% for the year. Overall emerging markets were lower for the week by -2.3% and have lost -10.4% in 2018.
The performance of the less traditional asset classes was all over the board this week with real estate stocks posting big gains higher by +3.4%. These stocks, as well as others such as telecom and utilities that are sensitive to interest rates, were helped by higher bond prices and lower yields.
The price of gold suffered again this week down -2.2% and now lower by -9.3% for the year. If investors are looking for signs of fear in the markets due to the Turkey crisis, there certainly is no indication in the price of gold. Commodities were also lower by -1.2% as the price of oil declined.
Bond prices gained +0.2% this week but remain lower by -2.7%. The year-to-date performance of various types of bonds suggest there is little fear of an economic slowdown as U.S. Treasury Bond prices are lower by -2.9% while riskier, high-yield corporate bonds are down just -1.4%. It is still widely believed that the Federal Reserve will continue to raise interest rates further this year which is expected to put downward pressure on bond prices.
Stock Highlights
Walmart (WMT), the world's biggest retailer with annual sales of more than half a trillion dollars!, has struggled to grow sales meaningfully for the past 5 years as the accompany graph shows. This week though the company reported very strong second quarter results including revenue for the quarter of $128.0 billion or about $2 billion more than Wall Street had expected, helped by same-store sales growth of +4.5%, and earnings per share also topping forecasts. Online sales surged +40% as the company pushes to compete with Amazon (AMZN). A new website design and grocery delivery are beginning to pay off. Walmart's stock jumped +8.5% for the week, adding $22.6 billion in market value. This week's rally still leaves the stock fractionally lower year-to-date.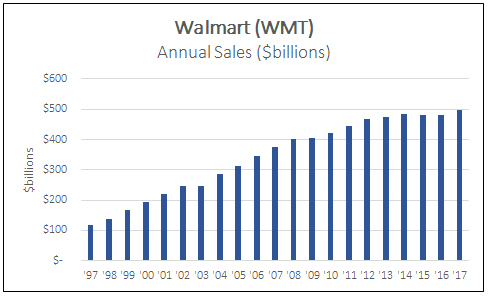 Source: S&P compustat
Neilson (NLSN), a company that measures what consumers buy, watch, read, and listen to, saw its stocks surge on a report that an activist investor has taken a large position in the stock and is pushing for the company to put itself up for sale. The company has had three quarters of declining earnings per share resulting in a falling stock price. The news this week helped though with the stock rallying +19.0% making it the best performing stock in the S&P 500. Year-to-date the stock remains down by -28.2%.
Macy's (M), the big department store operator, reported very strong second quarter results but saw its stock drop sharply. Both sales and earnings came in above analysts' expectations but investors instead focused the company's plans to continue to ramp up its digital business which will continue to ramp up costs. The stock dropped -9.9% for the week but remains one of the best performing stocks during the past 12-months with a gain of +93.8%!
Applied Materials (AMAT), a leading manufacturer of equipment used to make semiconductors, was one example of a poor performing technology stock this week. This company reported better than expected sales and earnings but provided guidance for the current quarter that was well below current Wall Street estimates. As the accompanying graph shows, sales growth has been slowing and the third quarter estimate is well below recent quarterly growth. Applied Materials stock fell -9.1% for the week and is now off -14.4% for the year.
Source: S&P compustat
Economic Indicator - Reported
July Retail Sales came in much stronger than economists had expected with a gain of +0.5% versus the estimate of just +0.1%. There was an offset though as June's originally reported growth of +0.5% was revised down to just +0.2%. Some of the categories experiencing the biggest gains were restaurants, gasoline, and e-commerce. Overall this report shows the consumer remains strong and a positive force in the economic growth story.
Productivity, a measure of the amount of output or production for the number of hours worked, rose by +2.9% which was at the top end of economists' expectations. This had remained stubbornly low but has been consistently strong for 7 consecutive quarters. These gains in productivity are one factor keeping wage pressures lower than some had feared.
The Housing Starts reported disappointed with the number coming in at 1.168 million annualized. This July report was below estimates but above the June number ONLY because the June number was revised down sharply. Regionally the Midwest and South are stronger while the West and Northeast are lagging behind.
Economic Indicators – Upcoming
We will get two reads on the housing sector this week with reports on both New Homes Sales and Existing Home Sales. Sales of new homes have been struggling to move higher as construction remains low but economists do expect an uptick over last month to an annualized rate of 648,000. Existing home sales have been generally flat for the year but economists are optimistic here as well with expectations of a small increase to 5.425 million annualized.
Durable Goods Orders will be reported for the month July. The estimate is for a small decline following a relatively strong report in the prior month. Excluding the volatile transportation sector the report is expected to show a respectable increase of +0.4%.
The information provided here is for general informational purposes only and should not be considered an individualized recommendation or personalized investment advice. Any specific securities or investment strategies mentioned here may not be suitable for everyone. Each investor needs to review an investment strategy for his or her own situation before making any investment decision including whether to retain an investment adviser.
All expressions of opinion are subject to change without notice in reaction to shifting market, economic or political conditions. Data contained herein from third party providers is obtained from what are considered reliable sources. However, its accuracy, completeness or reliability cannot be guaranteed. This content was created as of the specific date indicated and reflects the author's views as of that date. Supporting documentation for any claims or statistical information is available upon request.
Past performance is no guarantee of future results. Any comments about the performance of securities, markets, or indexes and any opinions presented are not to be viewed as indicators of future performance.
Investing involves risk including loss of principal.
Indexes are unmanaged, do not incur management fees, costs and expenses, and cannot be invested in directly. For more information on specific indexes please see full disclosure here.
Any charts, tables, forecasts, etc. contained herein are for illustrative purposes only, may be based upon proprietary research, and are developed through analysis of historical public data.
All corporate names shown above are for illustrative purposes only and are NOT recommendations.
International investments involve additional risks, which include differences in financial accounting standards, currency fluctuations, geopolitical risk, foreign taxes and regulations, and the potential for illiquid markets. Investing in emerging markets may accentuate these risks.
Fixed income securities are subject to increased loss of principal during periods of rising interest rates. Fixed-income investments are subject to various other risks including changes in credit quality, market valuations, liquidity, prepayments, early redemption, corporate events, tax ramifications and other factors. Lower-rated securities are subject to greater credit risk, default risk, and liquidity risk.