All blog content is for information purposes. Any reference to indivisual stocks, indexes, or other securities as well as all graphs and tables are not recommendation but only referenced for illustration purposes.
Market Commentary - Week Ending 8/25/2018
Summary
Markets rallied around the world with the riskiest posting the biggest gains
The housing market weakened while the rest of the economy continues to show signs of strength
Several retailers post strong quarterly results but there have been some losers
Market Performance Summary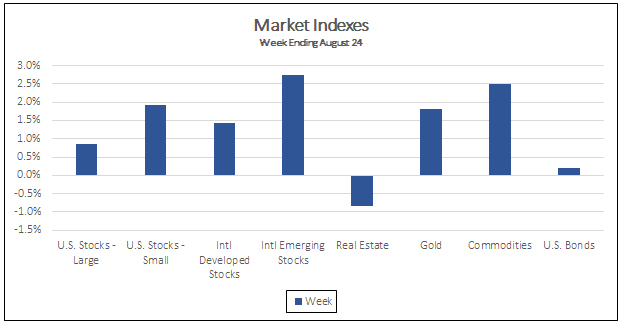 Source: S&P Compustat, www.yahoo.com/finance for Commodities
Notable Market Headlines
Stocks around the world moved meaningfully higher this week fueled by easing fears in Turkey, continued strong second quarter earnings reports in the U.S., and more positive economic news. Riskier small-cap stocks and international emerging markets led the way higher which was a reversal from what we saw the seek before when large U.S. stocks were the standout winners.
At the close of the week large U.S. stocks were up +0.9% lead by energy sector stocks, up +2.8%, which were fueled by rising oil prices. Of the major market indexes, the NASDAQ Composite resumed its leadership role gaining +1.5% for the week while the Dow Industrials were higher by just +0.5%. It has been a similar story year-to-date as the accompanying graph illustrates with the NASDAQ up +15.0% and the Dow Industrials higher by +4.3%.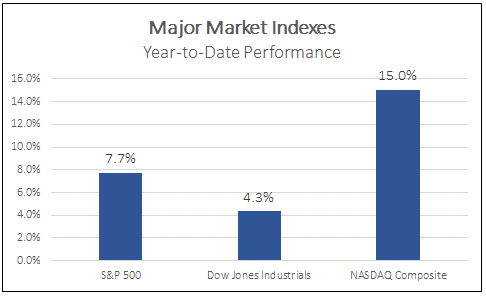 Source: S&P Compustat
It's worth remembering the historic performance of these three major market indexes. The accompanying graph shows the 20-year performance of these three indexes. The NASDAQ has been the hands down long-term winner gaining a cumulative +344% while the S&P 500 is up +164% and the Dow rallied +201%. Note that the NASDAQ's outperformance has come during two periods. The first in the very late '90s which was followed by a collapsed of -79%. The second started around 2013 and has persisted through today.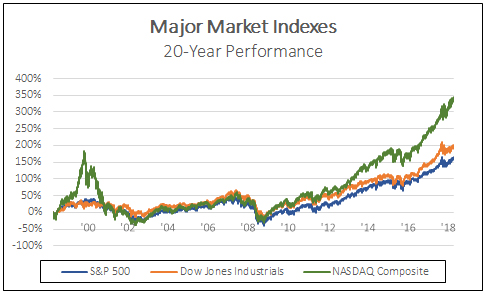 Source: www.YahooFinance.com
Small U.S. stocks had a very strong week with gains of +1.9% resulting in a year-to-date gain of +12.5%. Contributing to this rally were many consumer discretionary stocks, in particular retail stocks, such as Stitch Fix (SFIX) up +15.4%, Crocs (CROX) higher by +9.5%, and Gamestop (GME) gaining +8.0%.
International stocks overall had a good week with developed markets gaining +1.4%. The gains were not even across regions as Australian stocks lost -2.1% while the Eurozone markets surged +3.2%. Three of the strongest European markets were Germany, Spain, and Italy all higher by +3% or more. Germany, in particular, benefitted from a positive economic report.
International emerging markets, which have been very volatile and have had some notable losses, surged this week higher on average by +2.7%. Stocks in Turkey remain lower by -50% this year but did gain +2.3% this week hopefully having found a bottom. Stocks in China, South Korea, and Africa also had impressive gains while Brazil's market was lower by -3.9%.
Real estate stocks gave back some of their recent gains this week slipping -0.8% but still remaining higher year-to-date by +2.7%. Commodities had a strong week impacted by a rise in the price of oil which broke a 7-week losing streak as signs appear that sanctions on Iran are reducing supplies. Gold had a positive week gaining +1.8% but is still one of the worst performing asset classes year-to-date with a loss of -7.7%.
Bond prices moved higher this week by +0.2%. Considered to generally be a safe haven for investors it is a bit surprising to see them move higher while at the same time the riskiest stock markets around the world rallied. Furthermore, comments from the Fed Chairman have made it clear the intentions are to continue to raise rates which would be expected to put downward pressure on prices.
Stock Highlights
Advanced Micro Devices (AMD), a semiconductor company, had the best performing stock among the S&P 500 this week rising +22.0%. This strong week adds to the stocks incredible year with a gain of +133.3%! The only notable news was one analyst raising his price target on the stock to $30 from its current price of $23.98. Investors need to be aware that the semiconductor industry is a highly cycle one as the accompany graph illustrates with AMD's annual revenue during the past 20 years.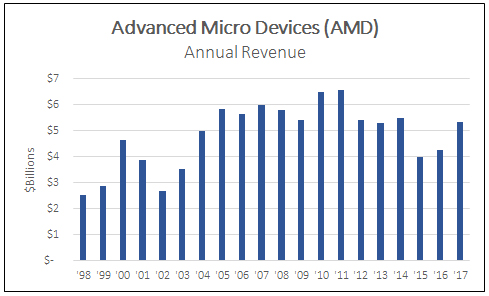 Source: S&P compustat
The stock of media streaming giant Netflix (NFLX) has been a market laggard since hitting its all-time higher about 6 weeks ago after reporting a disappointing quarter. That relatively short downward trend was snapped this week with the stock jumping +13.3%. Again, there was little news other than one Wall Street analyst saying to buy the stock due to expected growth opportunities in India.
Lowe's Companies (LOW), a giant in the hardware industry, reported strong quarterly results with revenue up +7.1% to $20.9 billion and earnings per share higher by +32%!. Driving these strong results were strong same-store sales growth of +5.2% and improved profit margins. Lowe's stock rallied +9.0% this week and his ahead of its larger competitor Home Depot (HD) year-to-date. Longer term though, as the accompanying graph shows, Lowe's stock has lagged behind Home Depot's.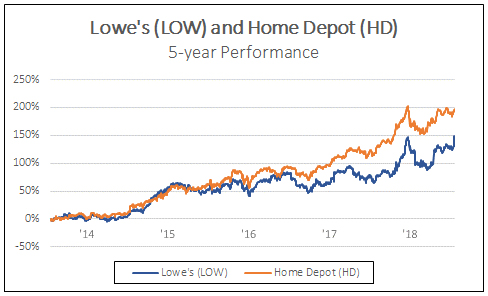 Source: www.YahooFinance.com
The news was not all good for all retail stocks as L Brands (LB), the parent of Victoria's Secret, Bath & Body Works, Pink, and others, reported disappointing quarterly results and provided dismal guidance for the remainder of the year. The stock fell -15.1% for the week and is lower by -54.1% year-to-date making it the worst performing stock in the S&P 500 for 2018.
Economic Indicator - Reported
New home sales slowed to an annualized rate of 627,000 in July which was well below economists' expectations of 649,000. There was good news in this report though including a rise in inventories to 309,000 new homes, the highest since 2009, which should bode well for sales in the coming months. Furthermore, prices moved higher by +6.0% for the month but the year-over-year price gain is still just +1.8%.
Existing home sales were also a surprising disappointment coming in at 5.34 million units which was below the prior month and well below the estimate of 5.42 million. This is the fourth monthly decline in a row as the housing sector is simply not participating in the overall economic growth.
The headline number for durable goods orders was a disappointment showing a decline of -1.7% for the month. This headline number was dramatically impacted by commercial aircraft orders which are always volatile and fell by -35.4% for the month. Orders for core capital goods, which exclude defense and transportation orders, climbed an impressive +1.4% showing substantial strength in the underlying economy.
Economic Indicators – Upcoming
The S&P Corelogic Case-Shiller Housing Price Index is expected to show prices higher by +0.2% in the most recent month. If numbers come in as expected the year-over-year gain will be +6.5%.
Consumer Confidence, measured by the Conference Board, is forecast to remain near record high levels helped by a continued strong jobs market. Consumer Sentiment, a separate report done by the University of Michigan has also been hovering near record highs and is expected to stay there in the current month. Although this remains near record highs it has softened since the February high.