All blog content is for information purposes. Any reference to indivisual stocks, indexes, or other securities as well as all graphs and tables are not recommendation but only referenced for illustration purposes.
Market Commentary - Week Ending 9/8/2018
Summary
Stocks were down around the world with international markets hit particularly hard
Tech stocks were in focus with Facebook and Twitter facing aggressive Senate questioning
The U.S. economy remains strong with 201,000 jobs created in August
Market Performance Summary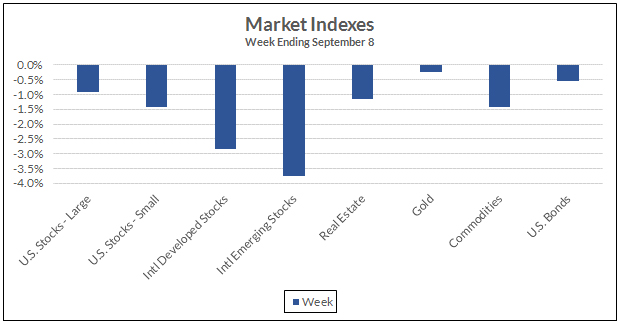 Source: S&P Compustat, www.yahoo.com/finance for Commodities
Notable Market Headlines
Investors felt some pain this week nearly every investment posting losses. Causing concern for investors was President Trump ramping up threats with China regarding trade and tariffs as well as the Senate questioning Twitter and Facebook in what could result in legislation that could impact the business model of many technology companies.
At the close of the week U.S. large stocks were down -0.9%, the smallest loss of all the major asset classes, but still holding on to a solid year-to-date gain of +7.8%. There was a big difference in performance among the various market indexes with the Dow Industrials losing just -0.2% while the tech-heavy NASDAQ 100, consisting of the largest technology stocks, fell -2.9%.
Small U.S. stocks took a bigger hit down -1.4% for the week but remain the best performing group of stocks in 2018 with a gain of +11.9%.
International stocks had a particularly rough week with developed markets dropping -2.8% and now down -6.9% for the year. The losses were widespread with stocks down in Japan, the Eurozone, and Australia with Germany and France's markets among the worst both off more the -3%. Ironically, Italy's market was up fractionally in spite of being consider one of the riskier markets due to serious economic concerns.
International emerging markets fared even worse that developed markets with a loss of -3.8% for the week. Contributing to the indexes loss was China's market off -3.5%, Hong Kong down -4.6%, and Russian stocks falling -4.8%. Again, ironically a couple of the riskiest markets and those that have seen the biggest losses recently, Brazil and Turkey, actually gained ground up +0.2% and +2.6% respectively.
As a whole, international emerging market officially fell into bear market territory now down -20.2% since the January 26th highs as the accompany graph illustrates. The selloff in these markets since January is only part of the story as many international markets have yet to reach their 2007 pre-Financial Crisis highs as illustrated in last week's blog.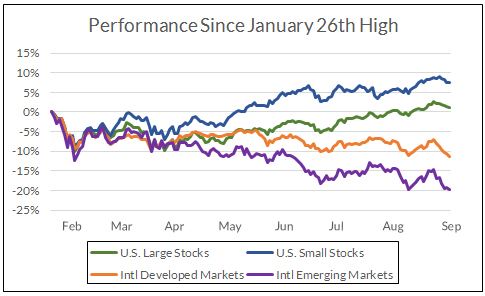 Source: www.YahooFinance.com
The alternative asset classes fell this week as well but meaningfully less so that most stocks. Real estate stocks were lower by -1.2%, commodities were down -1.4%, and gold was the best performer with a loss of just -0.2%. The expectations is that these asset classes will help reduce losses in a diversified portfolio during a period of prolonged declines in stocks.
Bonds had a tough week losing -0.5% and now lower by -3.3% for the year. Fueling some of the selling in bonds were signs of wage inflation in Friday's employment report. The yield on the 10-year U.S. Treasury hit 2.941% up from 2.861% at the end of the prior week but still holding below 3%.
Stock Highlights
Advanced Micro Devices (AMD), a major semiconductor manufacturer, was among the best performing stocks in the S&P 500 for the week. The stock rallied on positive comments from a Wall Street analyst saying stock's price is attractive relative to its growth opportunities. For the week the stock gained +9.9% and is one of the biggest gains in 2018 higher by +166.3%!
CBS (CBS), a media giant, has been dealing with a variety of issues in 2018 including an article in July detailing allegations by multiple women of sexual misconduct by the company's CEO Les Moonves. It was reported that the board is negotiating an exit package for its CEO helping push the stock higher by +5.7% for the week. Although this stock had a phenomenal run from the Financial Crisis lows in 2008, as the accompany graph shows, it has stalled during the past 5 years.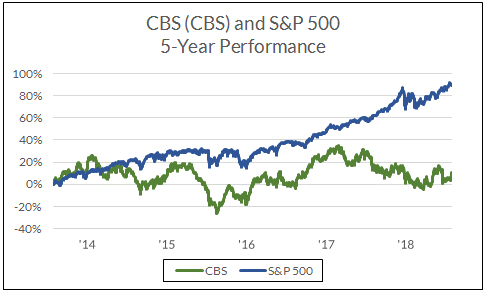 Source: www.YahooFinance.com
Micron Technology (MU), a semiconductor company, was the worst performing stock in the industry but the pain was widespread as the accompany graph shows. The selling was triggered by an analyst's warning that demand is weakening. Micron Technology's stock is an example of the tremendous rallies many stocks in this industry have experienced gaining more than 500% at its peak in late-May taking just 2 years' time with the stocks struggling since these highs.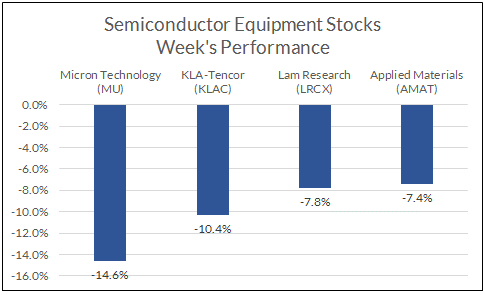 Source: S&P Comustat
Economic Indicator - Reported
The August employment report came in strong once again showing the economy adding 201,000 jobs for the month. This was very much in-line with the consensus estimate of 195,000. Disappointing though were revisions down to prior months' numbers resulting in an aggregate decline of 50,000 jobs. The unemployment rate held steady at 3.9%.
The surprise was a +0.4% jump in average hourly earnings which exceeded even the high end of estimates. The year-over-year gain hit 2.9% which is the highest since 2009. It is believed that this report, among others showing the economy is strong, nearly guarantees the Federal Reserve will continue to raise interest rates.
The headline number for factory orders was a decline of -0.8% for the most recent month following a gain of +0.7% the month before. When digging into the report the numbers actually look very strong as the headline number was impacted by a -35% decline in commercial aircraft orders which are very volatile.
Economic Indicators – Upcoming
Retail sales are expected to have been reasonably strong in August with economists forecasting a gain of +0.4%. Excluding autos the number is expected to be even slightly higher.
The forecast for the Consumer Price Index (CPI), a measure of retail inflation, is for a gain of +0.3% compared to a +0.2% gain the prior month. When excluding food and energy the gain is expected to be just +0.2%. Wholesale inflation, measured by the Producer Price Index (PPI), is expected to have gained +0.2%.
Economists are expecting a bounce back in industrial production from a relatively slow month in July. The August gain is forecast at +0.4%.