All blog content is for information purposes. Any reference to indivisual stocks, indexes, or other securities as well as all graphs and tables are not recommendation but only referenced for illustration purposes.
Market Commentary - Week Ending 9/15/2018
Summary
Stocks were higher around the world with international developed markets leading the way
The yield on the benchmark 10-year U.S. Treasury rose for the week settling just shy of 3.0%
Economic data remains strong with no signs of inflation pressure
Market Performance Summary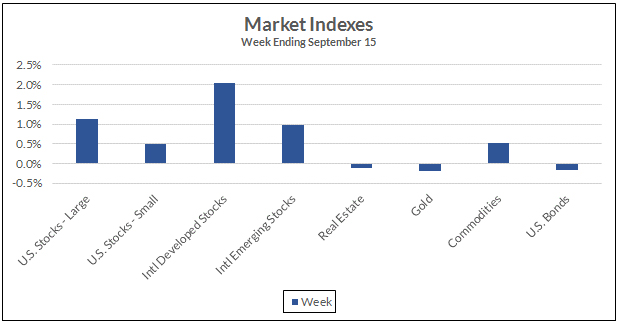 Source: S&P Compustat, www.yahoo.com/finance for Commodities
Notable Market Headlines
Investors do not seem concerned about the ongoing risks of an escalating trade war as stock prices rallied around the world. The gains were wide-spread with international markets leading the way.
At the close of the week U.S. large stocks, measured by the S&P 500, were higher by +1.1%. The NASDAQ Composite posted a larger gain of +1.4% as technology stocks continued their year's rally. Tech stocks were strong but energy stocks topped the list of best performers gaining +2.2% for the week even as some analysts fear oil prices could fall sharply. Small stocks continue to be the best performers year-to-date with a gain of +12.4% but did lag behind this week up only +0.5%.
International stocks were higher across the board with developed markets gaining +2.0%. This was one of the best weeks of the year for these markets but they remain in negative territory for 2019 down -5.0%. Emerging markets lagged behind but were still higher by +1.0%. Of particular note was a big rally in Turkey up +6.0% following the country's central bank raising interest rates by +6.25% to 24.0% in an effort to stop the downward spiral of its currency. The week's rally helps this market but it remains lower year-to-date by -49.4%.
The non-traditional asset classes had a disappointing week with real estate off fractionally down -0.1%. These stocks may be feeling pressure as bond prices fall and interest rates rise creating more competition for the higher dividend yield paid by real estate stocks.
Gold was lower by -0.2% for the week adding to its 2019 loss now at -8.6%. Commodities were up +0.5% as the price of oil rallied late in the week on optimism about global demand as economic growth general remains intact around the world.
Bond prices fell pushing yields higher. The yield on the benchmark 10-year U.S. Treasury closed briefly crossed the closely watch 3.0% before settling at 2.997% up from 2.942% last week. Downward pressure on bonds is coming from a variety of sources including expectations of continued higher interest rates in the U.S. as well as some easing concerns in other parts of the world with investors turning away from this safe haven.
Stock Highlights
In a rare event Advanced Micro Devices (AMD) was the best performing stock in the S&P 500 for the second consecutive week. This week's gain came in at +19.5% leaving this semiconductor company's stock up a whopping +218.3% for the year.
A longer-term view of AMD's stock does paint a very different story. The accompanying graph shows its performance over the past 20 years including the recent surge from a low below $2 in early 2016 to a current price above $32. The stock has been higher back in 2000 packing above $42 at the top of the tech bubble before collapsing and then once again in 2006 when it reached above $40 before again collapsing. This history clearly demonstrates that owning such as stock comes with its share of risk!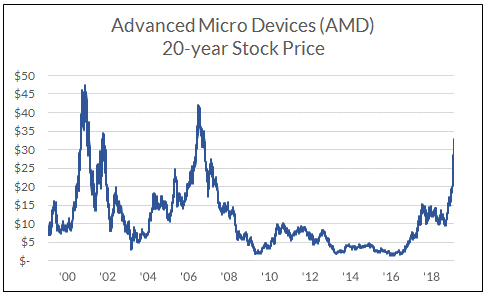 Source: www.YahooFinance.com
Activision Blizzard (ATVI), a $7+ billion in revenue video game business, released a beta version of its extremely popular "Call of Duty" and received raving reviews. Wall Street analysts became more bullish on the stock in response to the reviews and investors bid the stock higher for the week by +10.5% to close just shy of its July record high. This is a tough and volatile business illustrated by the performance its biggest competitor's stock, Electronic Arts (EA), down more than -23% from its high hit just 2 months ago.
Kroger (KR), one of the country's largest grocery store operators, is struggling to keep up with its competitors. The company reported quarter results that disappointed with sales coming it at $27.9 billion, just shy of estimates, and earnings per share of $0.41 which topped estimates. The real disappointment was slower the expected growth in same-store sales and falling profit margins. The stock closed the week lower by -14.1% but does remain fractionally higher for the year.
Several banking stocks were among the biggest losers for the week as illustrated in the accompanying table. Besides Wells Fargo (WFC), these loses were mostly among large regional banks while the stocks of the biggest banks performed better.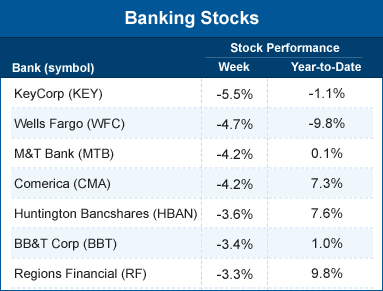 Source: S&P Compustat
Economic Indicator - Reported
Retail sales for August came in well below economists' expectations growing just +0.1% for the month compared to an estimate of +0.4%. Even when excluding autos the growth was still just +0.3% or 0.2% below forecasts. All that said, the July number was revised higher by +0.2% mostly offsetting the August disappointment and pointing to a relatively strong third quarter overall.
Inflation remains tame as the Consumer Price Index (CPI) rose just +0.2% which was below estimates of +0.3%. When excluding volatile food and energy prices the gain was still below forecasts at +0.1%. Medical prices and apparel both saw prices decline. Housing and energy prices are showing some of the strongest gains both in August and for the year.
The Produce Price Index (PPI), a measure of wholesale inflation, also surprised to the downside actually falling -0.1% for the month versus the estimate of a gain of +0.2%. There are some signs that tariffs are resulting in higher prices with steel mill products up +2.6% for the month and +18.6% year-to-date.
Economic Indicators – Upcoming
There will be a couple reports on housing including Housing Starts expected to show an increase and Existing Home Sales also expected slightly higher.
The Leading Indicators report, a composite of 10 forward-looking economic indicators, is expected to be strong for August given the strong stock market and declining unemployment claims among other factors.