All blog content is for information purposes. Any reference to indivisual stocks, indexes, or other securities as well as all graphs and tables are not recommendation but only referenced for illustration purposes.
Week Ending 9/23/2017
Summary
Federal Reserve is set to begin the great unwinding of its $4.5 trillion balance sheet
U.S. small stocks were the leaders by a wide margin
A host of economic reports in the coming week are expected to show the economy remains strong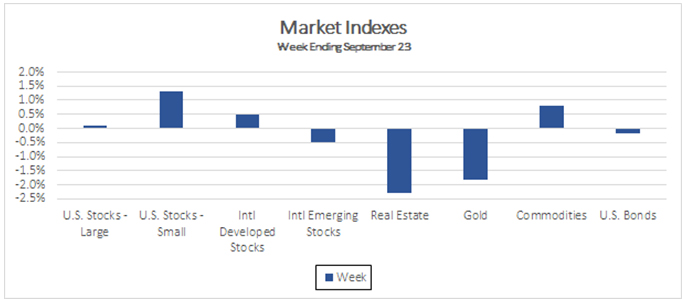 Source: S&P Compustat, www.yahoo.com/finance for Commodities
Notable Market Headlines
Small U.S. stocks have emerged as the leaders in the U.S. market for the past month or so with that strength continuing this week. For the week, U.S. small stocks turned in a strong gain of +1.3% while large U.S. stocks lagged behind up just fractionally at +0.1%. The performance of various sectors in the market varied widely this week with energy and financials both up +2.0% while consumer goods lost -1.6% and healthcare stocks were lower by -1.0%. Also notable is the technology-heavy NASDAQ Composite has weakened recently relative to the broader market indexes such as the S&P 500 and Dow Jones Industrials.
The recently strength is small U.S. stocks is one simple but clear example why investors need a well-diversified portfolio. Just a month or so ago small U.S. stocks were only fractionally higher year-to-date leaving many investors but disappointed and questioning owning such stocks.
The accompanying graph shows the comparative performance of large versus small U.S. stocks year-to-date. All of the positive values indicate large stocks doing better than small stocks. A little more than a month ago, at the peak on the right side of the graph, large stocks were ahead of small stocks by more than 9% for the year. Then suddenly the tide shifts, as highlighted by the orange circle, and small stocks rally to close a large piece of this gap in performance.
Source: www.yahoo.com/finance; symbols SPY, IWM
Following a rally such as small U.S. stocks have experienced, investors attempt to find a logical explanation for it but it often doesn't exist. This highlights why investors need to always maintain diversification in their portfolio so that they have some money in those investments that suddenly begin to rally. Not only does the diversification sometimes improve portfolio returns but clearly reduces long-term portfolio risk.
It was relatively quiet, and mixed, for international stock with International Developed markets higher by +0.5% further adding to their year-to-date gain now at +18.5%. International Emerging markets took a breather this week, down -0.5% but still higher by just less than +30%. Among the emerging markets losing some ground for the week was India with a -2.5% decline.
The performance of the non-traditional asset classes was mixed for the week. Commodities continued their recently rally gaining +0.8% while gold gave back some of its year-to-date gains with a loss for the week of -1.8%. Real estate was the big loser, down -2.3% and falling once again into negative territory year-to-date. The poor performance of real estate could be a reflection of higher expected long-term interest rates which would lower the value of real estate holdings.
The big market headline for the week did little to move either the stock or bond markets. The Federal Reserve, as was clearly widely anticipated, confirmed plans to begin reducing its $4.5 trillion balance sheet. This massive balance sheet has been the result of bond buying since the Financial Crisis in an effort to prop up bond prices, keeping bond yields low, resulting in investors purchasing more risky assets including stocks.
The Fed's plans to reduce its balance sheet does NOT involve selling bonds it owns. Instead as some of its bonds mature, or are paid off, the Fed will no longer reinvest all of the proceeds in more bonds. This will reduce its balance sheet and, at the current estimated pace, will take many years to entirely eliminate its bond portfolio.
In reaction to the Federal Reserve's stated plans, bond prices hardly moved, down -0.16% for the week. It is expected that the Fed's plans will create long-term downward pressure on bond prices which will then increase bond yields and overall interests in the market.
Winners and Losers by Sector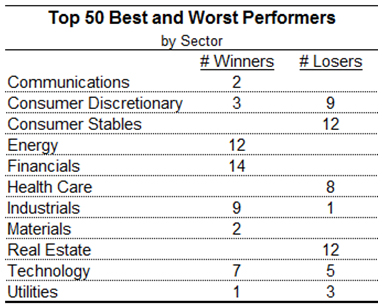 Source: S&P Compustat
Stock Highlights
Equifax (EFX), the credit bureau that announced the massive hack of consumer data a few weeks ago, remains in the headlines. Last week the stock collapsed by -24.5% while this week it recovered more than half that loss with a +13.0% gain. There was no particular news that drove the stock price higher this week but instead appears to be the result of some investors hoping to buy this stock at a bargain. Buying stocks such as this is a risky proposition for investors but does has the potential to provide big gains depending on how the story continues to unfold. Year-to-date the stock is lower by just -11.2%.
Anadarko Petroleum(APC), one of many oil related companies that has seen its stock under significant longer term pressure, announced a $2.5 billion stock buyback. This is a vote by management that it believes the company's long-term outlook is strong and that the stock is a relatively good value. This news was greeted favorably be investors with the stock gaining +12.1% for the week.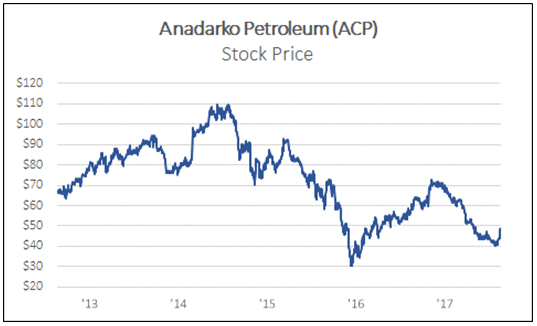 Source: www.yahoo.com/finance
Carmax (KMX), a national auto dealership, reported stronger than expected quarterly results with revenue of $4.39 billion and earnings per share of $0.98. The results were helped by strength in the used car market and continued trends that started earlier in the year. The company's stock rallied +9.0% for the week and is now higher by +15.2% year-to-date.
Real estate stocks were among the worst performing groups this week with some of these stocks were down for 5 consecutive days. The best explanation available is that investors are concerned about the risk of higher long-term interest rates which would compete with these stocks higher dividend yields. Below are some of the notable losers for the week: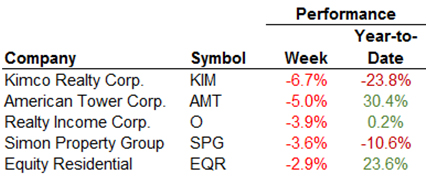 Source: S&P Compustat
This table shows that it has been a very mixed bag or results year-to-date for this sector as some have done very well and others have suffered.
Economic Indicator - Reported
It was a relatively slow week for economic data. A report on Housing Starts for August came in relatively strong and better than expected at 1.18 million annualized rate. Single-family starts were strong and gaining while multi-family (example: apartments) were down -6.5%. There was some negative impact by Hurricane Harvey in the South region which could continue for a period of time.
The accompanying graph provides a longer term perspective on housing starts. As many know, the single family boom peaked early 2006 more than 11 years ago and remains well below those peak levels today. Multi-family housing starts peaked much more recently and remain at relatively higher levels.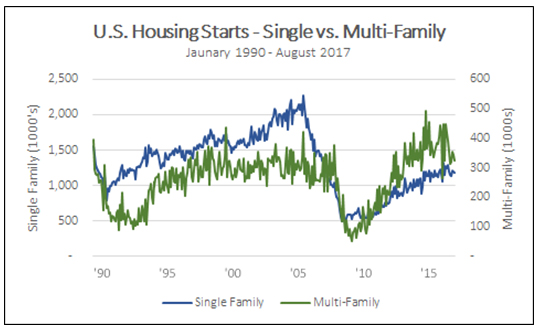 Source: Federal Reserve Economic Data
Existing Home Sales in August came in below economists' forecasts at 5.35 million annualized units representing a -1.7% monthly decline. Sales in both the South and West regions declined with the South's being blamed on Hurricane Harvey.
The Leading Indicators for August showed twice the gain economists had expected, up +0.4%.
Economic Indicators – Upcoming
A first look at Durable Goods Orders for August will be provided with the number expected to come in strong at +1.5% as compared to July's decline of -6.8%. When stripping out the volatile transportation sector, August is expected to show a gain of +0.4% on top of July's +0.5%.
The final read on second quarter Gross Domestic Product (GDP) will be reported with economists expecting the number to improve slightly from a previously reported +3.0% to +3.1%. Also in this report is the price index, a measure of inflation closely watched by the Fed, which is expected to be unchanged from the prior report at a low +1.0%.
There will be more data on the housing market in the coming week including the S&P Housing Price Index for July expected to show an increase of +0.4% as compared to +0.1% in the prior month. Of the 20 cities included in the Index, Chicago, Cleveland, and New York are showing some weakness while Portland, Seattle, and some cities in Florida are showing strength. If economists are right about a strong July, it would result in prices being higher by +5.9% year-over-year.
Another housing report, New Home Sales, will be reported for August with the number expected to come in at 583,000. This would be up from a somewhat disappointing July. There is some expectation that this report could be negatively impacted by reduced sales in Houston due to Hurricane Harvey.