All blog content is for information purposes. Any reference to indivisual stocks, indexes, or other securities as well as all graphs and tables are not recommendation but only referenced for illustration purposes.
Week Ending 9/30/2017
Summary
An early week stock selloff hit technology stocks hard as oil prices rallied
U.S. small stocks surged higher again as both large and small U.S. stock high record highs
The September employment report is expected to be one of the weakest in months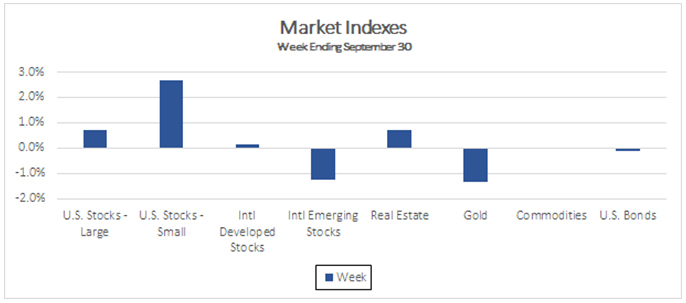 Source: S&P Compustat, www.yahoo.com/finance for Commodities
Notable Market Headlines
As discussed in last week's Market Commentary, the big story the past month for U.S. stocks has been the strong rally of small stocks as compared to large. This has been labeled by the media as the "Trump Trade" due to expectations that smaller companies will benefit more than large companies from Trump policies. As a reminder we saw this same investor behavior immediately following Trump's election as small stocks gained +14.6% in the 30 days following the election as compared to +5.4% for large stocks.
This strength in small socks continued this week gaining +2.7% while U.S. large stocks gained +0.7%. Large stocks are still ahead year-to-date with a gain of +12.4% as compared to +9.9% for small stocks. This gap has narrowed significantly since mid-August when large stocks were outpacing small stocks year-to-date by 9.0%.
The week's gains leave both large and small U.S. stocks at record highs as well as the tech-heavy Nasdaq Composite. We are using the S&P 500, the most widely used index for large U.S. stocks, as the measure. The Dow Jones Industrials, an index of only 30 stocks, is just a fraction below its record high.
Although the major market indexes are sitting at new highs, some of the Wall Street darlings are not. Many of these stocks were off sharply on Monday as investors aggressively sold some of the year's best performance stocks. The accompanying table highlights a few of this year's market leaders and where the price is today relative to their all-time high.

Source: S&P Compustat
International stocks have been the leaders year-to-date as illustrated in the accompany graph but that has NOT been the case the past couple of weeks. While U.S. stocks posted relatively strong gains International Developed markets where higher by just +0.1% while emerging markets fell -1.3%. A couple emerging markets with bigger declines for the week were Brazil's down -2.4% and Mexico's market down -2.5%. In spite of the recent short-term selloff, all of these markets remain sharply higher year-to-date with gains 2 times or more compared to U.S. markets.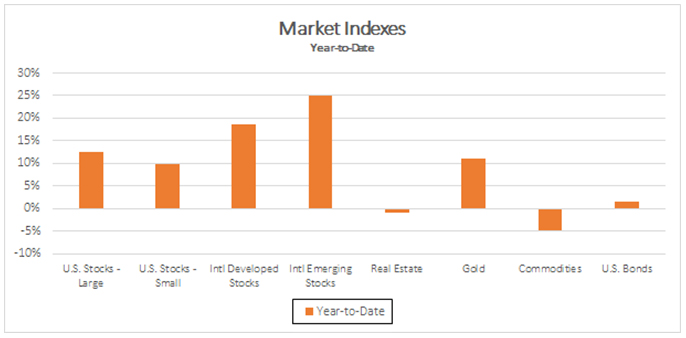 Source: S&P Compustat
The price of gold slipped again this week by -1.3%. It has now fallen more than -5% from its high less than a month ago but remains higher year-to-date by 11%. Commodities were flat for the week but volatile. On Monday the price of oil surged but then drifted back lower by the end of the week. Energy stocks followed that movement with big gains on Monday and the weakness later in the week.
Bond prices were little changed with the broad bond index down just -0.1%. Investors continue to widely anticipate a rate hike by the Federal Reserve in December.
Winners and Losers by Sector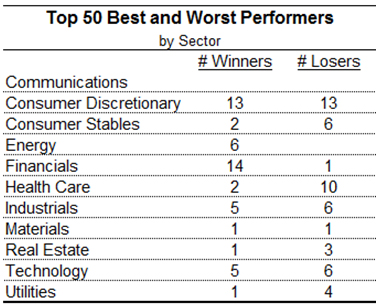 Source: S&P Compustat
Stock Highlights
Applied Materials Inc. (AMAT), a leading provider of manufacturing equipment to the semiconductor industry, delivered a dose of positive news to investors resulting in its stock rallying +9.0%. The company unveiled a new 3-year financial outlook with increased earnings expectations due to what the company is saying are strong markets that are only getting stronger. This stock is up +61.4% for the year and about +250% in just 2 years! It is interesting to note that this was one of the hottest stocks of the tech bubble in the late '90s that then collapsed. The stock today remains about $5 BELOW its all-time high in early 2000.
Micron Technologies (MU), a manufacturer of semiconductors, reported earnings of $2.02 per share or $0.18 better than Wall Street estimates making it the biggest earnings beat of the year. The better than expected earnings were helped by a continued surge in revenue growth of +91% for the quarter! Investors reacted well to the report with the stock jumping +8.5% on the day of the report and +9.0% for the week. It is worth noting that this stock has gone through massive performance cycles including one in just the past 5 years when it declined by -74% through much of 2015 and then has surged since.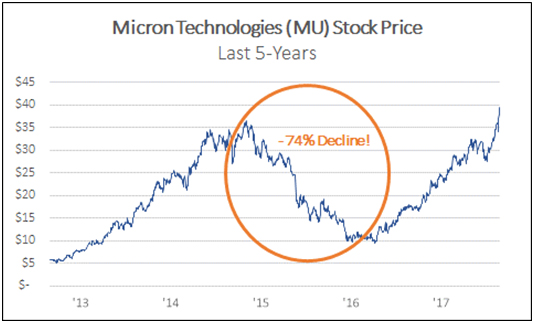 Source: www.yahoo.com/finance
BlackBerry (BBRY), the once dominant smart-phone company, has struggled for a decade since the launch of Apple's iPhone. During the past 10 years, BlackBerry's stock has fallen from a high of $227 and now trades just above $11. Annual revenue for the company once neared $20 billion and is now tracking closer to $1 billion. The company reported quarterly earnings of $0.04 per share, better than Wall Street estimates, and says it expects to be profitable for the. Investors reacted well to the news with the stock jumping +22% for the week.
Economic Indicator - Reported
Durable Goods Orders for August, a measure of orders placed with domestic manufacturers, rose only +0.2% when excluding the volatile transportation sector. This gain was only half the gain economists had expected impacted by a -9.4% drop in defense capital goods as wells as smaller declines in a handful of other sectors. In spite of the slower growth overall, there are signs that business confidence is strengthening which could lead to a strong remainder of the year.
The final read on second quarter Gross Domestic Product (GDP) came in as expected and unchanged from the prior estimate at +3.1% for the quarter. This confirms the economy was strong moving into the second half of 2017.
New Home Sales for August came in below expectations at 560,000 versus an estimate of 583,000. Helping soften this disappointment was a revision higher in the number for July accompanied by a revision down for the June number. The south region, just one of the four regions but accounts for more than half the total, experienced a decline of -4.7%.
There was continued good news for the prices of homes. The S&P Housing Price Index 20-city index rose +0.3% as expected in July for a gain of +5.8% year-over-year. This continues a strong trend as prices have been roughly in the +5% - +6% annual range for a while. Seattle is today's strongest market with price gains of +13.5% for the year followed by Portland at +7.6%. Strength in housing prices is good for the economy because it drives household wealth which often then leads to more spending.
Economic Indicators – Upcoming
The big economic report of the week will be the closely watched employment report for September. The August report was relatively weak at 156,000 new jobs created coming off a couple of prior months above 200,000. The September report is expected to be impacted by both Hurricane Harvey and Hurricane Irma with the economists' consensus estimate at just 95,000 new jobs. The unemployment rate is expected to remain unchanged at 4.4%.
Motor Vehicle Sales in September are expected to show some strength coming off the August report that was the worst in 3 ½ years. August was impacted by Hurricane Harvey and September's report could be impacted by Hurricane Irma but economists are expecting the report to show sales at an annual rate of 16.7 million vehicles as compared to 16.1 million in August.