All blog content is for information purposes. Any reference to indivisual stocks, indexes, or other securities as well as all graphs and tables are not recommendation but only referenced for illustration purposes.
Market Commentary - Week Ending 1/19/2019
Summary
Stocks were higher around the world with U.S. stocks performing the best
Economic data generally remains strong but there is a clear slowdown in housing
Market Performance Summary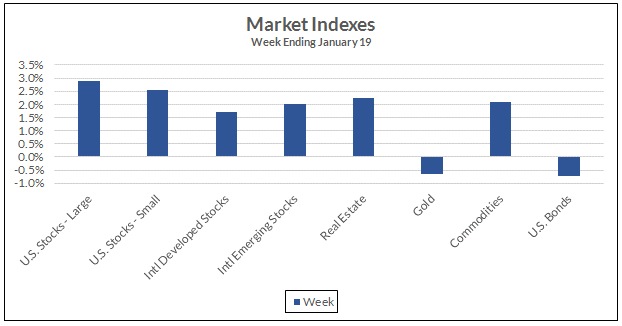 Source: S&P Compustat, www.yahoo.com/finance for Commodities
Notable Market Headlines
Investors' emotions are clearly running rampant producing relatively meaningful swings in stock prices both higher and lower. The range of prices on a daily basis, the highs to lows in prices, remains above average but nothing meaningfully out of the ordinary.
For the week U.S. large stocks gained +2.9% as measured by the S&P 500. This slightly outpaced the performance of the NASDAQ Composite, a benchmark for technology stocks, which gained +2.7%. For the year the S&P 500 is up an impressive +6.6% while the NASDAQ has surged +7.9%. After underperforming in 2018, U.S. small stocks have gotten off to a very hot start already higher by +10.0% for the year which includes the week's +2.5% gain. Clearly optimism has returned to stocks early in 2019.
The best performing sector for the week was Financials jumping +6.1% driven by several big banks reporting strong quarterly earnings. For the year this sector is up +9.2%. Energy stocks also had a good week, up +3.0%, and have had an even better year rallying +11.3%. A sharp move higher in the price of oil has been helping these stocks.
International stocks moved higher as well for the week but did lag behind U.S. stocks as was also the case in 2018. For the week developed markets gained +1.7% and are higher by +5.4% for the year or about 1.2% behind the U.S. large stocks. Emerging markets performed better for the week gaining +2.0% and are also strong year-to-date with a gain of +6.4%. This week Turkey's market was the standout winner up +10.6%! Note that Turkey's market was down more than -50% at one point during 2018.
Two of the three non-traditional assets were higher for the week including real estate gaining +2.3%. These stocks are being helped by generally lower bond yields and expectations that interest rates may not rise much in 2019. Commodities were also higher this week by +2.1% impacted by a continued rally in the price of oil. Year-to-date commodities are up +9.1%.
Gold and bonds were the disappointments losing -0.6% and -0.7% respectively.