All blog content is for information purposes. Any reference to indivisual stocks, indexes, or other securities as well as all graphs and tables are not recommendation but only referenced for illustration purposes.
Market Commentary - Week Ending 10/06/2018
Summary
Stocks started strong but retreat by week's end as bond yields reached multi-year highs
The employment market remains strong fueling fears of an overheating economy
General Electric tries again with another new CEO
Market Performance Summary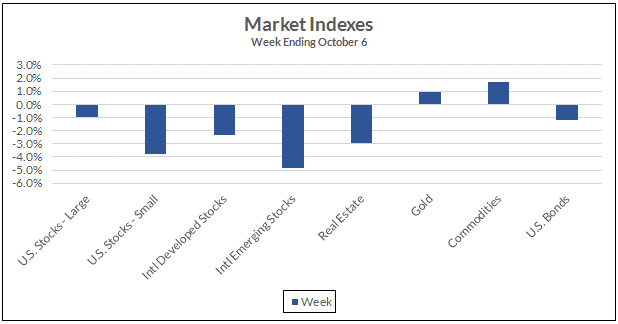 Source: S&P Compustat, www.yahoo.com/finance for Commodities
Notable Market Headlines
There was nearly no place to hide this week with stocks down around the world, some markets rather sharply, accompanied by falling bond prices and declining real estate values. Small stocks and tech stocks were hit particularly hard as were a variety of international markets.
At the close of the week U.S. large stocks were lower by -1.0%, as measured by the S&P 500, but other major market indexes turned in very different results. The Dow Jones Industrials actually weathered the week well with a very small loss of only -0.04% while the tech-heavy NASDAQ Composite got hammered down -3.2%. Energy stocks were the top performers up +1.7% for the week as the price of oil continues to rise while consumer discretionary stocks were the worst performing losing -4.4%. It was certainly a week when one particular market index only tells a small part of the story.
U.S. small stocks had a very rough week, down -3.8%, giving up their year-to-date lead over large stocks as the accompanying graph shows. Year-to-date large stocks are higher by +7.9% while small stocks have gained +6.4%. This is a big shift in performance given that in mid-June small stocks were outperforming large stocks by more than +8%!
Small stocks are now off -6.3% from their August 31st high. These stocks had been seen as a safer bet in a prolonged trade war because less of their sales and earnings come from international markets. As trade tensions eased though, at least with Mexico and Canada, small stocks have been giving back their gains.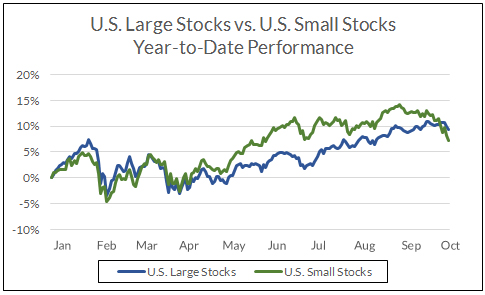 Source: www.yahoofinance.com
International stocks had a tough week across the board with developed markets falling -2.3% and are now down -5.5% year-to-date. The bigger story though was in emerging markets where stocks fell -4.8% and are now down -13.3% year-to-date and more than -21% from their January highs. There were some very significant losses in particular markets Turkey stocks fell -7.1% after having shown some signs of hope and India's market shed -8.4% on fears that higher oil prices will meaningfully impact the economy. Bucking the trend in a big way was a rally in Brazil of +8.7% which wiped away nearly half the year's loss.
Commodities and gold were the two bright spots this week demonstrating their value in a diversified portfolio with gains while everything else fell in value. Commodities, driven by the price of oil hitting a 4-year high, gained +1.7%. Gold gained +0.9% as some concerns about inflation may be creeping into the market. Real estate stocks took a sharp hit of -3.0% for the week likely being directly impacted by higher bond yields.
Bonds had one of their worst weeks of the year falling -1.2% and now off -4.7% year-to-date. These lower bond prices result in higher bond yields with the benchmark U.S. 10-year Treasury hitting its higher yield since 2011 closing the week at 3.23%. Since hitting their high in mid-2016, the 10-Year Treasury has fallen by -10.3% which is its second worst price decline since 1972.
Stock Highlights
General Electric (GE), the troubled conglomerate, replaced its CEO for the second time in just 14 months as the company continues to struggle. This stock has lost more than $200 billion in value since hitting a peak in mid-2016 falling back to levels not seen since the worst of days during the 2008-2009 financial crisis. The CEO change was well received though by investors this week making GE the best performing stock in the S&P 500 gaining +16.7%.
Eli Lilly (LLY), a major pharmaceutical company with nearly $24 billion in annual sales, had a strong week following its announced positive results from a trial of its diabetes treatment. The company's stock is having a great year gaining +36.2% helped by the week's rally of +7.2%. It has been a tough ride though for long-term shareholders as the accompanying graph shows with the stock lagging behind the S&P 500 for many years and now just catching up.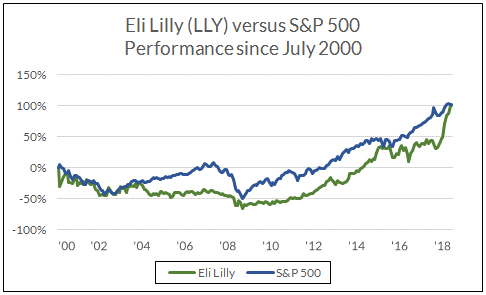 Source: www.YahooFinance.com
Advanced Micro Devices (AMD), a semiconductor manufacturer, has had one of the best performing stocks in 2018 with a gain of +166%. This year-to-date gain is after the stock fell by -11.5% for the week leaving it -16.4% lower since its peak just a few weeks ago. This recent fall in price came on news that competition may be heating up from the industry giant Intel (INTC).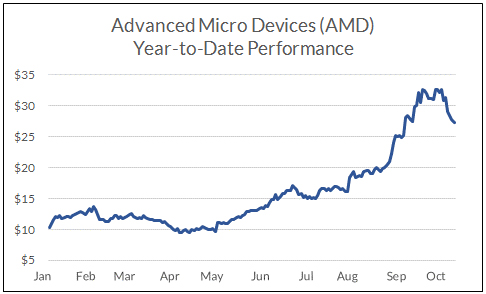 Source: www.YahooFinance.com
Stitch Fix (SFIX), a $2.6 billion market cap company that went public just about a year ago, saw its stock get hammered this week by -39.9%. The company sells a range of apparel via its website and mobile app. This week the company reported earnings that were ahead of estimates but revenue and its number of active users did not meet expectations. This is an interesting example of the risk of new, rapidly growing companies with a high-flying stock prices when they fail to meet aggressive expectations.
Economic Indicator - Reported
The headline number for the September employment report disappointed with only 134,000 new jobs created during the month versus an estimate of 180,000. But when digging into the report there are plenty of signs of strength including a revision to the prior month's report by a positive 69,000 jobs taking the August number to 270,000. The number that captured all of headlines was the unemployment rate falling to 3.7% making it the lowers in 49 years. This all points to a very strong economy which may have rattled investors who are concerned about more interest rate hikes by the Fed to slow economic growth.
It was a different story for factory orders that had a headline growth number of +2.3% for August. When digging deeper into this report the numbers were not a strong as hoped for. Excluding the volatile transportation sector orders only rose by +0.1% representing a slowing trend.
Economic Indicators – Upcoming
We will get two reads on inflation in the coming week with both the Consumer Price Index (CPI) and the Producer Price Index (PPI) expected to be higher by +0.2%.