All blog content is for information purposes. Any reference to indivisual stocks, indexes, or other securities as well as all graphs and tables are not recommendation but only referenced for illustration purposes.
Market Commentary - Week Ending 10/20/2018
Summary
U.S. stocks were little changed following relatively sharp declines a week earlier
Earnings continue to come in strong but growth is expected to slow in coming quarters
Economic data was a little mixed but generally continues to point to strength
Market Performance Summary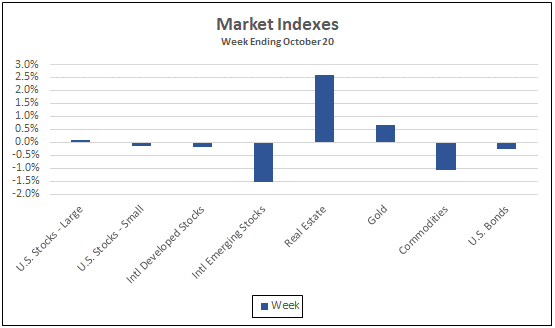 Source: S&P Compustat, www.yahoo.com/finance for Commodities
Notable Market Headlines
The volatility subsided somewhat and the price declines slowed following a relatively sharply declines the week before. By the end of the week, U.S. stocks were little changed with larges stocks, measured by the S&P 500, up +0.1%. The Dow Industrials faired better with a +0.4% gain while the tech-heavy NASDAQ slipped -0.6% with some large technology stocks continues to face meaningful selling pressure.
Small U.S. stocks continued their recent trend of underperforming larger stocks with a loss of just -0.2%. Small stocks are barely holding onto their year-to-date gains up just +0.6% while large stocks are higher by +3.6%.
International markets were generally lower across the board with developed markets slipping just -0.2%. Emerging markets though did not weather the week as well falling -1.5%. These markets remain sharply lower for the year with developed markets down -9.3% while emerging markets are off -15.8%. The only positive returns for the week came from a couple of the non-traditional asset classes. Real estate did particularly well gaining +2.6% helping to recover some of the 2018 losses but still remains lower for the year by -3.6%. Gold also gained, up +0.7% but still lower by -6.2% for the year, as investors seemed to use this as a safe haven investment given the volatility in the stock market. Commodities were lower by -1.1% as the price of oil fell but remain one of the best performers in 2018 up +9.0%.
Bonds were down slightly for the week with yields up slightly. They remain in the spotlight with investors and others debating if the Federal Reserve may be raising rates too rapidly.
Stock Highlights
The Interpublic Group of Companies (IPG), a worldwide advertising and marketing company, was the best performing stock in the S&P 500 this week. Fueled by a strong economy and a recent acquisition, IPG's quarterly results easily topped forecasts with both sales and earnings rising. These strong results help alleviate some investor concerns about the company's business model. IPG's stock gained +15.0% for the week and is higher by +22.3% for the year.
Procter & Gamble (PG), the giant consumer products company with household brands such as Gillette and Pampers, reported strong results that were well received by investors. Revenue came in at $16.7 billion which was unchanged compared to the same period last year but better than management had forecast and Wall Street was expecting. Revenue was helped by rising volumes and steady pricing. P&G's stock climbed +10.4%, adding more than $20 billion to the company's market value. Prior to this week's rally the stock had been in negative territory year-to-date but is now higher by +5.8%.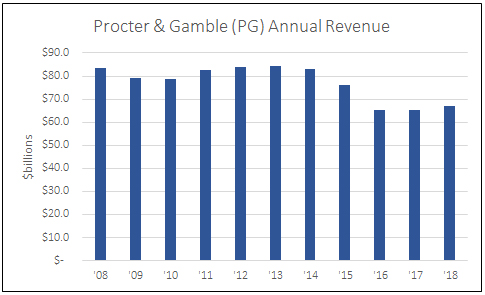 Source: S&P Compustat
IBM (IBM), a technology giant, reported quarterly results that disappointed Wall Street. The company had a string of 3 consecutive gains in revenue that were preceded by 22 consecutive quarters of sales declines. Unfortunately the most recent quarter once again showed a drop in revenue to $18.76 billion down -2.1% from the same period a year ago. Earnings per share inched higher but it was not enough to keep investors happy with the stock falling -8.3% for the week and now lower year-to-date by -15.9%.
Economic Indicator - Reported
The headline number for September retail sales disappointed with growth of only +0.1% compared to economists' consensus forecast of +0.5%. Surprising to the upside was strength in auto sales, which have recently been slow, offset by a sharp drop in restaurant sales. When excluding certain segments of the economy to focus on what is called the Control Group, sales were higher by +0.5% which was above forecasts.
Sales of existing homes fell -3.4% in the most recent month as demand continues to weaken. Sales of both single family homes and condos declined for the month to the lowest level in nearly 3 years. Housing starts also disappointed with a decline of -5.4% for the month and below forecasts.
Economic Indicators – Upcoming
The first estimate for the third quarter Gross Domestic Product (GDP), a measure of overall economic activity, is expected to show growth of +3.3%. This expected robust growth, although down from the second quarter's +4.2%, is being helped by strength in business investments and consumer spending while residential spending has been weak.
Economists are forecasting a slowing in new home sales to an annualized 625,000 homes in spite of rising supplies. Everything residential has been relatively weak in recent months.
Durable Goods Orders, new orders with domestic manufacturers for factory hard goods, are expected to have risen +0.4% when excluding the volatile transportation sector.