All blog content is for information purposes. Any reference to indivisual stocks, indexes, or other securities as well as all graphs and tables are not recommendation but only referenced for illustration purposes.
Week Ending 11/4/2017
Summary
Stocksclose at another record high helped by strong earnings fueled by a strong economy
The U.S. unemployment rate drops to a 17-year low of 4.1%
Apple reports exceptional quarterly results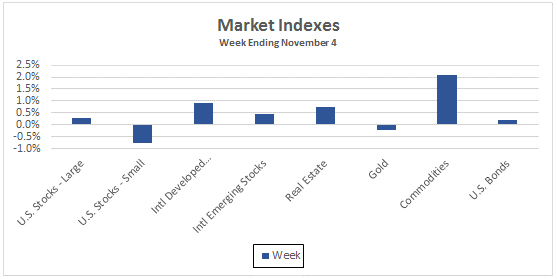 Source: S&P Compustat, www.yahoo.com/finance for Commodities
Notable Market Headlines
U.S. stocks turned in their second consecutive week of mixed performance with U.S. large stocks gaining +0.3% to close at record highs while small stocks declined -0.8%. Small stocks had been on a strong run for 5-6 weeks through late September (see Week 38) but have lagged behind large stocks by a fairly wide margin since the start of October as illustrated in the accompany graph. Regardless, small U.S. stocks remain higher year-to-date by +10.2% while large stocks have gained +15.6% all helped by strong earnings and economic growth.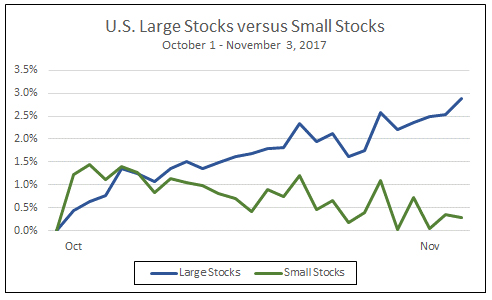 Source: www.yahoo.com/finance
Technology stocks continue to be the leading sector in 2017, up a very impressive +35.6%, adding to the gains this week by another +1.9%. Energy stocks have been the market's laggards but posted the strongest performance of all sectors for the week with a gain of +2.2%. Some of the best performing stocks in this group include Marathon Oil (MRO), Devon Energy (DVN), and Concho Resources (CXO). In spite of the week's gains, the energy sector stocks remain lower year-to-date by -9.5%.
While U.S. stocks were mixed, international markets, on average, gained across the board. International developed markets gained +0.9% for the week and are now higher by +20.9% for the year. A couple of the biggest contributors to this gain were Germany's market and Italy's market both gaining about +2.0% for the week. International emerging markets gained as well, up +0.4%. Dragging down this sector this week was Brazil's market off -5.4% on economic concerns. Year-to-date emerging markets remain the leader with a gain of +32.4%.
Commodities turned in a second strong week of performed moving higher by +2.1% adding to last week's +2.5% gain. This rally is behind the strength in energy stocks as discussed above.With these two back-to-back strong week, commodities have now finally moved into positive territory for the year.
Gold slipped another fraction of a percent, down -0.2% for the week but remains higher by +10.0% for all of 2017. It is generally believed that gold moves higher when investors are fleeing to safety or on concerns about future inflation. I believe it's impossible to really know what's moving the price but gold has come off its high about 2 months ago by -5.9%.
Real estate was another winner this week moving higher by +0.7%. Bonds were also up for the week +0.2%, as investors possibly anticipate lower interest rates for longer than had originally been expected.
Winners and Losers by Sector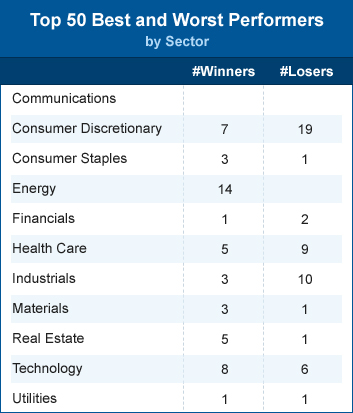 Source: S&P Compustat
Stock Highlights
Apple (AAPL) reported very strong quarterly results with revenue climbing +12% to $52.6 billion while earnings per share surged +24%. New product launches including the iPhone8 and third generation of the iWatch helped drive results. The company is optimistic about the outlook for the holiday season with the iPhoneX looking like it will be another hit for the company. Apple's stocks jumped +5.8% and is now only 12% away from being the first stock with a $1 TRILLION market value.
Qualcomm (QCOM), a leader in the development of digital communications that helped facilitate the mobile phone boom, is being targeted as a takeover by its larger competitor Broadcom (BRCM). Qualcomm was one of the hot stocks of the late '90s technology boom that ascended at a stratospheric pace to then collapse in the following years.
Under Armour (UAA), the maker and distributor of athletic apparel, had a miserable week with its stock falling -27.6%. This is just another decline in what has become all too common for this stock with it hitting a high in 2014 above $50 and is now trading below $12 as illustrated in the accompanying graph. The news this week that drove the stock lower was a report that quarter revenue unexpectedly declined and the outlook for the remainder of the year is bleak.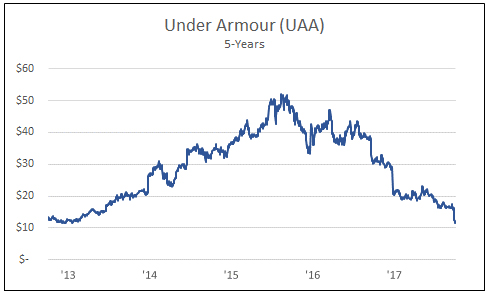 Source: www.yahoo.com/finance
Newell Brands (NWL), the marketer of a wide range of consumer products including Tupperware, Sharpie, and Coleman, reported earnings that were higher compared to last year but below Wall Street expectations. Hurting the company are supplier issues and the bankruptcy of retailer Toys R Us. Investors were clearly disappointed with the stock collapsing for the week down -23.1%.
Economic Indicator - Reported
The October employment report showed continued signs of economic strength with the economy adding 261,000 jobs for the month and the unemployment rate falling to a 17-year low of 4.1%. The number of jobs gained was below expectations but the prior two months were revised higher by a combined 90,000. This revision wipes out was a loss of jobs in September, due to hurricane effects, to a positive month.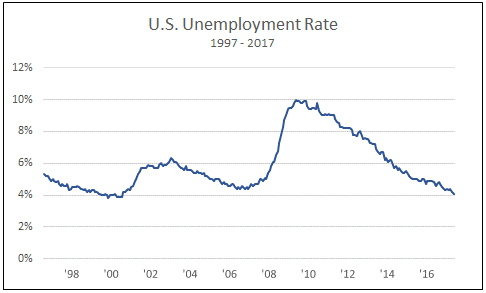 Source: https://data.bls.gov
Average hourly earnings were flat in October, below the estimate of a gain of +0.2%, resulting in the year-over-year gain now at a moderate +2.4%. The lack up upward pressure on wages has been perplexing to both economists and our Federal Reserve given the very low level of unemployment.
Third quarter productivity gained more than expected at +3.0%. This means that our economy produced +3.8% more goods than in the prior quarter with on a +0.8% rise in the number of hours worked. This is indicative of a healthy economy and helpful in keeping costs down.
Economic Indicators – Upcoming
It will be a relatively quiet week on the economic front. The November Consumer Sentiment Index, reported by the University of Michigan to measure the mood of consumers, will be reported with economists expecting a reading of 100.0, very positive, following October's 13-year high of 101.1.