ALL BLOG CONTENT IS FOR INFORMATIONAL PURPOSES ONLY. ANY REFERENCE TO OR MENTION OF INDIVIDUAL STOCKS, INDEXES, OR OTHER SECURITIES ARE NOT RECOMMENDATIONS AND ARE SPECIFICALLY NOT REFERENCED AS PAST RECOMMENDATIONS OF PATTON WEALTH ADVISORS. ALL GRAPHS, CHARTS, AND TABLES ARE PROVIDED FOR ILLUSTRATION PURPOSES ONLY. EXPRESSIONS OF OPINION ARE ALSO NOT RECOMMENDATIONS AND ARE SUBJECT TO CHANGE WITHOUT NOTICE IN REACTION TO SHIFTING MARKET, ECONOMIC, OR POLITICAL CONDITIONS. IT IS COMMON FOR US TO USE A FUND AS A PROXY FOR AN INDEX OR ASSET CLASS. FOR MORE DETAILS SEE OUR FULL DISCLOSURE HERE.
Market Commentary - Week Ending 11/10/2018
Summary
U.S. large stocks posted their second consecutive week of robust gains following the steep October selloff
Real estate stocks surge while the price of oil falls into a bear market
Signs of inflation are persisting with wholesale inflation coming in much higher than economists had forecast
Market Performance Summary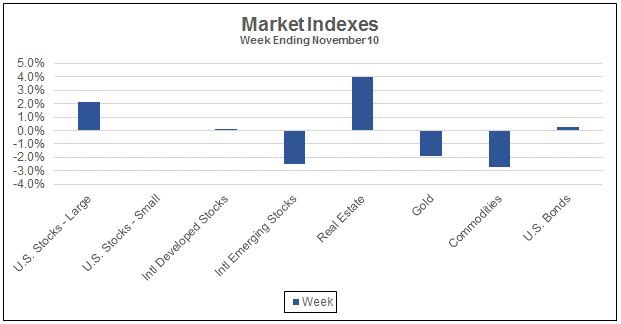 Source: S&P Compustat, www.yahoo.com/finance for Commodities
Notable Market Headlines
The U.S. midterm elections sparked a rally in large U.S. stocks with the S&P 500 gaining 2.2% for the week. Every sector in the market was higher with utilities, healthcare, and financial stocks leading the rally while technology stocks were among the laggards illustrated by the NASDAQ Composite higher by just +0.7% for the week.
Small U.S. stocks did not participate in the week's rally gaining just a fraction of a percent. Year-to-date small stocks are up +1.0% while large U.S. stocks have gained +4.1%.
The performance of international markets differed widely for the week with developed countries inching higher by +0.1% while emerging markets were down -2.5%. Among the developed markets, Australian stocks gained +1.5% while European markets were lower by -0.4% with Germany and Italy's markets among the worst performers. China was one of the worst performing emerging markets down -2.9% along with Brazil's stock market falling a sharp -5.2%. The majority of international markets have performed poorly in 2018 with developed markets off an average of -9.8% and emerging markets down -15.5%.
Real estate stocks had a very strong week rallying +4.0% and now essentially unchanged for the year. It has been a roller coaster year for these stocks with prices falling in January while the rest of the market rallied and then spending the better part of the year recovering. As the accompany graph shows, today real estate stocks are within 1.3% of the performance of large U.S. stocks year-to-date but that gap was nearly 14% earlier in the year.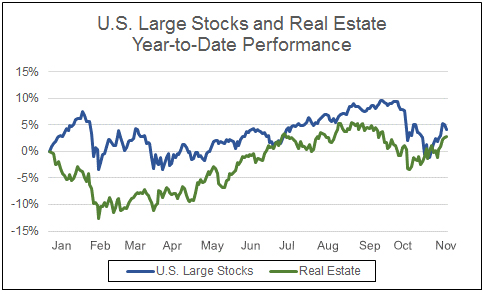 Source: www.yahoo.com/finance
Oil prices continue to slide falling into bear market territory this week off more than -20% from recent highs. The drop in oil prices has resulted in continued losses for the commodities index down another -2.7% for the week. Year-to-date commodities are now higher by just a fraction of a percent after having been up +15% for the year just 5 weeks ago.
In spite of some data showing inflation is picking up in the economy, the price of gold fell -1.9% for the week and is now lower by -7.4% year-to-date.
Bond prices rallied +0.2% for the week erasing a small portion of their year-to-date loss which stands at -4.8%. The benchmark 10-year U.S. Treasury yield hit a new higher for the year at 3.237% on Thursday before easing somewhat by the close of the week. The Federal Reserve continues to signal more rate hikes are coming which is expected to continue putting downward pressure on bond prices pushing yields higher.
Stock Highlights
TripAdvisor (TRIP), the online travel site, reported mixed quarterly results with revenue slightly missing expectations while earnings far exceeded estimates. Earnings were driven by its non-hotel segment including services such as tours, restaurants, and activities. This news was well-received by investors with the stock jumping +18.0% for the week making it the best performing stock in the S&P 500. As the accompany graph shows though the stock is still well off its 2014 high.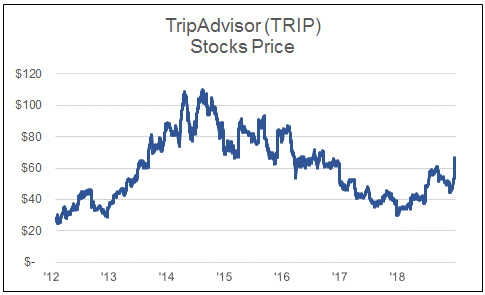 Source: www.yahoo.com/finance
Berkshire Hathaway (BRK.B), Warren Buffet's company, reported strong quarterly earnings and also announced it had repurchased stock for the first time since 2012. The news was well-received on Wall Street with the stock gaining +6.3% for the week.
This is a good opportunity to look at the performance of Berkshire Hathaway compared to U.S. large stocks, measured by the S&P 500, over longer periods of time. The accompanying graph compares performance during the past major bull and bear markets. It's not been uncommon for Berkshire to lag being in bull markets, although not the case during the most recent bull market, while tending to hold up better in bear markets.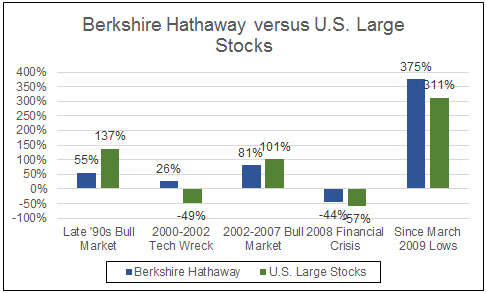 Source: www.yahoo.com/finance
Activision Blizzard (ATVI), a leading videogame company with a market value in excess of $41 billion, reported earnings for the quarter above estimates on sales that were in line at $1.66 billion. There were two disappointments though with fourth quarter revenue forecasts below previous expectations and a drop in monthly active users from 352 million to 345 million in the current quarter. This news sent the stock lower by -20.3% making it the second worst performer in the S&P 500.
Wynn Resorts (WYNN), the casino giant, reported higher sales and earnings for the quarter but still disappointed investors. Concerns were raised about the health of the Asian markets, in particular, the gaming capital of Macau that there could be some pullback in coming quarters in spite of a continued optimistic long-term view. This stock has been cut by more than half since its recent high just 6 months ago lower again this week by -12.0%. This steep price decline comes in spite of the company's revenue continuing to grow, as illustrated in the accompanying chart, although growth is clearly slowing.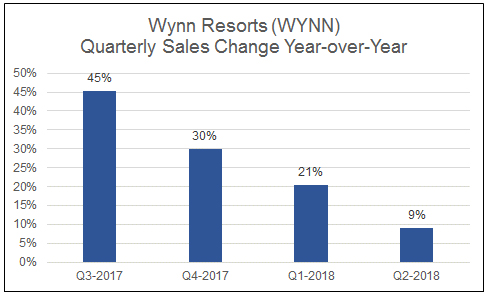 Source: S&P Compustat
Economic Indicator - Reported
The Producer Price Index (PPI), a measure of wholesale inflation, came in much higher than expected up +0.6% in October versus economists' estimate of just +0.2%. This big jump was the biggest in 6 years and was driven by higher gas prices and the rising costs of some goods such as machinery. When stripping out the volatile food and energy sectors, the core PPI was higher by a much more modest +0.2%.
Consumer Sentiment, measured by the University of Michigan, came in at a reading of 98.3 in November which was down just slightly from the October reading. This is seen as good news as we head into the holiday shopping season.
Economic Indicators – Upcoming
The Consumer Prices Index (CPI), the primary measure of retail inflation, is expected to come in at +0.3% for October following a smaller gain of just +0.1% the month before. Excluding food and energy the gain is forecast at +0.2%.
Retail Sales are expected to have been strong in the most recent month increasing by +0.5%.
Industrial Production, a measure of manufacturing, mining, and utilities activity, is expected to show a gain of +0.2% in October following a +0.3% in the prior month.
The information provided here is for general informational purposes only and should not be considered an individualized recommendation or personalized investment advice. Any specific securities or investment strategies mentioned here may not be suitable for everyone. Each investor needs to review an investment strategy for his or her own situation before making any investment decision including whether to retain an investment adviser.
All expressions of opinion are subject to change without notice in reaction to shifting market, economic or political conditions. Data contained herein from third party providers is obtained from what are considered reliable sources. However, its accuracy, completeness or reliability cannot be guaranteed. This content was created as of the specific date indicated and reflects the author's views as of that date. Supporting documentation for any claims or statistical information is available upon request.
Past performance is no guarantee of future results. Any comments about the performance of securities, markets, or indexes and any opinions presented are not to be viewed as indicators of future performance.
Investing involves risk including loss of principal.
Indexes are unmanaged, do not incur management fees, costs and expenses, and cannot be invested in directly. For more information on specific indexes please see full disclosure here.
Any charts, tables, forecasts, etc. contained herein are for illustrative purposes only, may be based upon proprietary research, and are developed through analysis of historical public data.
All corporate names shown above are for illustrative purposes only and are NOT recommendations.
International investments involve additional risks, which include differences in financial accounting standards, currency fluctuations, geopolitical risk, foreign taxes and regulations, and the potential for illiquid markets. Investing in emerging markets may accentuate these risks.
Fixed income securities are subject to increased loss of principal during periods of rising interest rates. Fixed-income investments are subject to various other risks including changes in credit quality, market valuations, liquidity, prepayments, early redemption, corporate events, tax ramifications and other factors. Lower-rated securities are subject to greater credit risk, default risk, and liquidity risk.