ALL BLOG CONTENT IS FOR INFORMATIONAL PURPOSES ONLY. ANY REFERENCE TO OR MENTION OF INDIVIDUAL STOCKS, INDEXES, OR OTHER SECURITIES ARE NOT RECOMMENDATIONS AND ARE SPECIFICALLY NOT REFERENCED AS PAST RECOMMENDATIONS OF PATTON WEALTH ADVISORS. ALL GRAPHS, CHARTS, AND TABLES ARE PROVIDED FOR ILLUSTRATION PURPOSES ONLY. EXPRESSIONS OF OPINION ARE ALSO NOT RECOMMENDATIONS AND ARE SUBJECT TO CHANGE WITHOUT NOTICE IN REACTION TO SHIFTING MARKET, ECONOMIC, OR POLITICAL CONDITIONS. IT IS COMMON FOR US TO USE A FUND AS A PROXY FOR AN INDEX OR ASSET CLASS. FOR MORE DETAILS SEE OUR FULL DISCLOSURE HERE.
Market Commentary - Week Ending 11/17/2018
Summary
U.S. markets closed lower in what was a relatively volatile week of trading
International emerging markets bucked the selling while China's market surging higher
Retail sales and industrial production reports continue to point to a relatively robust economy
Market Performance Summary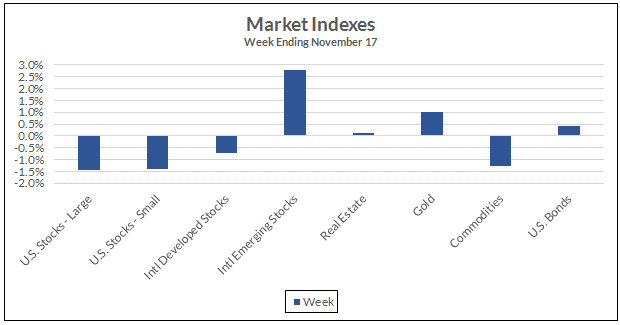 Source: S&P Compustat, www.yahoo.com/finance for Commodities
Notable Market Headlines
It was a rough start to the week for stocks with U.S. markets lower for three consecutive days through Wednesday then rallying to close the week. In spite of the late week rally, U.S. large stocks still closed the week down by -1.5% as measured by the S&P 500. Both the Dow Jones Industrials and the tech-heavy NASDAQ Composite suffered larger losses down -2.2% and -2.1% respectively. For the year large U.S. stocks remain in positive territory by +2.3%. Small U.S. stocks were also lower, down -1.4% for the week and now fractionally for the years.
During 2018 stocks have certainly seemed to be more volatile than normal. The year started with a big January rally that was then quickly followed by a sharp drop during the first week of February wiping away January's gains. Prices bounced around for a few months then midway through the summer began a fairly strong move higher that lasted through the end of September which was then followed by sharp declines in October. Again, this all feels more volatile than normal but…is it?
The blue line in the accompanying graph illustrates the S&P 500's volatility from 1963 through today. The orange line is the average over the entire period. As the graph shows, volatility during 2018, the far right side of the graph, does not at all seem to be abnormal.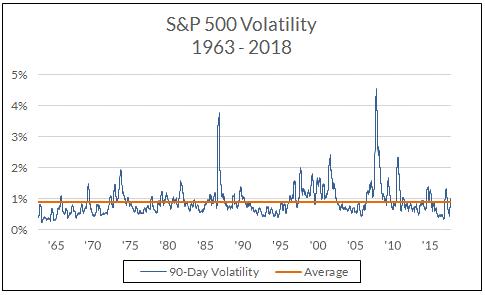 Zooming in a little closer looking at the last 5 years, again nothing about 2018's volatility appears to be out of the ordinary. We did have a nearly full-year stretch during 2017 when volatility was less than half the long-term average with it then spiking early in 2018 given the January rally and early February losses. Volatility subsided again into the summer months of 2018 and has then risen, just slightly above the long-term average, due to the October selloff. But, as both the above and below graphs show, jumps in volatility like we have recently experienced are entirely normal.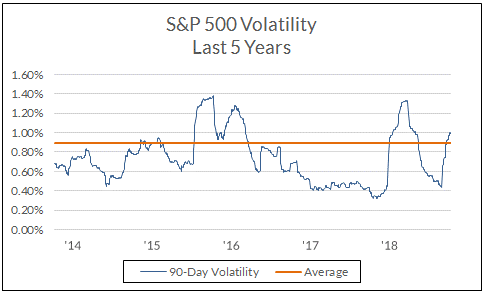 Source: www.YahooFinance and Patton analysis
International markets weathered the week much better than U.S. markets with developed country markets down just -0.7%. The big story though was in emerging markets which rallied sharply gaining +2.8% for the week. There were several big winners including China gaining +3.9%, Indian higher by +3.6%, Brazil up +2.6%, and Turkey's market gaining +4.9%. One explanation for this rally is that investors are selling high-priced U.S. technology stocks and seeking better values and long-term opportunities in beaten up emerging markets. In spite of this week's performance, emerging markets are still lower by -13.2% for the year.
The alternative asset classes were mixed for the week with gold higher by +1.0% on some renewed signs of inflation in the economy as well a serving as a possible safe haven during the stock market selloff early in the week. Real estate stocks treaded water, up +0.1% for the week and an equal amount year-to-date. Oil prices continued to fall driving the commodity index further down by -1.3% for the week leaving it now in negative territory year-to-date.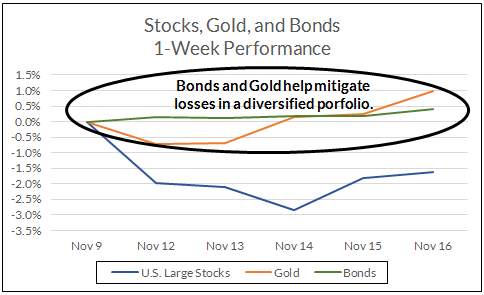 Source: www.YahooFinance.com
Bonds also closed the week higher resulting in yields easing. The accompanying graph illustrates how bonds can often help mitigate some losses in a portfolio when stocks are moving sharply lower as they did early in the week. Gold as well also often provides similar diversification value in a portfolio as illustrated here.
Stock Highlights
The stock of Wynn Resorts (WYNN), the casino giant, gained for 5 consecutive days this week after being one of the worst performing stocks the week before (see last week's blog). There was no significant news driving the stock but one Wall Street analyst make positive comments about this stock and others in the industry. At the close of the week the stock was higher by +9.6% but remains lower for the year by -36.1%.
Nordstrom (JWN), the fashion retailer with nearly $16 billion in annual revenue, reported disappointing quarterly results. Same-store sales growth was disappointing but the big issue is that the company must repay more than $70 million to its customers where were overcharged on its store credit card. In spite of earnings guidance for the next quarter that was above estimates, the credit card news rattled investors resulting in the stock falling -22.2% for the week. In spite of this sharp drop, the stock is still higher by +7.5% for the year.
Nordstrom was not the only retailer having a tough week. Macy's (M) stock fell by -11.9% for the week in spite of a relatively strong earnings report. It's possible investors were disappointed by an article saying the company plans to reduce the size of underperforming stores. Kohl's (KSS) stock appears to have fallen in sympathy with Macy's. The company is expected to report its quarterly results on November 20th.
NVIDIA (NVDA), a maker of computer gaming cards, has become a victim of the crash in the price of cryptocurrency. The company's products had been aggressively used by people mining cryptocurrency but these sales have fallen sharply as the price of cryptocurrency has fallen leaving the company with a glut of supply. In the company's third quarter earnings report it said total company revenue would decline in the fourth quarter as it works through this issue. The news shook investors with the stock falling -20.1% for the week and now off more than -43% from its high just 6 week ago.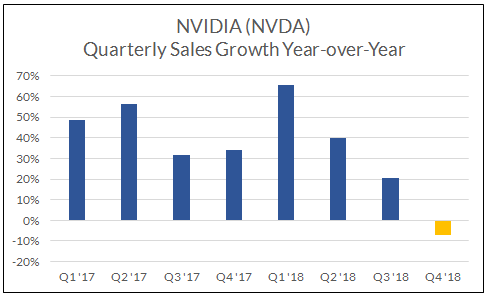 Source: S&P Compustat; Q4 '18 is the company's estimate
Economic Indicator - Reported
The Consumer Prices Index (CPI), the primary measure of retail inflation, increased by +0.3% in October as economist expected. Stripping out volatile food and gas, a measure of the core CPI, the increase was just +0.2%. Increases in the price of gas, cost of rent, used cars and trucks, and car insurance fueled the month's gain. Looking forward lower oil prices in recent weeks are expected to help keep future month's numbers muted.
Retails sales jumped a more than expected +0.8% in the most recent month as compared to two back-to-back small declines in August and September. Most of the gain came from gas, impacted by higher prices, and a modest gain in auto sales. Stripping out gas and autos, the monthly gain was still +0.3%. Looking forward the holiday season will potentially be a good one with employment strong and consumer optimism high but a volatile stock market and higher interest could keep a lid on growth.
Industrial Production, a measure of manufacturing, mining, and utilities activity, grew by a slower than expected +0.1% but this followed an upwardly revised third quarter growth of +4.7% versus the original +3.3% gain. Manufacturers remain concerned about tariffs and a possible slowing global economy so it is yet to be seen if the strong third quarter numbers will persist.
Economic Indicators – Upcoming
Both housing starts and sales of existing homes will be reported with small increases expected for both as compared to the prior month.
Consumer sentiment is expected to have remained unchanged near recent highs.
The information provided here is for general informational purposes only and should not be considered an individualized recommendation or personalized investment advice. Any specific securities or investment strategies mentioned here may not be suitable for everyone. Each investor needs to review an investment strategy for his or her own situation before making any investment decision including whether to retain an investment adviser.
All expressions of opinion are subject to change without notice in reaction to shifting market, economic or political conditions. Data contained herein from third party providers is obtained from what are considered reliable sources. However, its accuracy, completeness or reliability cannot be guaranteed. This content was created as of the specific date indicated and reflects the author's views as of that date. Supporting documentation for any claims or statistical information is available upon request.
Past performance is no guarantee of future results. Any comments about the performance of securities, markets, or indexes and any opinions presented are not to be viewed as indicators of future performance.
Investing involves risk including loss of principal.
Indexes are unmanaged, do not incur management fees, costs and expenses, and cannot be invested in directly. For more information on specific indexes please see full disclosure here.
Any charts, tables, forecasts, etc. contained herein are for illustrative purposes only, may be based upon proprietary research, and are developed through analysis of historical public data.
All corporate names shown above are for illustrative purposes only and are NOT recommendations.
International investments involve additional risks, which include differences in financial accounting standards, currency fluctuations, geopolitical risk, foreign taxes and regulations, and the potential for illiquid markets. Investing in emerging markets may accentuate these risks.
Fixed income securities are subject to increased loss of principal during periods of rising interest rates. Fixed-income investments are subject to various other risks including changes in credit quality, market valuations, liquidity, prepayments, early redemption, corporate events, tax ramifications and other factors. Lower-rated securities are subject to greater credit risk, default risk, and liquidity risk.