All blog content is for information purposes. Any reference to indivisual stocks, indexes, or other securities as well as all graphs and tables are not recommendation but only referenced for illustration purposes.
Week Ending 2/3/2017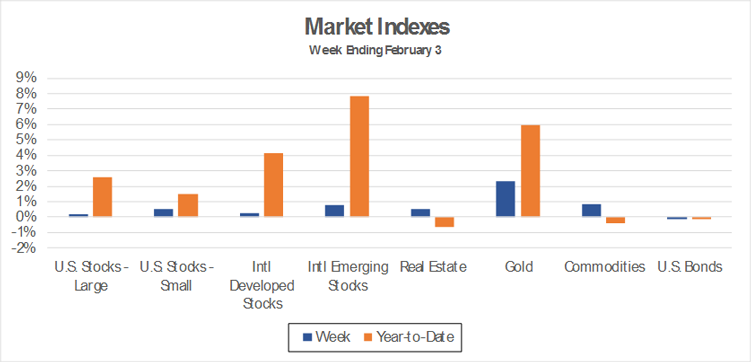 U.S. stocks started the week moving lower, were quiet throughout the week until Friday's strong close following the better than expected employment report (see below). For the week, the S&P 500 gained 0.2% while the smaller-stock index Russell 2000 gained 0.5%.
International Emerging Market Stocks
3 of the top 10 largest stocks included in the International Emerging Markets index are:
Samsung
Alibaba
China Telecom
International stocks continued their strong performance with emerging country stocks up 0.7% for the week and 7.8% for the year outpacing U.S. stocks year-to-date by more than 5%.
Gold jumped this week gaining 2.3%. Some experts are suggesting this rally is due to political uncertainty and investors seeking a safe haven in gold.
Notable Market Headlines
The Super Bowl Indicator says that if a team from the AFC wins, such as the Patriots did, that stocks will be lower for the year. This indicator has been accurate 40 out of 50 years…certainly an impressive, but meaningless, record!
The bull market for stocks has now persisted for 95 months with the S&P 500 up 266%, or 17.8% compounded annually, from its February 2009 month-end low. Some analysts suggest this is the second longest in history while others say that 4 of the past 9 bull markets have been meaningfully longer depending on the definition of a bull and bear market.
10-Year Government Bond Yield at 2.470% – yields eased slightly for the week after gaining in the prior two weeks. There's been no new news from the Federal Reserve about rates.
Market Leaders
Top 10 Performers – Summary
5 of the top 10 performers were health care stocks
Endo International

Specialty pharmaceutical company based in Pennsylvania
Stock gained 8% for the week but remains down -22% for the year following a -73% decline in 2016

Macy's jumps 12.3%

The Wall Street Journal reported that the parent company of Saks Fifth Avenue and Lord & Taylor made an offer to purchase Macy's
Macy's stock is down more than 50% from its January 2015 high as the company has struggled to produce strong results
Market Laggards
Bottom 10 Performers – Summary
Under Armour

A leading sports apparel company
Stock dropped -29% for the week due to disappointing quarterly results
The stock is now down -65% from year ago levels

United Parcel Service (UPS)

A global package delivery company
Stock dropped -9.4% for the week also due to disappointing quarterly results
The company said it has not adapted fast enough to the trends in online retail
Economic Indicator - Reported
The U.S. Employment Report showed the economy adding 227,000 jobs in January which was well ahead of the consensus estimate of 175,000. The report included other positive data which was all viewed positively by investors resulting in a strong gain for stocks.
Motor Vehicle Sales slowed in January to an annualized pace of 17.6 million as compared to 18.4 million in December. Vehicle sales are considered to be an important element of consumer spending which can provide an indication of the pace of overall economic growth.
Economic Indicators – Upcoming
There are no market-moving economic reports expected this week.
Investor Trivia
Warren Buffett is unquestionably one the greatest investors in modern times with a net worth in excess of $60 billion even after giving $25 billion to charity. He is 86, bought his first stock at age 11 in 1941, and is close friends with Microsoft founder Bill Gates. What percentage of Buffett's net worth did he make AFTER his 50th birthday?
99%! When Buffett was 52, his net worth was $376 million* or less than 1% of what it is today. Buffett talks regularly about the power of compound interest. His stock, Berkshire Hathaway, has compounded annually at 19.7% as compared to the S&P 500 at 9.9% resulting in his money doubling every 3.65 years as compared to every 7.2 years in the S&P 500.
Source: www.ValueWalk.com