All blog content is for information purposes. Any reference to indivisual stocks, indexes, or other securities as well as all graphs and tables are not recommendation but only referenced for illustration purposes.
Market Commentary - Week Ending 12/15/2018
Summary
All U.S. market averages fall into correction territory this week
International markets are showing some indications of stability in spite of possible slowing economies
Inflation remains low while retails sales top estimate
Market Performance Summary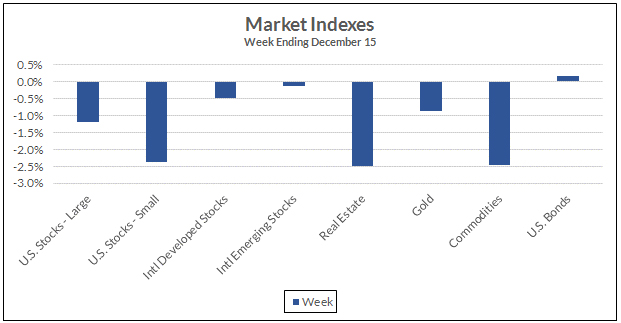 Source: S&P Compustat, www.yahoo.com/finance for Commodities
Notable Market Headlines
All of the major U.S. market averages fell into correction territory now off -10% or more from their highs. As measured by the S&P 500, U.S. large stocks were down -1.2% for the week. This leaves the index lower year-to-date by -2.4% and -11.4% off its high hit less than 3 months ago. The Dow Industrials fell a similar amount for the week and is off -2.5% for the year. The tech-heavy NASDAQ Composite held up slightly better for the week losing just -0.8%. It is still up just a fraction of a percent for the year but has come down -15.0% from its high.
As the accompany graph shows, midway through the year Small U.S. stocks were outperforming U.S. large stocks by more than 7% and at the end of August were up +14.2% year-to-date. This entire year-to-date gain for small stocks, as well as their edge over large stocks, has been wiped away and more with small stocks now down -7.8% year-to-date after falling another -2.4% for the week.
Underperformance such as we've seen since late August is consistent with environments when investors are avoiding risk as smaller stocks are generally considered more risky than large.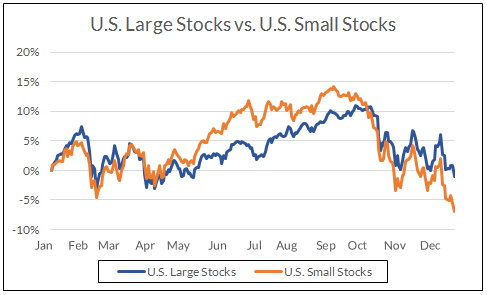 Source: www.yahoo.com/finance
Most, but not all, sectors were lower this week. Technology stocks and Utilities were the two winners both gaining +0.6% for the week and both up year-to-date by +2.2% and +8.2% respectively. One other year-to-date standout is Healthcare stocks up +7.8% for the year. Several other sectors are not faring well for the year including Financials off -8.2%, Energy stocks down -14.8%, and Materials falling -15.2%.
International markets weathered this week's selling better than U.S. market. Developed country stocks were off just -0.5% for the week with European markets holding up the best with a loss for the week of just -0.1%. Emerging markets, somewhat surprisingly, held up even better than developed markets with a loss on the week of just -0.1%. Several of these markets were meaningfully higher including China's gaining +1.4% and India's up +1.3%. Year-to-date international markets have very much underperformed U.S. markets possibly making them relatively inexpensive as investors seek good values.
Real estate stocks fell sharply down -2.5% and have again fallen into negative territory for the year by -0.5%. Commodity prices also lost ground falling -2.5% for the week and now lower by -7.3% year-to-date. The price of gold also fell by -0.9%. It is common for the price of gold to rise during times of fear and panic in the markets so it can be argued that the current market decline has not been accompanied by panic.
Bonds were the only major asset class higher this week gaining +0.2% pushing interest rates lower with the benchmark 10-year U.S. Treasury yield at 2.894%. Data suggesting economies around the world are slowing created some fears it slow the U.S. economy resulting in the Federal Reserve possibly slowing its pace of interest rate hikes.
Stock Highlights
Broadcm (AVGO), a San Jose semiconductor company, reported quarterly results more than a week ago. In addition to reporting results, the company laid out a new strategic business plan where they intend to cut costs dramatically over the next couple of years. The plan is to accomplish this by focusing on the retention and growing of existing customers which could cut costs by billions of dollars. This stock rose 4 out of 5 days this week making it the best performer of the 500 stocks in the S&P 500 gaining +11.5%.
Facebook (FB), the giant social media company, has been in the news non-stop for the better part of 2018 with most of this news not positive for the company. In spite of all of the negative news, the stock is lower year-to-date by just -18.4% which is certainly worse than the overall market but relatively impressive given the headwinds for the company. With the market seeming to gravitate toward more value-oriented stocks, some are arguing that Facebook could be a great long-term value. The accompanying graph shows the company's annual growth in sales the last 5 years which will likely slow in 2018 but growth does persist. This week the stock was one of the better performers gaining +4.8% in a generally declining market.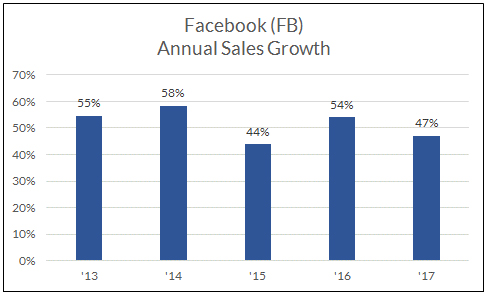 Source: S&P Compustat
Under Armour (UAA), an athletic apparel company, had the worst performing stock among the S&P 500 this week. The company provided weak guidance for 2019 as well as laying out its 5-year strategic plan that disappointed investors. These disappointments are accompanying by its competitors Nike (NKE) and Adidas seeing a resurgence in their businesses. Under Armour's stock once traded for more than $100 per share and is now at $17.73 down another -19.0% this week.
Johnson & Johnson (JNJ), a worldwide healthcare company, was hit with news driving its stock lower this week. There was a report suggesting that J&J knew for decades that its baby talcum powder was contaminated with asbestos. This is a known carcinogen and is alleged to have caused cancer in thousands of its customers. This news will likely unfold for years but investors' immediate reaction was negative with the stock falling -8.5% for the week.
Economic Indicator - Reported
Inflation continues to remain low with the Consumer Price Index (CPI), a measure of retail prices, for November coming in unchanged as expected by economists. Lower gas prices help keep overall prices down. Year-over-year prices are higher by just +2.2% as compared to +2.5% the prior month.
The story for wholesale prices is much the same as retail prices with the Producer Price Index (PPI) gaining just +0.1% for the month. This was higher than economists' prediction of a decline of -0.1% partially due to higher transportation costs, in particular for trucking services, due to a shortage of drivers.
Retails sales grew by +0.2% in November, online retailers being the big winners, which was better than the forecast for just +0.1% growth. When digging deeper into this report, the news gets better. Stripping out a drop in sales due to falling gas prices, sales grew by +0.5% for the month. Furthermore, the prior month's report of +0.8% in sales was revised higher to +1.1%
Economic Indicators – Upcoming
Economic reports in the coming will including Housing Starts, Existing Home Sales, and Durable Goods Orders.