ALL BLOG CONTENT IS FOR INFORMATIONAL PURPOSES ONLY. ANY REFERENCE TO OR MENTION OF INDIVIDUAL STOCKS, INDEXES, OR OTHER SECURITIES ARE NOT RECOMMENDATIONS AND ARE SPECIFICALLY NOT REFERENCED AS PAST RECOMMENDATIONS OF PATTON WEALTH ADVISORS. ALL GRAPHS, CHARTS, AND TABLES ARE PROVIDED FOR ILLUSTRATION PURPOSES ONLY. EXPRESSIONS OF OPINION ARE ALSO NOT RECOMMENDATIONS AND ARE SUBJECT TO CHANGE WITHOUT NOTICE IN REACTION TO SHIFTING MARKET, ECONOMIC, OR POLITICAL CONDITIONS. IT IS COMMON FOR US TO USE A FUND AS A PROXY FOR AN INDEX OR ASSET CLASS. FOR MORE DETAILS SEE OUR FULL DISCLOSURE HERE.
Week Ending 12/30/2017
Summary
A great year for the markets ended with a relatively quiet final week of trading
Oil prices continue to rally and close at multi-year highs
Consumer Confidence eased but remains near 17-year highs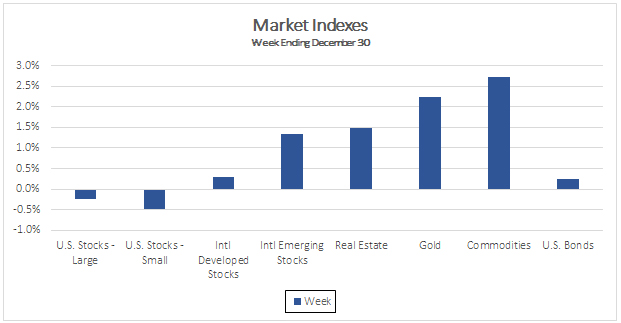 Source: S&P Compustat, www.yahoo.com/finance for Commodities
Notable Market Headlines
2017 has come and gone and what a great year it was for investors in well-diversified portfolios! Every major asset class posted gains for the year with stocks clearly leading the way.
For the final week of trading of the year U.S. stocks drifted lower contrary to historical performance indicating a Santa Claus Rally between the Christmas and New Year's holidays. Large U.S. stocks closed down -0.2% for the week while small U.S. stocks were lower by -0.5%. For all of 2017, U.S. large stocks, as measured by the S&P 500 (an index of 500 stocks), rallied +19.4% while the Dow Jones Industrials (an index of just 30 stocks), another obvious popular measure of large U.S. stocks, did better at +25.1%. Small U.S. stocks lagged behind larger stocks up just +13.1%.
Technology stocks were the obvious leaders for the year with the sector gaining +35.4%. Interesting though is that their leadership role has been on pause since late November as the accompanying graph illustrates. Prior to November 28th, energy stocks had been the worst performing group while technology stocks soared and since November 28th it has been the exact opposite with energy stocks rallying while technology stocks edged lower.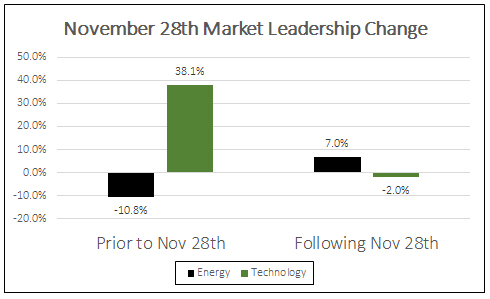 International stocks continued their leadership role in the final week of trading with developed markets higher by +0.3% and emerging markets posted an impressive +1.3% gain. A couple of the better performing emerging markets this week were Brazil, up +2.4%, and Mexico up +2.3%. For the year developed markets climbed +21.8% and emerging market surged +34.6%.
The tremendous performance of emerging markets in 2017 has caused some investors to question whether or not the rally can continue. There is of course no way to know for sure but history would certainly suggest it is possible. As documented in our blog a couple of years ago, emerging market stocks lagged behind the U.S. stocks market by a massive amount from 2010-2015. This period of underperformance by emerging markets, which was preceded by a decade of outperformance, demonstrates the fact that performance cycles can last for a very long time in spite of one strong year like 2017.
All of the non-traditional asset classes rallied in the final week of 2017 with commodities, predominately oil, leading the way with a +2.7% gain. This has been driving the strength in energy stocks, as discussed above, and left commodities higher by +3.9% for the year. Gold was a strong performer with it gaining +2.2% for the week and +12.8% for the full year. Real estate stocks were the weakest performers with the group higher by +1.5% for the week but only up +0.4% for the entire year. All of these assets continue to be great diversifiers in a portfolio as they do not always move up and down at the same time as stocks and bonds.
Bonds were the weakest performer in 2017 with a gain of just +1.0%. This is of no surprise in a market when stocks do very well but their performance was contrary to many expectations at the start of the year that prices could fall meaningfully.
Winners and Losers by Sector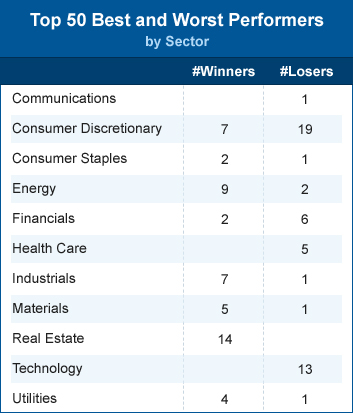 Source: S&P Compustat
Stock Highlights
Few stocks moved much during the final week of trading with the biggest winner among the S&P 500 stocks up just +4.8% and the biggest loser down -6.9%. It is more common to see moves that are twice these amounts or more.
Although the moves in stocks last week were little, there were some incredible gains and losses for the full year. Below are some highlights.
Coming as a surprise is the fact that the best performing S&P 500 stocks of 2017 was NOT a technology stock but instead the utility NRG Energy (NRG). Midyear the company announced a major restructuring that was very well received by Wall Street. The stock jumped on the news initially and has continued its trend higher to close up +132% for all of 2017!
Wynn Resorts (WYNN), the developer and owner of casino resorts around the world, was among the top 5 performers in 2017 with a gain of +95%. This stock has experienced some tremendous ups and downs during the past 5 years as illustrated in our blog earlier this year. Driving the stock's rally has been a huge surge in revenue and profits for the company. As illustrated in the accompanying graph, revenue has increased in excess of 40% in each of the three reported quarters for 2017.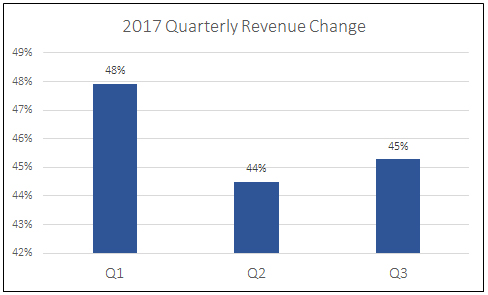 Source: S&P Compustat
Boeing (BA), one of the biggest manufacturers in the world, was higher by +89% in 2017 adding nearly $83 billion to the company's total value! Not only was this stock one of the top performers in the S&P 500 but was the best performer of the 30 stocks in the Dow Jones Industrial Average. Orders for airplanes have been booming as international aviation grows all helped by relatively low oil prices.
The best performing technology stock in 2017 was Micron Technology (MU). This semiconductor company's stock actually peaked in late November and closed the year -17% off its high but still up for the entire year by +88%. The company is experiencing strong revenue and earnings growth and also riding a wave of investor optimism for technology stocks in general.
Among the worst performers in 2017 was apparel and footwear company Under Armour (UAA). As illustrated in our blog a couple of weeks ago, growth and revenue has been slowing for several quarters which has put tremendous pressure on the stocks with it down -50% for the year. Ups and downs of this magnitude are not uncommon for this stock but it will be seen if it can recover from this decline.
Economic Indicator - Reported
The S&P Corelogic Case-Shiller Housing Price Index gained a better than expected +0.7% for the 20-city average. As illustrated in last week's blog, the strength has not been the same, of course, in all cities. Not only did the current month come in stronger than expected but the prior month was revised higher by +0.5% for a gain of +1.0% in the prior month. Las Vegas and San Francisco were two of the cities with the biggest gains in the current month at +1.4% and +1.2% respectively.
Consumer Confidence came down in the most recent month from its 17-year high with a reading of 122.1. This was well below economist estimates of 128.0. Less optimism about the future job market weighed on the index. That said, a reading of 122.1 remains very strong and is a positive indicator for the economy.
Economic Indicators – Upcoming
The December Employment Report will be the big economic report of the week. The reports have been strong in 2017 and estimates are for continued strength. On average during the first 11 months of 2017 the economy added 174,000 jobs with two of the best months being the most recent as illustrated in the accompanying graph. The estimate for December is for 190,000 new jobs added and the unemployment rate remaining the same at 4.1%.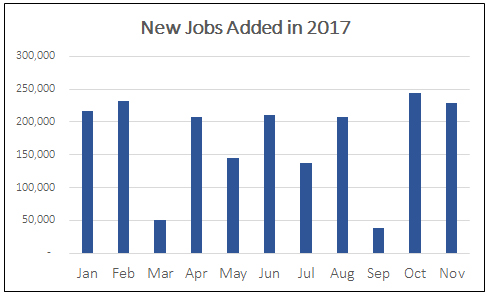 Source: https://www.bls.gov/ces/
Other reports this week will include Auto Sales, expected to remain strong and steady, and Factor Orders estimated to increase +1.0%.
The information provided here is for general informational purposes only and should not be considered an individualized recommendation or personalized investment advice. Any specific securities or investment strategies mentioned here may not be suitable for everyone. Each investor needs to review an investment strategy for his or her own situation before making any investment decision including whether to retain an investment adviser.
All expressions of opinion are subject to change without notice in reaction to shifting market, economic or political conditions. Data contained herein from third party providers is obtained from what are considered reliable sources. However, its accuracy, completeness or reliability cannot be guaranteed. This content was created as of the specific date indicated and reflects the author's views as of that date. Supporting documentation for any claims or statistical information is available upon request.
Past performance is no guarantee of future results. Any comments about the performance of securities, markets, or indexes and any opinions presented are not to be viewed as indicators of future performance.
Investing involves risk including loss of principal.
Indexes are unmanaged, do not incur management fees, costs and expenses, and cannot be invested in directly. For more information on specific indexes please see full disclosure here.
Any charts, tables, forecasts, etc. contained herein are for illustrative purposes only, may be based upon proprietary research, and are developed through analysis of historical public data.
All corporate names shown above are for illustrative purposes only and are NOT recommendations.
International investments involve additional risks, which include differences in financial accounting standards, currency fluctuations, geopolitical risk, foreign taxes and regulations, and the potential for illiquid markets. Investing in emerging markets may accentuate these risks.
Fixed income securities are subject to increased loss of principal during periods of rising interest rates. Fixed-income investments are subject to various other risks including changes in credit quality, market valuations, liquidity, prepayments, early redemption, corporate events, tax ramifications and other factors. Lower-rated securities are subject to greater credit risk, default risk, and liquidity risk.