All blog content is for information purposes. Any reference to indivisual stocks, indexes, or other securities as well as all graphs and tables are not recommendation but only referenced for illustration purposes.
Market Commentary - Week Ending 2/9/2019
Summary
U.S. stocks were marginally higher while international markets fell
Bond yields continue to drop on concerns about global economic growth
The biggest bank merger since the Financial Crisis of 2008 was announced
Market Performance Summary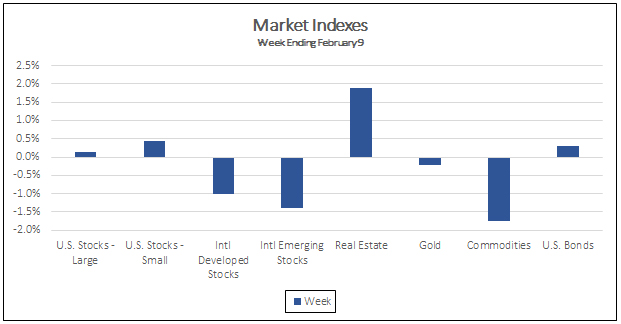 Source: S&P Compustat, www.yahoo.com/finance for Commodities
Notable Market Headlines
Stocks were mixed around the world with U.S. markets up marginally while international stocks lost some value. Earnings reports continue to come in relatively strong for the most recent quarter but outlooks for 2019 are mixed. Continuing to weigh on markets are concerns about a trade deal, or lack thereof, with China and the possibility of another government shutdown.
At the close of the week U.S. large stocks, as measured by the S&P 500, rose +0.2% while the Dow Jones Industrials, only 30 stocks, climbed +0.6%. Technology stocks were among the best performers with the sector gaining +2.0% and higher year-to-date by +9.7%. The week's worst performing sector was energy with a loss of -3.0% as the price of oil fell on concerns about global economic growth. In spite of this week's loss energy stocks are still higher for the year by +9.8%.
Small U.S. stocks continue to outperform large with a gain this week of +0.5%. Year-to-date small stocks are higher by +11.9% as compared to large stock up +8.2%. The general consensus is that small stocks would be less impacted than large stocks by an ongoing trade war with China.
International stocks had a disappointing week with developed markets off -1.0%. The developed countries posting some of the bigger losses were Japan down -2.5%, Germany losing -3.4%, and Spain off by -2.2%. Emerging markets fared worse losing -1.4% impacted by Brazil's market dropping -5.1%. The week's loss was disappointing but, at the accompanying graph illustrates, emerging markets are neck-and-neck with U.S. large stocks so far year-to-date as compared to underperforming meaningfully in 2018.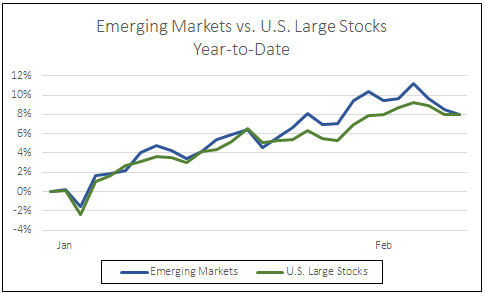 Source: www.yahoo.com/finance
Real estate stocks, helped by falling bond yields, have been rallying in 2019 and further added to their gains this week by an additional +1.9%. Year-to-date these stocks are higher by +12.7% making them the best perform of the major asset classes we monitor. Commodities have also performed well for the year with a gain of +7.9% but lost -1.8% for the week due to falling oil prices. Gold has lagged well behind most everything down -0.2% for the week and higher by just +2.4% year-to-date as inflation remains of little or no concern.
Bond prices moved higher by +0.3% pushing yields lower. The closely watched U.S. 10 Year Treasury yield closed the week at 2.630% down from 2.686% a week ago and a recent high of 3.237% last November. Concerns about slowing global economic growth are holding yields down.
Stock Highlights
Mattel (MAT), one of the largest toy makers, reported a surprise profit of $0.04 per share as compared to the Wall Street estimate of a loss of -$0.16. Total revenue fell for the quarter but was stronger than expected helped by sales of both its iconic Barbie doll and Hot Wheels. The stock surged on the report up +24.6% for the week and is now higher year-to-date by +52.5%.
The Estee Lauder Companies (EL), a $14 billion revenue skin care giant, reported a much better-than-expected quarter helped by continued strength in China. Revenue increased by 7% to more than $4 billion for the first time. Ignoring currency fluctuations, sales in Asia were higher by +20%, Europe, the Middle East, and Africa had a +16% gain in sales while the company struggled in the Americas. Overall this was very welcomed news for investors with the stock jumping +13.2% for the week and higher by +18.9% so far in 2019. This stock has had an incredible 10-year run outperforming the S&P 500 by more than 5-fold.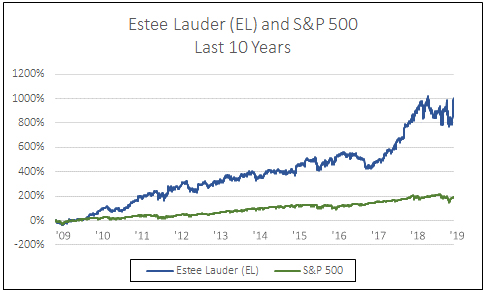 Source: www.yahoo.com/finance
BB&T (BBT), a large regional bank with headquarters in North Carolina, announced plans to purchase its rival SunTrust Banks (STI) in a deal valued at $28 billion. This is the biggest banking deal since the 2008 Financial Crisis. It is believed that regional banks such as BB&T and SunTrust need to get bigger to compete long-term. SunTrust's stock jumped +8.2% on the announcement and is now higher by +27.6% in 2019 while BB&T's stock also rose for the week by 2.8%.
Twitter (TWTR), the popular social media platform, disappointed investors with both its revenue forecast for the current quarter and a drop in monthly active users in January. Fears also persist that the company is facing continued and increasing pressure from Facebook (FB) and Alphabet's Google (GOOG). As the accompanying graph shows, quarterly revenue year-over-year had increased for the better part of 2018 but started to slow in the fourth quarter. This stock has been all over the place but fell on this week's news by -9.6%. In spite of the drop this week it remains higher in 2019 by +4.4%.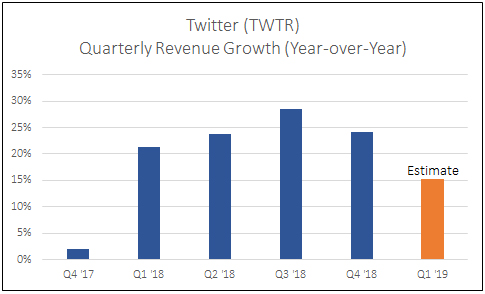 Source: www.YCharts.com
Economic Indicator - Reported
Factory Orders, a report delayed by a month due to the government shutdown, were reported down -0.6% versus economists' estimate of -0.2% in the most recent month. Lower oil prices contributed to this drop as this lowers the value of energy related products. This reports is another data point suggesting the industrial segment of the economy was slowing in the fourth quarter.
The Trade Deficit fell by -11.5% compared to the prior month but remains on track to be the highest in a decade. Falling oil prices and a decline in imports impacted the most recent month's numbers.
Economic Indicators – Upcoming
The following economic data is expected in the coming week:
Consumer Price Index (CPI) forecast higher by +0.1%
Retails Sales for December expected to be unchanged from the prior month
Producer Price Index (PPI) estimated to increase by +0.2%
Consumer Sentiment expected to increase from the prior month