All blog content is for information purposes. Any reference to indivisual stocks, indexes, or other securities as well as all graphs and tables are not recommendation but only referenced for illustration purposes.
Week Ending 2/24/2017
Summary
U.S. stocks continue setting record highs
Federal Reserve sees rate hike fairly soon
Existing home sales and jobless claims point to a continued strong economy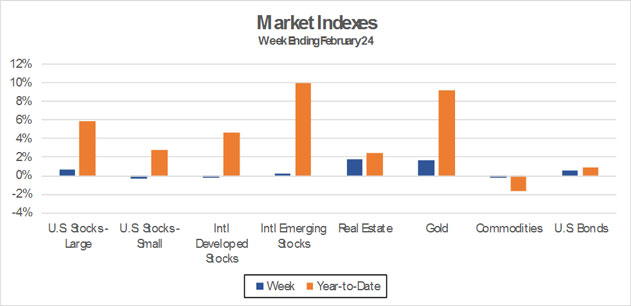 Large-cap U.S. stocks posted a gain of 0.7% for the week with the Dow Jones Industrials higher now for 11 consecutive days. Small-cap stock went the opposite direction posting a small loss of 0.3% for the week and now lag behind large-cap stocks year-to-date by more than 3%.
The best performance industry sector for the week was healthcare stocks gaining 1.5%. Year-to-date though it has been technology stocks leading the way with a gain of 10.4%.
International stocks were little changed for the week with developed country stocks fractionally lower and emerging country stocks slightly higher. Brazil's stock market has been among the best performing emerging markets this year gaining 15.1% but did fall 2.2% for the week.
Bonds posted their biggest weekly gain for the year of 0.6%. This is a recovery from some of the losses late last year as investors now see congress and the Federal Reserve moving slower than originally anticipated.
ECONOMIC Trivia Question
Middle-class income is defined as household annual earning between $35,000 - $200,000. When adjusting for inflation, has the middle-class increased or decreased as a percent of U.S. populate from 1967 to 2015? (answer at the bottom)
Notable Market Headlines
Fed Minutes Affirm Expected Rate Hike – minutes from the Fed's most recently meeting confirm the likelihood of another hike in interest rates soon. This is confirmation of what had been widely reported the week before. The stronger economy and rising inflation bolster the Fed's positon to take action.
10-Year Government Bond Yield at 2.376% – the yield fell to a new low for the year as bond prices rallied. This move is contrary to behavior that would be expected when the Federal Reserve indicates more rate hikes are likely coming soon as they did this week.
Market Leaders
HP Inc. (HPQ), better known to many as Hewlett-Packard, reported better than expected earnings propelling its stock to a 10.7% gain for the week. HP is the second largest computer manufacturer just behind Lenovo. There are many signs the PC market, which has been challenged due to smaller mobile devices, is starting to stabilize.
First Solar (FSLR) is a major manufacturer of solar energy solutions. This was once a $300 stocks in 2008 and is now selling for less than $40. The stock had a wild week closing down more than 8% on Wednesday due to disappointing earnings and rallied Thursday nearly 11% following many other stocks in the industry higher. For the week is gained 8.7%.
Market Laggards
Energy stocks were among the biggest losers for a second week in a row with accounting for 15 of the 50 worst performing stocks for the week. It was the price of natural gas falling by 7% early in the week and down about a third since December (see graph) that hurt these stocks. The very warm 2016 winter has resulted in higher than normal inventory levels of natural gas. Southwestern Energy, Newfiled Exploration, and Range Resources were the biggest losers all down more than 10% for the week.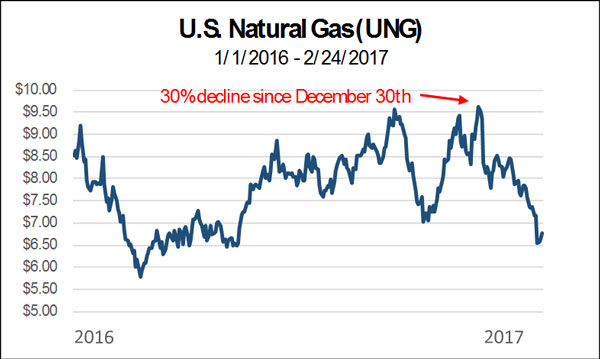 Tripadvisor (TRIP), a highlight in the prior week after falling 9.5%, lost an additional 9.4% for the week. The popular travel website company reported disappointing earnings in the prior week and investors continued to sell the stock.
Economic Indicator - Reported
January existing home sales were stronger than expected gaining 3.3% for the month. Sales of condos, one of the major components of this indicator, gained 8.3%. The overall number was the biggest gain since the end of the prior cycle in 2007.
Contrary to existing home sales, January NEW home sales fell to an annualized pace of 555,000 or about 20,000 lower than estimates. This drop in sales is being blamed on higher mortgage rates.
Jobless claims inched higher in the most recent survey to 244,000 but the 4-week average remains at its lowest level since July 1973! This report suggests the employment market has continued to be strong following the upside surprise about a month ago.
Economic Indicators – Upcoming
Consumer confidence, auto sales, and personal income are among some of the reports expected this week. None of these are expected to be market-moving reports. The much anticipated employment report will be reported next week.
Investor Trivia ANSWER
The ranks of the middle class have increased slightly from 1967 making up 60.3% of the total households then to 61.8% in 2015. The number of high-income households did see the biggest increase from 1.0% in 1967 to 6.6% in 2015. This big increase was accompanied by a similar size decrease in the number of low-income households falling from 38.7% to 32.1%.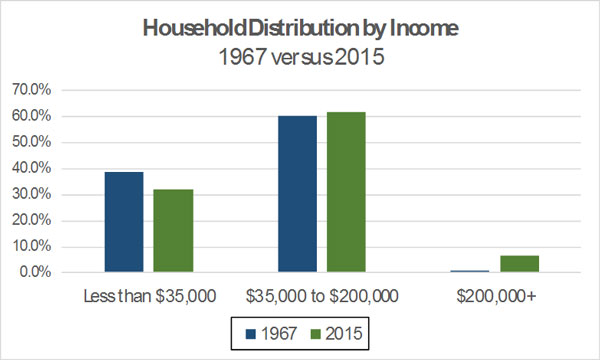 Source: Census Bureau, compiled by ITR Economics.