All blog content is for information purposes. Any reference to indivisual stocks, indexes, or other securities as well as all graphs and tables are not recommendation but only referenced for illustration purposes.
Market Commentary -
Week Ending 3/2/2019
Summary
U.S. stocks posted their 9th consecutive week of gains for the year
GDP grew faster than economists had forecasted for the 4th quarter
The coming employment report is expected to show 188,000 new jobs added
Market Performance Summary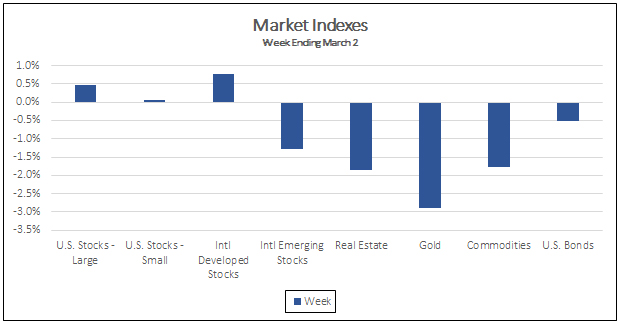 Source: S&P Compustat, www.yahoo.com/finance for Commodities
Notable Market Headlines
U.S. stocks held onto fractional gains for the week continuing their 2019 winning streak now up 9 consecutive weeks. This rally persisted in spite of no progress being made with North Korea at this week's summit as well as strong than expected economic growth in the U.S. during the fourth quarter that could put pressure on the Federal Reserve to considering raising interest rates further.
At the close of the week U.S. large stocks, as measured by the S&P 500, were higher by +0.5%, now up +12.2% for the year, while the Dow Industrials fell just a fraction of a percent, just 5 points, and the tech-heavy NASDAQ outperformed with a gain of +0.9%. Industrial stocks, even with a lackluster showing this week, remain the best performing sector year-to-date with gains of +18.6%. Of the major asset class, small U.S. stocks have performed the best with a year-to-date gain of +18.2% after being up just a fraction of percent this week.
International Developed stock markets turned in the best performance for the week with a gain of +0.8% and now higher by +9.9% for 2019. European markets were the best among this group with a +1.9% gain for the week helped by strong rallies in Germany and Italy. The other developed markets were mixed with Australian stocks higher by +0.7% while Japan's stocks fell -0.3%.
Emerging markets fell -1.3% for the week but remain higher by +8.8% year-to-date making this index the poorest performer for 2019 of the major stock indexes we follow. Brazil and Mexico were among the worst performers this week, down -4.1% and -3.1% respectively. China's market, the largest of the emerging markets, gained a fraction of a percent and is higher by +13.0% for the years.
All of the alternative assets classes lost ground this week following strong starts for the year for two of the three. Real estate stocks fell -1.9% for the week but remain higher by +11.8% in 2019. Commodities have also been strong in 2019, helped by stronger oil prices, but fell this week by -1.8%. The worst performer for the week and year-to-date date is gold falling -2.9% for the week and now up only +0.5% for the year.
Bond prices fell by -0.5% for the week as yields rose following the stronger than expected report on U.S. GDP. This strong report clearly stoked some fears that the Federal Reserve may have to consider raising interest rates further. The yield on the benchmark 10-years U.S. Treasury jumped to close the week at 2.754% from a low of 2.640% earlier in the week and 2.557% near the start of the year.
Stock Highlights
Gap (GPS), the global apparel and accessories retailer, announced it is going to spinoff its Old Navy stores into a separate publicly traded company. This transaction will allow the Old Navy, which accounts for more than half of Gaps total $16.6 billion in revenue, to shine as the Gap brand has been struggling with declining sales. This stock surged +19.2% for the week but is still down more than -30% from its 2013 high.
Best Buy (BBY), the big-box electronics retailer, reported much better than expected quarterly results that were both surprising and pleasing to investors. Earnings more than doubled compared to the same period last year and were better than analysts expected in spite of revenue falling due to one extra week in last year's numbers. As the accompany graph shows it has been a volatile stock falling to a low of $48 in late December and now rallying back more than +30% from that low including this week's gain of +12.2%.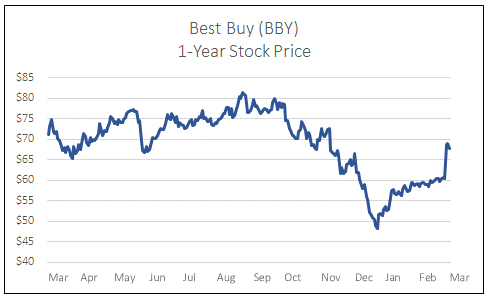 Source: www.yahoo.com/finance
Monster Beverage (MNST), a developer of energy drinks with a market value in excess of $35 billion, reported another quarter of strong. Revenue grew by +14% to $924.2 million with earnings per share coming in at $0.43 compared to Wall Street estimates of just $0.40. This performance is consistent with its long-term growth in sales as illustrated in the accompanying graph. The stock reacted well gaining +10.8% for the week. Year-to-date the stock is up +31.5% and has surged more than 10-fold during the past 10 years!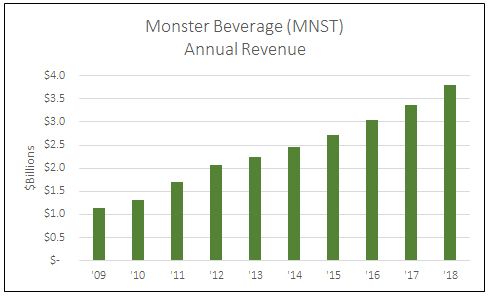 Source: www.YCharts.com
HP (HPQ), a leading provider of computers and related products, had the worst performing stock among the S&P 500 this week. The company reported quarterly results with earnings per share coming in generally as expected but sales were slightly below estimates due to weaker-than-expected sales in both personal computers and its printing business. This stock has been a roller coaster for investors the past decade falling from a $24 high in 2010 to less than $6 in last 2012 to then climb back to $26 late last year. This week it was down -17.4% to close at $19.60.
Economic Indicator - Reported
Fourth quarter Gross Domestic Product (GDP) came in much better than expected at +2.6% versus the estimate of +1.9%. This was a slowdown from earlier in the year resulting in full-year growth at +2.9%. This strong growth is in spite of the partial government shutdown that started just before Christmas combined with a slowing housing market.
Housing Starts fell -11% to a two-year low in December to an annual rate of 1.08 million versus 1.21 million in November. This number was far from economists' estimates. The biggest declines were in multi-family starts which fell -20% versus a -6.7% decline for single-family homes. Rising mortgage rates are being blamed for the fall.
Home prices continue to rise according to the S&P CoreLogic Case-Shiller 20-city index but at the slowest pace in 4 years. Prices in December were above November prices and higher by +4.2% for the year. This is off a pace approaching +7% early in 2018 as markets in the west start to cool.
Economic Indicators – Upcoming
The following economic data is expected in the coming week:
The forecast is that February Employment Report will show the economy adding 188,000 jobs for the month with the unemployment rate inching lower to 3.9%.
New home sales expected lower to 576,000 annually
Productivity in the fourth quarter is estimated to have improved by +1.7% but is below Q3