All blog content is for information purposes. Any reference to indivisual stocks, indexes, or other securities as well as all graphs and tables are not recommendation but only referenced for illustration purposes.
Summary
Oil falls below $0 for the first time in history
Demand has collapsed while production persists
Oil producers and entire countries face tremendous economic stress with the price so low
The Collapse of Oil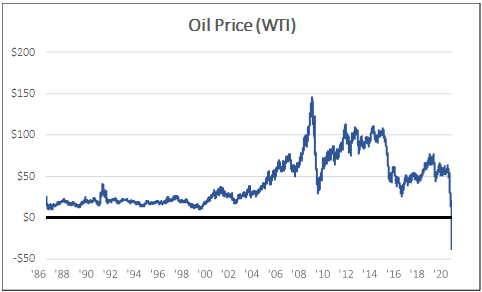 Source: http://tonto.eia.gov/dnav/pet/hist/LeafHandler.ashx?n=PET&s=RWTC&f=D
The price of oil collapsed this week falling below $0 for the first time in history. Effectively this meant that people with oil had to pay someone to take their oil. This breakdown in the market is due to oil storage facilities nearing capacity, nowhere to store the oil even if you can get it for free, as demand has fallen sharply and production remains relatively high.
A week ago oil had already fallen -70% year-to-date starting the year at $61 per barrel. On Monday the price sank to -$37 then quickly recovered the next day to $10 and closed the week at $17.18 off just -6.0% for the week.
In the U.S., the breakeven price to produce shale oil is somewhere between $48 - $54 per barrel. At current prices many companies with heavy debt loads could face bankruptcy. It's not just debt-laden companies though that face economic risks, entire countries do too. As the following graph shows, many countries are heavily dependent on higher oil prices to balance their country's budget. At today's price, these countries face huge deficits.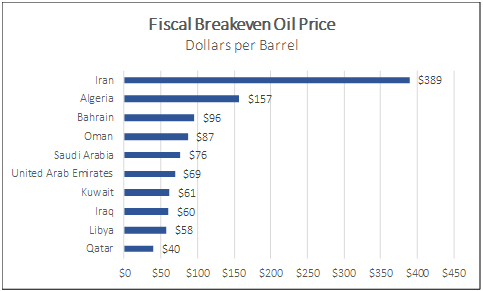 Source: https://data.imf.org/regular.aspx?key=60214246
More reading on the oil market: