All blog content is for information purposes. Any reference to indivisual stocks, indexes, or other securities as well as all graphs and tables are not recommendation but only referenced for illustration purposes.
Market Commentary
for the week ending November 8th, 2019
Summary
Indications that progress is being made in the trade war helped propel stock prices higher around the world
More companies than not continue to report better than expected quarterly results
Interest rate sensitive securities all moved sharply lower for the week as the yield on government bonds surged
Market Performance Summary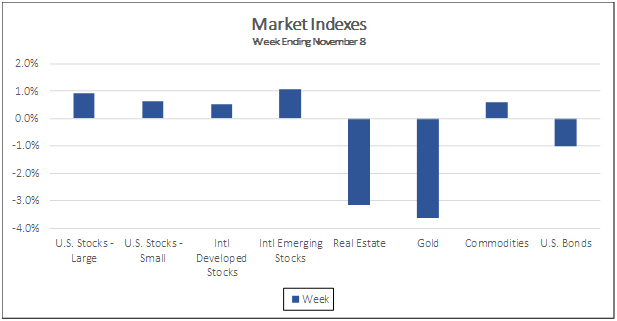 Source: www.YCharts.com
Notable Market Headlines
Hopes of progress in the trade war with China bolstered stock prices once again. Markets were further helped by expectations, expectations partially fueled by generally strong revenue and earnings numbers from many companies for the quarter, that the U.S. economy will improve.
At the close of the week large U.S. stocks were higher by +0.9% as measured by the S&P 500 to new all-time record highs. As the below graph shows this is the fifth consecutive weekly gain for the S&P 500. Both the Dow Jones Industrials and the NASDAQ Composited did even better gaining +1.2% and +1.1% respectively. Small U.S. stocks gained as well but lagged behind up +0.6%. Many of the week's individual stock winners were either those reporting strong quarterly results or those that are believed will benefit from progress in the trade war.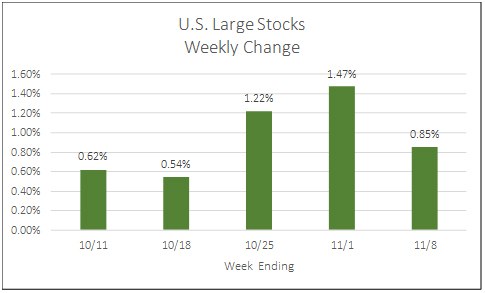 Source: www.YCharts.com
There was a clear shift away from all securities that are interest rates sensitive. Utility stocks dropped -3.7%, a big move for this sector, along with Real Estate stocks down -3.2%, and bond prices falling -1.0%. This performance behavior would suggest investors believe the economy could improve and interest rates may move higher.
International stocks gained along with U.S. markets with developed country stocks up +0.5% and emerging markets doing better rallying +1.1%. A notable loser was the market in Brazil falling -4.6%. International markets continue to lag behind U.S. markets in 2019 with developed markets up +18.8% and emerging markets higher by just +12.7% as compared to large U.S. stocks +25.3% jump.
Commodity prices were higher by +0.6% as the price of oil gained ground. Gold was sharply lower, one of its bigger weekly declines, down -3.6% as investors flee from safer securities and embrace more risk.
Bond prices overall did drop by -1.0% as noted above but it was even worse for the safest bonds, U.S. Treasuries, as the price of the 10-Year dropped -1.7% while the yield jumped to 1.942% from 1.716% just a week ago.
Stock Highlights
Ralph Lauren (RL), a marketer and distributor of lifestyle products including apparel and home products, reported quarterly results. Revenues rose +1% to $1.71 billion with earnings per share higher by +6.5%. Both numbers were better than Wall Street had expected helped by a surge in revenue of +22% in China on strong demand for the company's shirts and jackets. The stock was among the best performers in the S&P 500 for the week jumping +16.1% on this news but is still only higher by +10.0% year-to-date.
Xerox Holdings (XRX), a software and hardware company focused on printing technology and related solutions, exited a long standing deal with Fujifilm and also ended an almost two-year dispute netting the company $2.3 billion. The company then made an unsolicited takeover bid for HP (HPQ), the market of computers, printers, and printing supplies, for $28 billion. Xerox believes there is as much as $2 billion in cost savings if the deal were done. HP has not accepted the offer but both stocks rose on the news with Xerox gaining +16.0% and HP higher by +9.8%.
Discovery (DISCA), a global media provider with more than 2 billion subscribers, reported quarterly results with revenue up +3% to $2.68 billion and earnings per share of $0.87. Along with reporting earnings, the company announced it is considering entering the streaming war by offering its suite of TV channels as a streaming service. This would make its channels accessible to people who do not have a cable-TV subscription. This stock has lagged behind the market the past 5 years as illustrated in the graph but did jump +13.4% for the week and is now higher by +24.9% in 2019.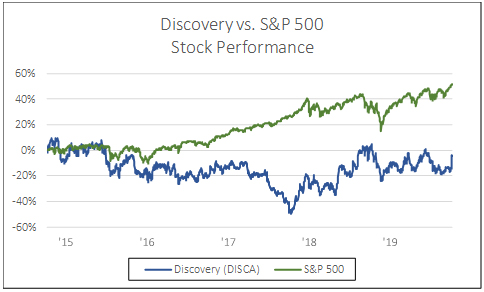 Source: www.YahooFinance.com
Qualcomm (QCOM), a company that develops and licenses wireless technologies, reported better than expected quarterly results that helped propel its stock higher again in 2019. It's revenue in profit from licensing to companies including Apple and Samsung came in stronger than expected. The stock jumped +12.5% for the week and is now higher by +65.2% year-to-date.
Expedia Group (EXPE), the world's largest online travel agency by bookings, reported disappointing results for the third quarter. Revenue declined by -7% to $428 million with earnings per share coming in at $0.30. Both were below expectations. The company said it was impacted by lower free search engine optimization (SEO) traffic from Google shedding light on the significant impact changes to SEO can have. As the accompanying graph shows, the company has been consistently growing annual revenue for more than 5 years. Expedia's stock dropped -26.5% for the week. The stock of its major competitor, TripAdvisor (TRIP), also fell sharply. Both are now in negative territory for the year.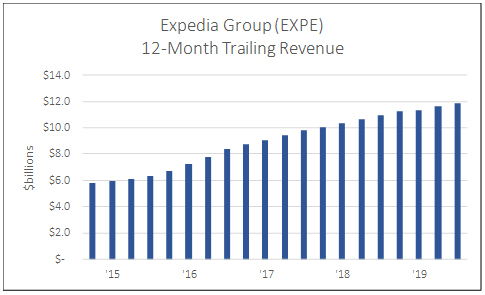 Source: www.YCharts.com
Economic Indicator - Reported
Consumer Sentiment inched higher in the most recent month to a reading of 95.7 from 95.5 according to the University of Michigan report. Consumers view of their current conditions dropped but was offset by a bigger gain in their outlook for the future.
Productivity, a measure of a company's output versus the number of hours worked by employees, fell for the first time in 4 years. A cut in production due to a slowing economy may explain this unexpected drop with hopes that this is all just temporary assuming the economy picks up strength.
Factory Orders fell by -0.6% in September versus an estimate by economists for a gain of +0.4%. There was a drop in orders for durable goods by -1.2% offset partially by a slight increase in orders for non-durable goods.
Economic Indicators – Upcoming
The following economic data are expected in the coming week:
Consumer Price Index (CPI)
Producer Price Index (PPI)
Retail Sales
Industrial Production