ALL BLOG CONTENT IS FOR INFORMATIONAL PURPOSES ONLY. ANY REFERENCE TO OR MENTION OF INDIVIDUAL STOCKS, INDEXES, OR OTHER SECURITIES ARE NOT RECOMMENDATIONS AND ARE SPECIFICALLY NOT REFERENCED AS PAST RECOMMENDATIONS OF PATTON WEALTH ADVISORS. ALL GRAPHS, CHARTS, AND TABLES ARE PROVIDED FOR ILLUSTRATION PURPOSES ONLY. EXPRESSIONS OF OPINION ARE ALSO NOT RECOMMENDATIONS AND ARE SUBJECT TO CHANGE WITHOUT NOTICE IN REACTION TO SHIFTING MARKET, ECONOMIC, OR POLITICAL CONDITIONS. IT IS COMMON FOR US TO USE A FUND AS A PROXY FOR AN INDEX OR ASSET CLASS. FOR MORE DETAILS SEE OUR FULL DISCLOSURE HERE.
Market Commentary
for the week ending July 23rd, 2021
Summary
U.S. stocks start the week lower then rally for multiple days to record highs.
China's market hits a 2021 new low continuing its decade-long poor performance.
The housing market remains strong but momentum may be slowing.
This Week's Performance Highlights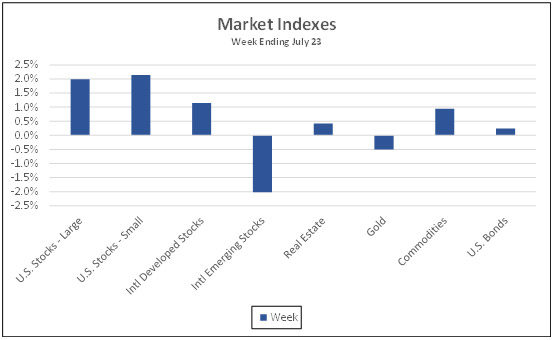 Source: www.YCharts.com
Stocks started the week sharply lower on fears of the COVID variant spreading and the potential impact on the economy and growth.  But after Monday's widespread losses, investor optimism quickly returned driving stocks higher for 4 consecutive days to all-time record highs.
At the close of the week, large U.S. stocks as measured by the S&P 500 were higher by +2.0% while the Dow Industrials lagged but were still up +1.1%.  The big winner was the NASDAQ jumping +2.8% as investors embrace big tech stocks.
Small U.S. stocks outperformed by a small margin up +2.1% for the week but still lag large stocks year-to-date up +12.4% compared to large stocks' gain of +18.5%.
International stocks were mixed with developed markets up +1.2%.  The Eurozone posted the biggest gains nearly equal to those of U.S. stocks while Japan and Australia lagged behind.
Emerging markets were down an average of -2.0% impacted by losses in several markets including China, Brazil, and Thailand.
China's market has been among the worst performers in 2021 down -7.9%.  There are many theories and explanations for this poor performance but the simple fact is that it is not uncommon for their stock market to lag behind.  The accompanying graph shows that over the past 10 years Chinese stocks are roughly unchanged while the U.S. market has gained +232%.

Source: www.YCharts.com

The performance of the alternative assets all fell short of stocks' gains this week.  Real estate stocks and commodities were both higher, up +0.4% and +0.9% respectively, while gold fell -0.5% as inflation fears appear to continue to ease.
Bond prices inched higher once again by +0.2% pushing yields further down.  The benchmark 10-Year U.S. Treasury dropped to a recent low yield of 1.194% when stocks dropped Monday but then moved back higher the remainder of the week to close at 1.276%.
Growth Leads Value Again
Growth stocks, those companies that are experiencing faster growing sales and earnings, had a strong week gaining +3.3% while more conservative value stocks were up just +1.0%. This week's performance puts growth stocks once again ahead of value stocks for 2021 as the accompanying graph illustrates (the green line exceeding the blue line on the far right). For most of the year, value stocks had been performing better, and by a wide margin, with some market watches suggesting the tide may finally be turning.
Source: www.YCharts.com
It's been a fairly long drought for value stocks as the below graph shows.  Since the market low in early 2009 at the start of the massive bull market run, value stocks are up a cumulative +365% while growth stocks have more than doubled that return gaining +832%.  You can see that during roughly the first half of the bull market, the two groups of stocks performed very similarly then in 2015 growth started to pull ahead and has yet to look back.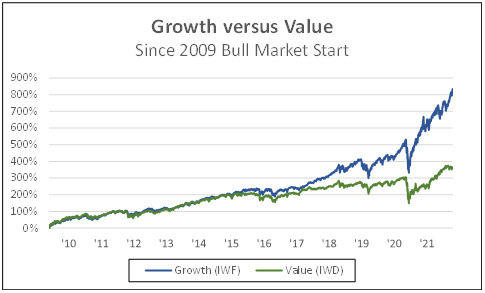 Source: www.YCharts.com
History suggests that periods of outperformance like we have seen from growth stocks often revert back to the long term averages meaning the value could outperform growth sometime in the future.  Predicting when this will happen is nearly impossible though.  Based on valuations, such as a stocks price relative to it earnings, growth stocks are about as expensive as they have ever been relative to the average stock while value stocks are very inexpensive (State Street SPDR ETFs Chart Pack July 2021 Edition).  Only time will tell if and when this performance cycle shifts.
Interesting Numbers
$1.049 Trillion
Following Facebook's (FB) gain of +8.4% for the week, its total market value topped $1 trillion for the first time putting it in an elite club with Apple (AAPL), Microsoft (MSFT), Google's Alphabet (GOOG), and Amazon (AMZN).  In spite of the political pressure coming from both sides of the aisle and various investigations, Facebook continues to grow revenue as illustrated in the accompanying graph.  The company reports second quarter results this week (the green bar in the graph is the quarter's estimated revenue growth compared to last year).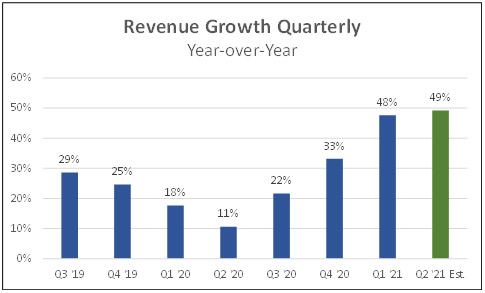 Economic Indicators
1.64 million
The number of new homes under construction came in at an annualized rate of 1.64 million up +6.3% from the prior month.  There was not strength across over region with starts actually falling in the Northeast and Midwest with all of the growth in the South and West.  Demand is expected to remain strong but builders are struggling with supply constraints and a labor shortage.
5.86 million
Existing Home Sales climbed +1.4% in June but came in shy of economists' expectations at a rate of 5.86 million home annually.  More people are listing their homes for sale, helping to improve inventories, motivated by the record high median home price of $363,300.  The still relatively low inventory of homes for sales is expected to keep prices firm but it is unlikely prices will rise at the same pace as the last 12 months gain of +23.4%.
The below graph shows an index of residential property prices adjusted for inflation (the blue line).  As you can see, the surge in prices the last 12 months has extended a continued trend that started in 2012.  Although prices are climbing, they remain below the peak in 2006 during the housing bubble and are below a longer term trend line (the orange line) going back to the '70's.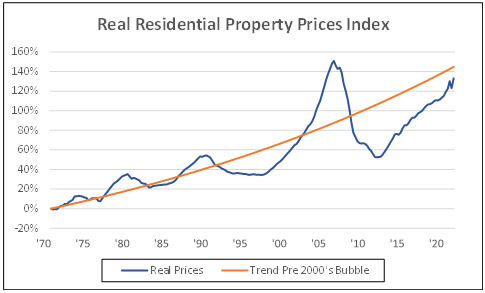 Source: https://fred.stlouisfed.org/series/QUSR628BIS
419,000
Initial jobless claims disappointed rising to 419,000 in the most recent week coming in far above economists' forecast of 348,000 impact somewhat by the temporary shutdown of automobile manufacturing plants due to parts shortages.  On the positive side the total number of people receiving claims continue to drop falling to 3.24 million from 3.27 million the week before.
Upcoming Economic Reports
Gross Domestic Product
New Home Sales
Durable Goods Orders
S&P Case-Shiller Home Price Index
Consumer Confidence Index
Initial Jobless Claims
Consumer Sentiment Index
The information provided here is for general informational purposes only and should not be considered an individualized recommendation or personalized investment advice. Any specific securities or investment strategies mentioned here may not be suitable for everyone. Each investor needs to review an investment strategy for his or her own situation before making any investment decision including whether to retain an investment adviser.
All expressions of opinion are subject to change without notice in reaction to shifting market, economic or political conditions. Data contained herein from third party providers is obtained from what are considered reliable sources. However, its accuracy, completeness or reliability cannot be guaranteed. This content was created as of the specific date indicated and reflects the author's views as of that date. Supporting documentation for any claims or statistical information is available upon request.
Past performance is no guarantee of future results. Any comments about the performance of securities, markets, or indexes and any opinions presented are not to be viewed as indicators of future performance.
Investing involves risk including loss of principal.
Indexes are unmanaged, do not incur management fees, costs and expenses, and cannot be invested in directly. For more information on specific indexes please see full disclosure here.
Any charts, tables, forecasts, etc. contained herein are for illustrative purposes only, may be based upon proprietary research, and are developed through analysis of historical public data.
All corporate names shown above are for illustrative purposes only and are NOT recommendations.
International investments involve additional risks, which include differences in financial accounting standards, currency fluctuations, geopolitical risk, foreign taxes and regulations, and the potential for illiquid markets. Investing in emerging markets may accentuate these risks.
Fixed income securities are subject to increased loss of principal during periods of rising interest rates. Fixed-income investments are subject to various other risks including changes in credit quality, market valuations, liquidity, prepayments, early redemption, corporate events, tax ramifications and other factors. Lower-rated securities are subject to greater credit risk, default risk, and liquidity risk.