All blog content is for information purposes. Any reference to indivisual stocks, indexes, or other securities as well as all graphs and tables are not recommendation but only referenced for illustration purposes.
Market Commentary
for the week ending April 3rd, 2020
Summary
Stocks declined but held onto a large portion of the prior week's gain
Unemployment claims surged for the second consecutive week
Big differences in performance among stocks and sectors suggests more rational investor behavior
March 2020 Market Summary
March goes in the record books as one of the worst in history for large U.S. stocks. The S&P 500 was lower by -12.4% making it the 4th worst month for the index since 1963. The only worse months were the crash in 1987, the meltdown during the Financial Crisis of 2008, and concerns about the collapse of some emerging markets in 1998.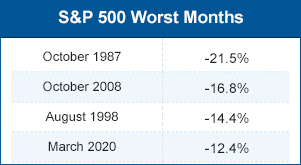 Source: Standard & Poor's
Every sector of the market fell in March but a sign of some rational investor behavior is that the losses were very different from sector to sector as the accompanying graph illustrates.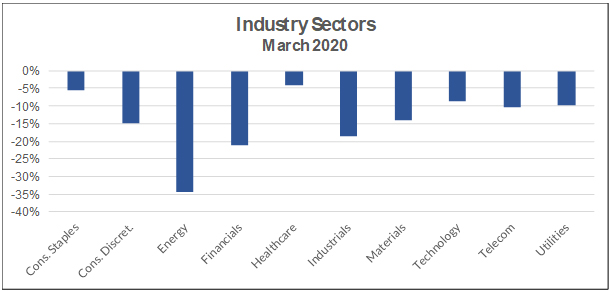 Source: www.YCharts.com
During market panics, which we have seen signs of multiple times during the past six weeks, investors sell everything indiscriminately. This results in losses across all sectors that tend to be more similar to one another. This occurred early in the bear market when the S&P 500 fell -6.2% in two trading days and the majority of sectors were off between -6% to -9%.
As a bear market wears on, like it did through the month of March, investors start to act more rationally identifying which stocks and sectors they believe will weather the economic environment better than others. This more rational behavior resulted in performance for the full month of March differing greatly from sector to sector with the the best performing being healthcare down just -4.1% while a couple of the worst were industrials dropping -18.6% and financial stocks off -21.0%. These are all rough numbers but clearly investors are discriminating between those they think can get through this pandemic and economic environment better than others. This is a good sign that panic is not totally gripping the market.
This Week's Performance Highlights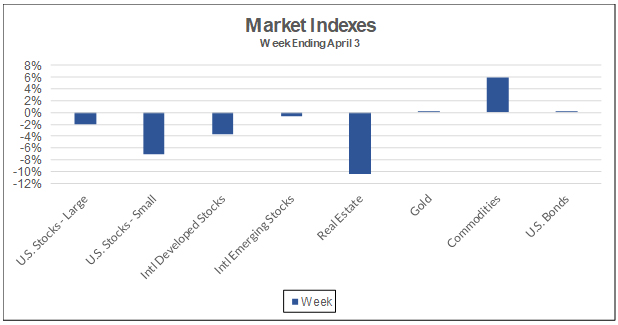 Source: www.YCharts.com
The month of April has started on a negative note and stocks were lower for the week but did generally hold onto more than half their gains from the prior week's surge higher. Also, in spite of across the board losses for stocks, the difference in returns from one region and sector to another was relatively large in yet another sign investors are behaving somewhat rationally and selectively picking the expected winners from the losers.
Small U.S. stocks suffered a much steeper loss for the week than large with small stocks down -7.1% and large stocks off just -2.1%
International developed markets, on average, were lower by -3.7% but performance was very different for various regions with Japanese stocks down -7.2% while Australian stocks gained +2.3%
Emerging markets held up better than most down just -0.7% for the week helped by the largest of the emerging markets, China, moving higher by +2.2%
Real estate stocks took a big hit falling -10.5% for the week as concerns rise that many tenants will stop paying rents. Year-to-date these stocks are down -35.4%.
Gold posted a small gain of +0.3% as investors continue to embrace this as a safe haven in rough market environments. It is up +6.8% year-to-date.
Commodities jumped +5.9 for the week as the price of oil surged late in the week on hopes that there could be an end to the price war. This is the worst performing asset class for 2020 down -37.2%.
Bonds inched fractionally higher by +0.1% for the week. The yield on the benchmark 10-Year U.S. Treasury remains near recent lows at 0.596%.
Cruise industry stocks had another bruising week with the three biggest falling by roughly one-third and now off year-to-date by more than -80% across the board. Investors clearly are questioning if these companies will survive this pandemic what long-term impact this will have on the industry.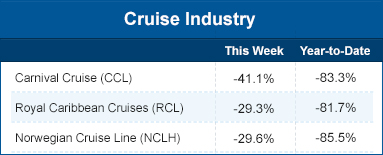 Source: www.YCharts.com
Economic Indicators
Many of the current economic reports are meaningless because much of the data represents a period of time prior to the real impact of COVID-19. This includes the March employment report showing a loss of -701,000 jobs. Although this is a terrible report, one of the worst in history, the data for this report comes from the week of March 12th which is before much of the country was put in shelter-in-place.
The more timely report is Weekly Jobless Claims which showed 6.65 million more claims adding to the 3.34 million the week before. This is the number of workers who applied for unemployment benefits. These numbers are truly staggering and suggest the unemployment rate has spiked to about 10% as compared to just 3.5% a month ago. There is a possibility these numbers are underreported due to some states having a difficult time handling the influx of applications.
Some economists forecast total unemployment could top 25 million by the time the full impact of COVID-19 is realized which would far exceed the record 15.3 million people out of work at the depths of the Great Recession just over a decade ago. This is a dire forecast but hopes are that much of this unemployment will be temporary and companies will rehire quickly once things have improved.