All blog content is for information purposes. Any reference to indivisual stocks, indexes, or other securities as well as all graphs and tables are not recommendation but only referenced for illustration purposes.
Market Commentary
for the week ending November 20th, 2020
Summary
Large U.S. stocks pause while small U.S. stocks continue higher.
The beaten-up energy sector turns in the best performance for the second consecutive week.
Consumers continue to spend with retail sales continue to climb but at a slower pace.
Is the NASDAQ Composite Tech-Heavy?
The NASDAQ Composite, often referred to as being tech-heavy, is an index of more than 2,000 securities that trade on the NASDAQ exchange. The index is market-cap weighted, meaning the larger the value of the company, the more impact it has on the performance of the index. This is significant given that the 10 largest companies, shown in the table below, represent approximately 43% of the indexes total value!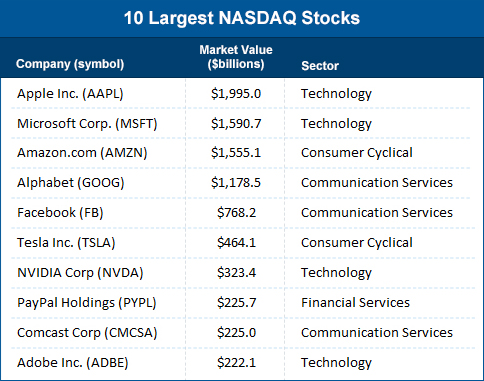 Source: www.YCharts.com
This week's market performance was a bit of an anomaly in that the NASDAQ Compositewas up marginally but the technology sector was actually down. This, of course, is due to the fact that the entire index is NOT technology stocks. As the accompany pie chart shows, technology stocks represent just 38% of the total index. This compares to the S&P 500 that is just 22% technology stocks.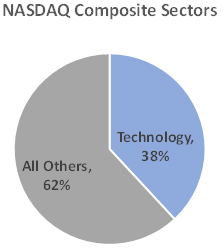 Source: www.YCharts.com
One debate regarding this data and analysis is regarding the stocks that should be included as technology stocks. Are Facebook and Alphabet (Google) Communication Services stocks, is Tesla an automobile company, and is PayPal a financial services business or are all of these really tech stocks? It probably does not matter much but, if these 4 stocks were included in the tech sector, it would bring the sector's allocation to 53% from the above illustrated 38%.
Interesting Numbers
$30 billion
The popular travel company Airbnb filed for its initial public offering expecting to raise $1 billion in cash valuing this 13 year old company at $30 billion. As part of its disclosure the company said revenue fell by nearly -80% at the start of the pandemic but has fully recovered and resumed growth. One of the company's biggest public competitors, Expedia (EXPE), saw its stock drop earlier this year by more than -60% but is back just shy of record highs.
5.74 billion
According to the U.S. Department of Agriculture there will be approximately 5.74 billion pounds of turkey produced in the U.S. in 2020 down just fractionally from 2019. Reports suggest that the vast majority of Americans will celebrate Thanksgiving in spite of the spike in COVID cases although gathering sizes are expected to be smaller.
This Week's Performance Highlights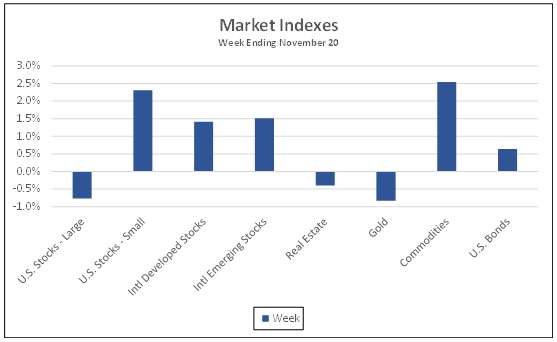 Source: www.YCharts.com
The rally in U.S. large stocks paused this week as measured by the S&P 500 down -0.8%. The Dow Industrials fell a similar -0.7% while the NASDAQ Composite notched a small +0.2% gain for the week.
Small U.S. stocks ignored the decline in large stocks and instead rose by an impressive +2.3%. The rally in small-cap stocks since early September has been impressive. The accompanying graph shows how small stocks dramatically underperformed large stocks throughout the year reaching a performance deficit of -16% in early September. The majority of this performance gap has closed with small stocks now trailing large stocks year-to-date by just -3.7%.

Source: www.YCharts.com, Small Stocks = symbol IWM, Large Stocks = symbol SPY

Six of the top 10 performance S&P 500 stocks were in the energy sector helping make it the best performing with a gain of +5.7 while utilities suffered the biggest loss of -3.9%.
International stocks were strong with developed markets gaining +1.4%. The best performing region was Australia up +2.8% while the Eurozone lagged but was still higher by +1.1% helped by a Italy's market gaining +3.0%.
Emerging markets were also higher rising +1.5% for the week. A couple of the stronger performers were Mexico and Turkey jumping +4.5% and +3.6% respectively.
Real estate stocks gave back a small portion of their prior week's gain slipping -0.4% in the most recent week. Gold did the same with a loss of -0.8% while commodities continued their recovery climbing +2.5% but are still lower for the year by -30.4%.
Bonds turned in a strong week with prices rising +0.6%. The yield on the 10-Year U.S. Treasury fell to 0.835% from 0.895% the week before.
Economic Indicators
Retail Sales growth slowed in October as expected increasing by +0.3% for the month. This followed multiple months of more robust growth but the wave of COVID cases may be taking a toll and could further do so in coming months. Online retail sales continue to outpace the overall numbers up +3.1% for the month while traditional department stores experienced a drop of -4.6%. Others seeing sales drop were grocery stores, bars, restaurants, and pharmacies. It is unclear what to expect from the coming holiday shopping season.
Industrial Production, a measure of output, rose +1.1% which was inline with expectations and an improvement over last month's revised decline of -0.4%. The strongest of the sectors measured were utilities gaining +3.9%. In spite of the gain, total industrial production remains -5.6% below pre-pandemic levels.
The housing sector remains very strong with housing starts surging to an annualized 1.53 million in October. This was well ahead of economists' optimistic expectations and +4.9% higher than the month before. All of the growth was in single-family homes while starts of multi-family homes, such as apartments, dipped -3.2%. High demand and low interest rates have certainly been a catalyst driving the housing sector.
Existing home sales also jumped in October to 6.85 million from 6.57 million the month before with every region of the country experiencing growth. Year-over-year sales are up +27% to the highest level now in 15 years.
Initial jobless claims disappointed this week coming in at 742,000 compared to a lower 711,000 the week before. Continuing claims decreased to 6.37 million but it is speculated that many of these people have simply exhausted benefits and have not necessarily found work. It seems as if the jobs market remains fragile.
Upcoming Economic Reports
Case-Shiller National Home Price Index
Consumer Confidence Index
Initial Jobless Claims
Durable Goods Orders
New Home Sales
Consumer Sentiment