All blog content is for information purposes. Any reference to indivisual stocks, indexes, or other securities as well as all graphs and tables are not recommendation but only referenced for illustration purposes.
Market Commentary
for the week ending April 24th, 2020
Summary
In an historic move the price of oil goes negative.
Stocks were mostly negative as more companies report earnings and lower expectations for the future.
Economic reports are dire with 4.4 million more people filing for unemployment among others.
This Week's Performance Highlights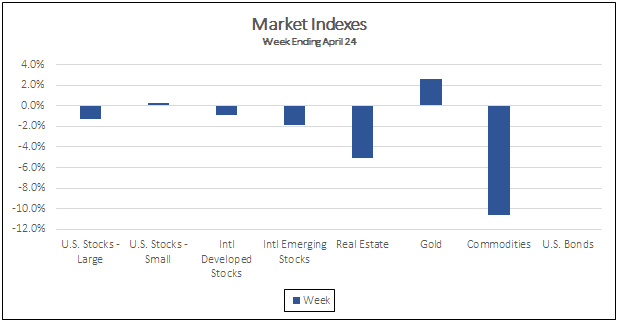 Source: www.YCharts.com
Large U.S. stocks gave back a small portion of their recent big gains with the S&P 500 down -1.3% for the week and now off -11.5% for the year. The Dow Jones Industrials were off -1.9% while the NASDAQ Composite fell just -0.2%. Helping the NASDAQ both this week and for all of 2020 is the strength of technology stocks with a loss of only -2.8% year-to-date. Healthcare is the only sector besting technology with a 2020 decline of just -0.8%.
Energy stocks were surprisingly the only sector posting a gain for the week, up +2.0%, in spite of the historic collapse in oil prices. Year-to-date though this sector has been devastated down -41.0%. Exxon Mobil (XOM), the biggest in the sector with a market value of $185 billion today, is down -37.3% in 2020.
Earnings reports continue to pour in from dozens of companies. Expectations for the first quarter have certainly been lowered due to the economic shutdown that came late in the quarter. Many companies are choosing not to provide any guidance for coming quarters due to the tremendous uncertainty that exists.
Small U.S. stocks were the only stocks that rose for the week up just +0.3%. They continue to lag far behind large U.S. stocks year-to-date with a loss of -25.8% versus -11.5% for large stocks.
International stocks were all lower for the week with developed countries down -1.0% and emerging markets off -1.9%. Both are down about -20% for the year. Brazil and Mexico were among the worst performing down -12.2% and -5.3% respectively. Year-to-date both developed and emerging markets are off about -20%.
Real estate stocks were volatile once again this week. This group surged higher a couple of weeks ago but have now had two back-to-back weekly losses with this week's being -5.1%. Investors have a lot to be concerned about including retailer's ability to survive a continue shutdown, companies possibly cutting back on office space as more employees may work from home permanently, and whether or not apartment renters will be able to pay their rents with surging unemployment.
Gold continue to be a safe haven rising +2.6% while most other assets fell. Year-to-date it is up +13.8%.
Commodities were hit hard, down -10.6% for the week, impacted by the collapse in oil prices (see related blog). Unfortunately, agriculture and livestock prices, making up about 35% of the commodities index, have also been down in 2020 along with energy prices.
Bonds were unchanged for the week.
Economic Indicators
Durable Goods Orders sank -14.4% for the month of March, worse than was forecast and the second worst month since 1990, as U.S. businesses pull back during the economic shutdown. When stripping out orders for cars and planes though, orders actually fell just -0.2%. More declines are expected in coming months.
Jobless claims continued at a record pace with 4.4 million more people filing for unemployment this week. This was fewer than had reported in the three previous weeks but remains many multiples of where it was just 6 weeks ago when it was around 200,000. There have been more than 26 million claims since the beginning of the coronavirus pandemic.
Home sales are slowing with new home sales coming in for March at an annualized rate of 627,000, down more than -15%, and existing home sales at 5.27 million, down -8.5%. Shelter-in-place orders clearly make home buying difficult.
After riding high for many years and hitting a near 15-year high in February, consumer sentiment, measure by the University of Michigan, came in with a final April reading of 71.8. This is down from 89.1 in March and 101 in February. The number seems to have stabilized for the time being with people appearing hopeful that the economy rebounds in the second half of the year.
Upcoming Economic Reports
Gross Domestic Product
Case-Shiller Home Price Index
Consumer Spending
Motor Vehicle Sales