All blog content is for information purposes. Any reference to indivisual stocks, indexes, or other securities as well as all graphs and tables are not recommendation but only referenced for illustration purposes.
Market Commentary
for the week ending November 15th, 2019
Summary
Large U.S. stocks rallied to new record highs on hopes of progress on trade
Retail sales and industrial production were both generally weaker than expected
Companies continue to generally report better than expected sales and earnings results
Market Performance Summary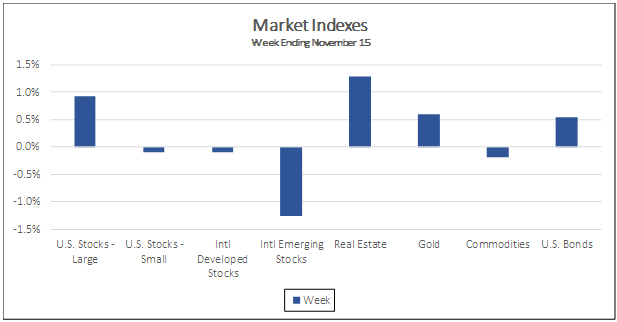 Source: www.YCharts.com
Notable Market Headlines
Large U.S. stocks powered forward to close at all-time record highs but most other stocks failed to participate in the gains. Reports that the U.S. and China may be getting close to signing a trade deal fueled much of the week's optimism…
At the close of the week large U.S. stocks were higher by +0.9% as measured by the S&P 500 closing at a record higher and now higher by +26.5% in 2019. The Dow Jones Industrials broke through 28,000 for the first time up +1.2% for the week while the tech-heavy NASDAQ Composite gained +0.8% both closing at record levels. The best performing sector was Healthcare jumping +2.4% but is the worst performing sector year-to-date with a gain of +14.2%.
Small U.S. stocks failed to participate in the week's rally actually falling -0.1% for the week. This has been the case for 2019 with small stocks lagging behind large U.S. stocks by -6.6%. Furthermore, it's not been only 2019 but going back to the start of the bull market more than a decade ago, large U.S. stocks have done better than small stocks by a relatively large margin.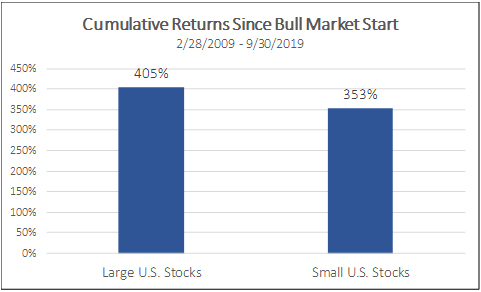 Source: Patton Fund Management analysis of S&P 500 and Russell 2000 indices
International stocks did not accompany U.S. stocks higher this week with developed country stocks down -0.1% and emerging markets falling a much sharper -1.3%. The weakest markets by a wide margin were both Hong Kong and China, falling -5.1% and -3.8%, respectively impacted by the continued trade war, unrest in Hong Kong, and a slowing economy in China. Year-to-date these two markets are only up about +6% as compared to U.S. stocks up 4 times that.
Real estate stocks rebounded from poorer performance in the prior week to gain +1.3% this week. Gold was also higher by +0.6% possibly helped by reports of slightly higher than expected inflation numbers. Commodities did fall fractionally, down -0.2%, but have seen a very nice rise from their early October lows.
Bonds were higher for the week gaining +0.6% falling a rather sharp selloff since the end of October. The yield on the benchmark 10-Year U.S. Treasury eased to 1.833% from 1.942% as week ago. This is up from the year's low in early September at 1.461% but remains well below where it started the year at 2.684%. Presumably this drop in yield in 2019 is due to a slowing economy.
Stock Highlights
Rockwall Automation (ROK), a pure-play automation company that is the result of its spinoff of its avionics business in 2001, reported quarterly sales that were virtually unchanged from a year ago and lower earnings per share. In spite of these relatively disappointing numbers, they were better than Wall Street analysts were expecting. Furthermore, the company raised its earnings forecast for 2020 with the management expecting risking sales and cost savings. Rockwell's stock jumped +12.6% this week and is higher year-to-date by +33.1%. It is not just shy of its January 2018 all-time high.
Applied Materials (AMAT), one of the world's largest suppliers of semiconductor manufacturing equipment, reported quarterly results with both sales and earnings topping estimates. The company saw strength in key geographies including the United States, China, and Taiwan. Management expects the strength to continue raising earnings guidance for future quarters. This was all good news and welcomed by investors but, as the accompanying graph shows, the company has seen falling revenue since late 2018. This stock gained +10.8% for the week and is now higher by an incredible +89.6% in 2019 after having experienced a sharp decline in 2018.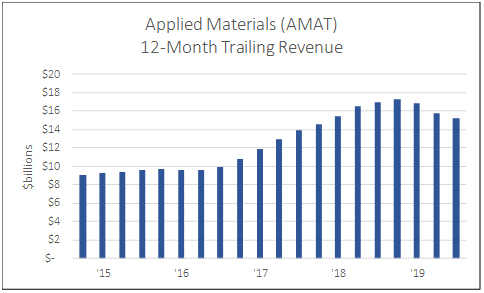 Source: www.YCharts.com
Tyson Foods (TSN), the largest producer of chicken and beef in the United States, reported quarterly revenue of $10.9 billion and earnings per share of $1.21. Both were short of Wall Street's expectations but this disappointment was outweighed by management's positive comments for 2020. Furthermore, the company's competitive product to Beyond Meat (BYND), plant-based protein products, is now in 7,000 stores exceeding original expectations. This was all good for the stock with it up +9.3% for the week and +69.2% year-to-date!
Cisco Systems (CSCO), the giant networking equipment business, announced a revenue forecast that fell short of prior expectations. Management said companies are postponing hardware purchases due to global economic uncertainty. Two other trends are impacting the company including cable companies trying to extend the life of existing equipment and not purchasing new as well as phone service providers investing in 5G technology which currently includes many base station radio towers that Cisco does not sell. Cisco's stock fell -7.7% on this news and is now up just +4.1% in 2019.
Economic Indicator - Reported
Retail Sales rebounded from a decline in September to a gain of +0.3% in October easing some concerns of a slowdown in consumer spending. This month's increase was in line with economists' expectations but when you factor out auto sales and gasoline the growth was just +0.1% which was meaningfully below expectations. There is hope that the holiday season will be strong due to strong employment and rising wages but political and economic uncertainties have caused some concerns.
Industrial Production, measure of output of the manufacturing, mining, and utilities industries, fell by a more than expected -0.8% in the most recent month continuing the more than 1 year downward trend. When factoring out auto manufacturing due to the General Motors strike, manufacturing production was down just -0.1%. Mining fell by -0.7% and utility production dropped -2.6%. Compared to a year ago total Industrial Production is down -1.1%.
Inflation ticked higher in October, more so than economists had expected, with both the Consumer Price Index (CPI) and the Producer Price Index (PPI) up +0.4%. More than half the price gains for consumers was due to higher energy prices suggesting overall inflation remained relatively steady. The same was generally true for producers as well.
Economic Indicators – Upcoming
The following economic data are expected in the coming week:
Housing Starts
Existing Home Sales
Leading Economic Indicators