All blog content is for information purposes. Any reference to indivisual stocks, indexes, or other securities as well as all graphs and tables are not recommendation but only referenced for illustration purposes.
Market Commentary
for the week ending September 27th, 2019
Summary
There were some continued signs of economic softening including a surprising slowdown in consumer spending
Small U.S. stocks resumed their position of lagging behind larger U.S. stocks following a sharp rally earlier in the month
The price of oil continues to retreat from its biggest spike higher in a decade just two weeks ago
Market Performance Summary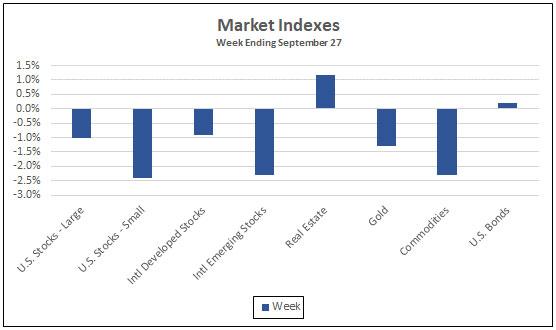 Source: www.YCharts.com
Notable Market Headlines
At the close of the week, large U.S. stocks as measured by the S&P 500 were down -1.0% but remain impressively higher for the year. There was a significant dispersion in returns of the major market indexes though with the Dow Industrials down just -0.4% while the tech-heavy NASDAQ lost -2.2%.
The performance this week of the major market indexes is contrary to returns for the year. As the accompanying graph shows the NASDAQ has been outperforming the S&P 500 for the year but generally during the various market corrections when stocks move lower, the NASDAQ underperformers, delivering bigger losses, as has again been the case since the mid-September highs. This suggests that if we had an extended decline investors in NASDAQ-type stocks could suffer substantial losses.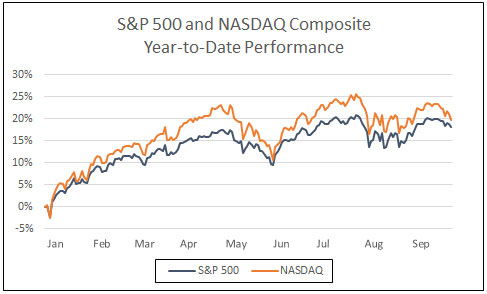 Source: www.YahooFinance.com
After surging higher early in September, small U.S. stocks have given back much of those gains including a -2.4% loss this week. Year-to-date small stocks lag behind large stocks by a meaningful margin up +14.0% as compared to large U.S. stocks higher by +19.0%.
Stocks worldwide were lower as well with those stocks perceived as more risky falling more than others. Developed markets were down just -0.9% while emerging markets fell more than double that off -2.3%. Some of the biggest headlines came from the United Kingdom with their Supreme Court ruling on the legality of the prime minister shutting down parliament but their markets performed better than the average down just -0.5%. Among the poorest performs internationally was the largest of the emerging markets, China, down -2.7%. For all of 2019 international markets are lagging far behind the performance of U.S. stocks.
Diversification among non-traditional assets provided little help in more diversified portfolios. Both commodities and gold were lower by -2.3% and -1.3% respectively. After spiking higher a couple of weeks ago following the attack Saudi oil production, oil prices have retreated meaningfully, impacting the commodity index this week, but do remain higher than before the attacks.
The two bright spots in diversified portfolios this week were both real estate and bonds. Real estate stocks have had a great year, topping the performance of every major asset class, gaining +24.4% in 2019 including this week's +1.3% move higher. Bond prices moved slightly higher up +0.2%.
Stock Highlights
Philip Morris International (PM), a multi-billion dollar manufacturer and distributor of tobacco products, said it has called off its intended merger with Altria (MO), as discussed in our earlier blog, because the companies could not come to agreed upon terms. Investors welcomed this news with the stock gaining +7.2% for the week and is now higher by +12.5% for the year.
Nike Inc. (NKE), a global giant in the athletic footwear and clothing businesses, added to its 2019 gains this week helped by the company's strong earnings report. Both sales and earnings came in better than Wall Street forecasts with sales hitting $10.7 billion for the quarter. As illustrated in the accompanying graph the company has been consistently growing revenue from less than $30 billion annually 5 years ago to just under $40 billion today. This positive news pushed the stock to a new all-time high up +6.5% for the week and +24.5% year-to-date.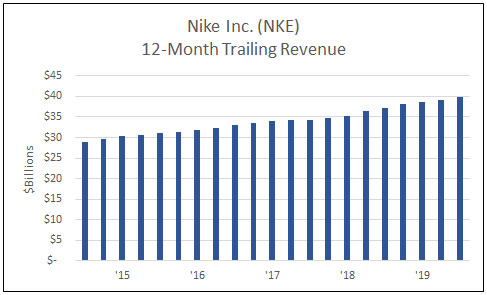 Micron Technologies (MU), a leading manufacturer of memory chips, has been a strong performer during 2019 but was the biggest loser this week among the 500 stocks in the S&P 500. The company reported earnings that were better than analysts expected but provided guidance that was below expectations disappointing Wall Street. For the week the stock is down -12.1% but remains higher year-to-date by +36.2% outperforming both the S&P 500 and NASDAQ Composite.
Nektar Therapeutics (NKTR), a large biotech company, just two weeks ago had the best performing stock for the week among the S&P 500 stocks but this week was among the worst. This volatile performance is a good demonstration of just how risky owning such stocks can be. -11.2% -45.5% best 2 weeks ago
Carnival (CCL), the largest cruise line in the world, said it expects earnings to fall short of previous guidance due to higher oil prices. This resulted in a variety of Wall Street analysts lowering their price targets for the stock. For the week the stock was lower by -9.1% and is down -11.65 for the year.
Economic Indicator - Reported
Durable Goods Orders, orders for goods expected last for several years such as cars, computers, and planes, rose in August by +0.2%. This headline number masked some difficulties. When stripping out military orders, the number was actually down -0.6% for the month suggesting businesses are pulling back due to fears of a slowing economy and the trade war with China.
Consumer Confidence fell meaningfully in the most recent month with the Consumer Confidence Index coming in at 125.1, well below economists' forecasts and sharply lower than the prior months report showing the index at 134.2. Like businesses, consumers may be concerned about the economic outlook. But on the other hand, the Consumer Sentiment, as measured by the University of Michigan, bounced higher in the most recent month. Although it was higher than in the previous month, sentiment remains near its 3-year low.
Consumer Spending rose just +0.1% in August, a slowdown from prior months and below forecasts for growth of +0.3%. Because incomes continue to rise at a strong pace, some economists are expecting this spending reduction to be short-lived…time will tell!
New home Sales in August jumped to an annualized rate of 713,000. This is just shy of the 12-year high and up +18% year-over-year. Sales were strongest in the south and west while not as strong in the northeast and Midwest. Note that this report can be volatile and subject to meaningful revisions.
Economic Indicators – Upcoming
The following economic data are expected in the coming week:
Employment Report for September
Factory Orders
Motor Vehicle Sales