All blog content is for information purposes. Any reference to indivisual stocks, indexes, or other securities as well as all graphs and tables are not recommendation but only referenced for illustration purposes.
Market Commentary
for the week ending January 11th, 2020
Summary
Geopolitical tensions between the U.S. and Iran ease as the week comes to an end
U.S. markets hit all-time highs on Thursday before retreating slightly to close the week
The price of oil suffers one of its bigger weekly loses as the threat of a Mideast crisis lessens
Market Performance Summary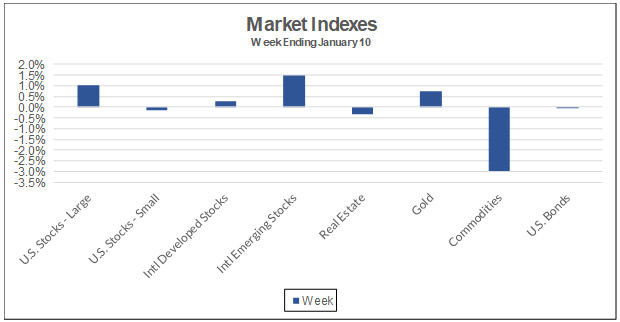 Source: www.YCharts.com
Notable Market Headlines
The killing of an Iranian general by the United States certainly escalated geopolitical tensions fueled further then by Iran's response with missile attacks fortunately resulting in no casualties. As the week wore on, tensions seemed to ease with both sides appearing to not want to escalate the conflict.
At the close of the week large U.S. stocks were higher by +1.0% as measured by the S&P 500. The index hit another all-time record high on Thursday before easing slightly on Friday as investors digested a slightly disappointing employment report. The Dow Jones Industrials lagged behind gaining just +0.7% for the week while the NASDAQ charged forward up +1.8%. Technology stocks were the best performing sector fueling the NASDAQ's rise and a multi-year trend.
Small U.S. stocks did not participate in the week's gains but instead declined by -0.2%. Small stocks lagging behind large stocks has also been an ongoing trend as investors continue to chase mostly large technology stocks.
International markets were higher on the week as well with developed country market higher by +0.3%. Of the three major regions, Australia's market posted the best gains up +1.6% while the Eurozone was only fractionally higher. Emerging markets overall did much better gaining +1.5% for the week but it was not green arrows for every market with Brazil's losing -3.6%.
The biggest move of the week was the loss of -3.0% for commodities as the price of oil experienced one of its biggest weekly loses falling -$3.93 a barrel to close at $59.12. This decline is the result of easing tensions between the United States and Iran and follows a spike higher the week before. Gold continued its winning streak up +0.7% for the week hitting multi-year highs while real estate stocks were lower by -0.3%.
Bond prices eased slightly for the week, down -0.1%, but it was not without some ups and downs.
Stock Highlights
Apache Corp. (APA), the largest independent energy exploration and production company in the world, announced an unexpected oil discovery offshore the country of Suriname. This news came just two weeks after the company entered a 50/50 partnership with French oil giant Total. Early indications and testing suggest this is a very large find. Investors reacted well making this the best performing stock among the S&P 500 this week gaining +28.6%
L Brands (LB), a mall-based retailer with brands including Victoria's Secret, Pink, and Both & Body Works, reported holiday sales were below prior year levels coming in at $3.9 billion or about -2.5% below the 2018 holiday season. As the accompanying graph shows, the company has struggled to grow revenue for a few years. Due to holiday sales miss, the company lowered fourth quarter earnings guidance. In spite of these disappointments though, at least two Wall Street analysts raised their rating on the stock giving investors' confidence and sending the stock higher by +8.4% for the week.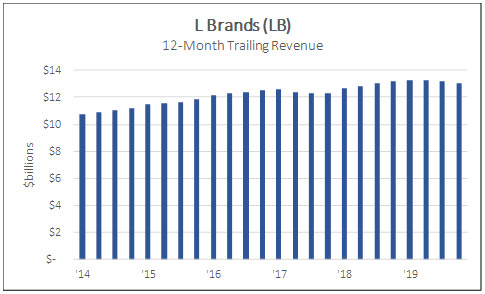 Source: www.YCharts.com
Other retailers reported holiday results including Kohl's (KSS) with comparable same-store sales down -0.2% driving management to say earnings are expected to now come in at the low range of earlier guidance. Macy's (M) also saw same-store sales decline by -0.6% but this drop was not as bad as expected. For the week Kohl's stock dropped -6.0% while Macy's jumped +7.2%.
Salesforce.com (CRM), a leading enterprise solutions cloud-based service provider, hit an all-time high this week as analysts and investors see more good things for this company and industry. Salesforce.com has become a trusted partner for many large company now generating nearly $16 billion in annual revenue. At least one analyst this week issued a positive report on its outlook for this company in 2020 sending its stock higher by +7.6% for the week.
Economic Indicator - Reported
The December employment report showed the economy adding 145,000 jobs which was well below the month before, below the average for the year, and less than economists had forecast. In addition to a slightly disappointing month, there were negative revisions to the two prior months' reports as well. The unemployment rate held at its 50-year low of 3.5%. And interesting to note that there are now more women employed in the U.S. than men.
Factory Orders fell by -0.7%, the third drop in 4 months, but the drop was slightly less so than had been forecast.
The Trade Deficit shrunk to a 3-year low of -$43.1 billion compared to -$46.9 billion the month before. Much of this decline is the result of fewer imports from China as the trade war persists combined with the U.S. exporting more goods including aircraft, autos, and equipment for the oil industry. It is unclear if the deficit will continue to shrink or if this is just the result of short-term disruptions due to the trade war.
Economic Indicators – Upcoming
The following economic data are expected in the coming week:
Consumer Price Index (CPI)
Producer Price Index (PPI)
Retail Sales
Housing Starts