ALL BLOG CONTENT IS FOR INFORMATIONAL PURPOSES ONLY. ANY REFERENCE TO OR MENTION OF INDIVIDUAL STOCKS, INDEXES, OR OTHER SECURITIES ARE NOT RECOMMENDATIONS AND ARE SPECIFICALLY NOT REFERENCED AS PAST RECOMMENDATIONS OF PATTON WEALTH ADVISORS. ALL GRAPHS, CHARTS, AND TABLES ARE PROVIDED FOR ILLUSTRATION PURPOSES ONLY. EXPRESSIONS OF OPINION ARE ALSO NOT RECOMMENDATIONS AND ARE SUBJECT TO CHANGE WITHOUT NOTICE IN REACTION TO SHIFTING MARKET, ECONOMIC, OR POLITICAL CONDITIONS. IT IS COMMON FOR US TO USE A FUND AS A PROXY FOR AN INDEX OR ASSET CLASS. FOR MORE DETAILS SEE OUR FULL DISCLOSURE HERE.
Market Commentary
for the week ending December 21st, 2019
Summary
World stock markets rallied for another week with U.S. stocks closing at record highs
The Impeachment of President Trump has no impact on the markets
Economic data remains generally positive with positive reports on Housing Starts and Industrial Production
Market Performance Summary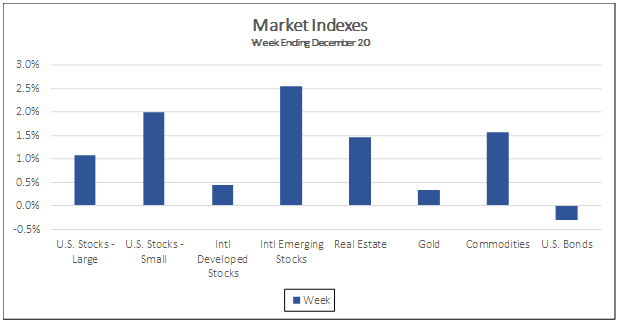 Source: www.YCharts.com
Notable Market Headlines
Markets around the world rallied once again with U.S. stocks closing at record highs with investors showing signs of a renewed and continued appetite for risk with riskier small stocks and emerging markets performing the best. The news on trade continues to be viewed positively while the House of Representatives vote to impact President Trump are clearly of little or no concern for investors today.
At the close of the week, large U.S. stocks were higher by +1.1% as measured by both the S&P 500 and Dow Jones Industrials while the tech-heavy NASDAQ surged by +2.2%. The Healthcare and Telcom sectors were the best performing while Financials lagged behind. Small U.S. stocks outgained large up +2.2% for the week. Year-to-date though large stocks continue to maintain their lead up +30.1% for large stocks and +25.6% for small stocks.
International markets were higher along with U.S. markets with developed markets, on average, gaining +0.4%. Among the best performing markets was Italy up +2.4% while the United Kingdom's market was flat following a rally the week before on elections news. Emerging markets' performance demonstrated investors' desire for more risk with markets jumping +2.6% for the week fueled in large part by a rally in China's market by +3.0%.
All of the alternative asset classes were higher with commodities doing the best, up +1.6% for the week, helped by a rise in the price of oil. Real estate stocks were a very close second gaining +1.5% after suffering a sharp loss the week before. Gold was higher but lagged behind with a gain of just +0.3%.
Bonds slipped in value down -0.3% while U.S. government bonds down even more at -0.6%. Again, the movement illustrates investors leaving these less risky investments, as some uncertainty in the global economy clears, for more risky holdings.
Stock Highlights
Conagra Brands (CAG), a $10 billion in revenue U.S. based food company with brands including Chef Boyardee, Wesson oil, and Pinnacle Foods, reported quarterly earnings that came in better than Wall Street analysts were expecting but missed the revenue target. Although earnings per share topped estimates they were below last year's number. Investors welcomed the news from Conagra's with its stock being the best performing among the S&P 500 for the week, up +23.6%, and higher by +64.2% year-to-date although it remains below its 2017 all-time high.
Netflix (NFLX), the streaming media giant, saw its stock move higher all 5 days of the week cumulatively gaining +12.9% for the week. One analyst raised his expectations for the stock citing the company's international growth opportunity. Netflix is facing increased streaming competition that has worried investors but this analyst sees the competition helping the entire streaming business and expects Netflix to add 8 million new international subscribers in the fourth quarter alone. Netflix's stock has been one of the hottest during the decade but remains well below its 2018 high.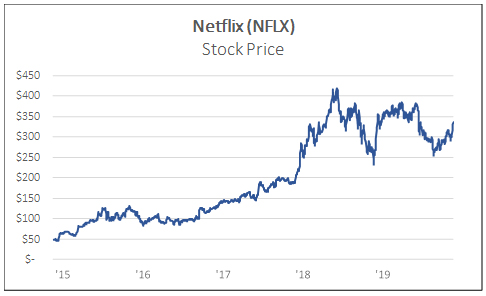 Source: www.YahooFinance.com
FedEx (FDX), the global shipping giant, has faced a variety of business pressures in the last year including the global economic slowdown combined with the loss of all Amazon (AMZN) related business. The company reported quarterly results that were below expectations sending its stock lower. As illustrated in the accompanying graph, revenue stalled earlier in 2019 and continued to do so in the most recent quarter. The stock closed the week down -10.6% and is well off its 2018 high.
Source: www.YCharts.com
Economic Indicator - Reported
Housing Starts increased again climbing +3.2% in the most recent month helped by persistently lower interest rates. Both single family and multi-family starts were higher driving a year-over-year increase in total starts by a strong +13.6%
Existing home sales moved in the opposite direction of starts slowing by -1.7% in the most recent month to 5.35 million annualized. Prices have risen for 93 consecutive months and inventory fell to just 3.7 months which have both contributed to slowing sales.
Industrial Production, one indicator of the manufacturing sector, showed its strongest gain in 2 years increasing by +1.1% in the most recent month. Although the month was strong, year-over-year production is down by -0.8%.
Economic Indicators – Upcoming
The following economic data are expected in the coming week:
New Home Sales
Durable Goods Orders
The information provided here is for general informational purposes only and should not be considered an individualized recommendation or personalized investment advice. Any specific securities or investment strategies mentioned here may not be suitable for everyone. Each investor needs to review an investment strategy for his or her own situation before making any investment decision including whether to retain an investment adviser.
All expressions of opinion are subject to change without notice in reaction to shifting market, economic or political conditions. Data contained herein from third party providers is obtained from what are considered reliable sources. However, its accuracy, completeness or reliability cannot be guaranteed. This content was created as of the specific date indicated and reflects the author's views as of that date. Supporting documentation for any claims or statistical information is available upon request.
Past performance is no guarantee of future results. Any comments about the performance of securities, markets, or indexes and any opinions presented are not to be viewed as indicators of future performance.
Investing involves risk including loss of principal.
Indexes are unmanaged, do not incur management fees, costs and expenses, and cannot be invested in directly. For more information on specific indexes please see full disclosure here.
Any charts, tables, forecasts, etc. contained herein are for illustrative purposes only, may be based upon proprietary research, and are developed through analysis of historical public data.
All corporate names shown above are for illustrative purposes only and are NOT recommendations.
International investments involve additional risks, which include differences in financial accounting standards, currency fluctuations, geopolitical risk, foreign taxes and regulations, and the potential for illiquid markets. Investing in emerging markets may accentuate these risks.
Fixed income securities are subject to increased loss of principal during periods of rising interest rates. Fixed-income investments are subject to various other risks including changes in credit quality, market valuations, liquidity, prepayments, early redemption, corporate events, tax ramifications and other factors. Lower-rated securities are subject to greater credit risk, default risk, and liquidity risk.